Dotty Attie
New York,
U.S.A.
Dotty Attie was born in 1938 in Pennsauken, New Jersey. She lives in New York City, utilizing images from the art of the past in her work and social commentary. Her art education includes a B.F.A. degree in 1959 from the Philadelphia College of Art; a Beckmann Fellowship in 1960 at the Brooklyn Museum Art School in New York; and the Art Students League, New York in 1967.
She received a Creative Artists Public Service grant in 1976-1977 from the New York State Council on the Arts, and National Endowment for the Arts grants in 1976-1977 and 1983-1984.
Dotty Attie has been exhibiting in museums and galleries worldwide since 1972. Her paintings are in the collections of The Museum of Modern Art, The Whitney Museum, Brooklyn Museum, and the National Museum of Women in the Arts.
Feminist Artist Statement
Dotty Attie's definition of Feminism:
My definition of feminism is actually very basic – it means no barriers between what a woman chooses to do, and what is acceptable, by societal and familial standards, for her to do. And it also means (to me) no expectations. Women should feel free to have enormous ambitions, or no ambitions, and not be penalized in any way for either.
I feel very fortunate to be an artist, and do what I love every day, to have helped found, run and exhibit in a wonderful gallery, A.I.R., dedicated to showing women's art, and to have raised two children. I've been able to do exactly what I've wanted, and what I've been best suited for, and I consider that the essence of feminism.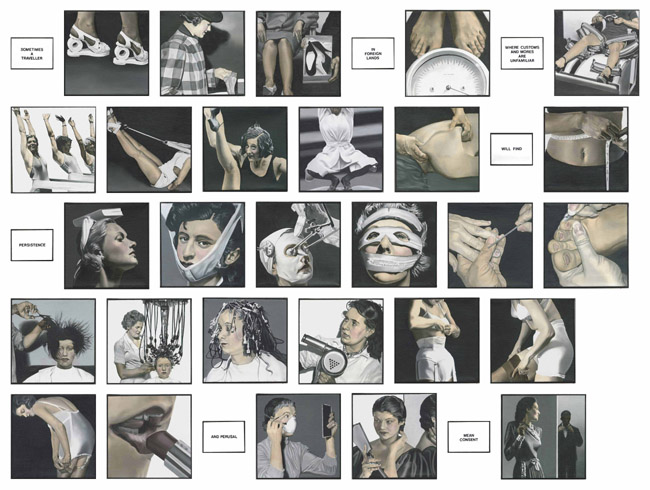 Text reads:
Sometimes a traveler in foreign lands /
Where customs and mores are unfamiliar /
Will find /
Persistance /
And perusal /
Mean consent.
Text, images, audio, and/or video in the Feminist Art Base are copyrighted by the contributing artists unless otherwise noted. All rights reserved.