Edwina Sandys
New York,
United States
The artistic appeal of Edwina Sandys lies in her diverse subject matter. From the sacred to the secular to the most essential questions about politics and society, she has tackled big ideas with panache. Edwina has combined the lighthearted and the profound in a way that is at once playful and thought-provoking. Her clearly-recognizable style uses positive and negative images to powerful effect. During the last 30 years, Edwina has created art of international acclaim that includes sculpture, paintings, collage and works on paper. With corporate and institutional clients as diverse as the Monsanto Company and the United Nations, her work has reached a wide audience far beyond the realm of the private collector. Early in her career, for the 1979 United Nations Year of the Child, she created three monumental sculptures, which are now installed at UN centers in New York, Geneva and Vienna. A decade later, she used dismantled sections of the Berlin Wall to create an extraordinary sculpture, Breakthrough, now permanently sited at Westminster College in Fulton, Missouri, where Winston Churchill gave his historic Iron Curtain speech. Breakthrough has attracted a succession of world leaders to Fulton, including Ronald Reagan, who gave the work's 1990 dedication address. Eighteen months later, Mikhail Gorbachev made an historic visit, and in 1996, Margaret Thatcher aptly illustrated the meaning of Breakthrough by boldly stepping right through one of the cut-out figures in the 32-foot-long sculpture. Subsequently, using the pieces cut out from the Breakthrough sculpture, Edwina created a sister sculpture, BreakFree, for the Franklin D. Roosevelt Presidential Library in Hyde Park, New York. In BreakFree,the figures of Man and Woman, emerging from symbolic barbed wire, express man's irresistible quest for freedom. Edwina is passionate about creating art that is inspired by political issues, as demonstrated by Twin Crosses, commissioned for the US Embassy Residence in Dublin, which incorporates a scarred fragment of the World Trade Center. Her most recent work, Pillars of Justice, was dedicated in June 2007 in front of the Law Courts in Toronto, Canada. In addition to her political subjects, Edwina also frequently explores the relationships between man and woman. Major works include her series The States of Woman and The Marriage Bed, which is in the permanent collection of the Brooklyn Museum.
Feminist Artist Statement
As I look at the body of work I have created over the last thirty years I see clear recurring themes with Woman at the center. In 1989, I created Woman Free for the United Nations Center for the Advancement of Women, located in Vienna, Austria. The 15-foot-tall polished marble woman stands free of the rough block that has constrained her. It is natural that I use the female form to express many of my ideas, but I do not shy away from any of the driving forces in my life including the man/woman relationship, motherhood, sensuality, sexuality, satire and humor, as well as suffering and disappointment. I have been lucky, both personally and as an artist, to enjoy a certain level of social and political freedom allowing for controversial works in the public domain. Most notable in this respect is Christa, a bronze female figure on a cross, which I sculpted in 1975. With States of Woman, a collection begun in the early nineties, I focus on the social status of women in our time. Made in a variety of media, the works include: Marriage Bed, Biological Clock, Target of Abuse, Glass Ceiling, Gilded Cage, Erotic Woman, Maternal Woman and Ancestor Woman. A few years ago, I had thought the feminist movement had more or less run its course, but today, the goals are as relevant as ever. Edwina Sandys, 2008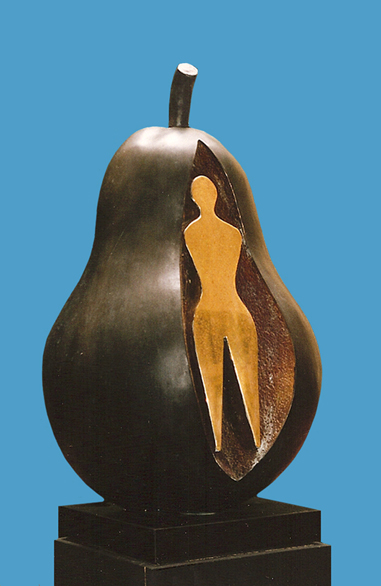 Polished figure of a woman within the body of a pear
Contact
565 broadway
New York, 10012
United States
Email
Text, images, audio, and/or video in the Feminist Art Base are copyrighted by the contributing artists unless otherwise noted. All rights reserved.