Elaine Reichek
New York,
USA
Elaine Reichek has been using thread as a core element in her work since the early 1970s, at first with minimalist line paintings made with thread on canvas, and more recently with her embroidery and new-media works. She was an early pioneer among conceptual artists rethinking the role of craft in the fine arts and investigating alternative narratives that had been excluded from the canon, in what is now a burgeoning field of creative endeavor and critical inquiry. Through an extended exploration of the history of the embroidered sampler, Reichek arrived at the fusion of image and text in dialogue with the history of art that continues to be her main area of exploration.
Reichek lives and works in New York, and has exhibited extensively in the United States and abroad for nearly forty years, including solo exhibitions at: New York's Museum of Modern Art and The Jewish Museum; Palais des Beaux-Arts, Brussels; Tel Aviv Museum; Wexner Center for the Arts, Columbus, Ohio; Stichting De Appel, Amsterdam; and the Irish Museum of Modern Art, Dublin.
Her work is in the collections of New York's Museum of Modern Art, The Jewish Museum, Whitney Museum of American Art, Museum of Arts and Design, and the Brooklyn Museum; the Museum of Fine Arts, Boston, and the Isabella Stewart Gardner Museum; Pennsylvania Academy of the Fine Arts Museum, Philadelphia; Spencer Museum of Art, University of Kansas; Norton Museum of Art, Palm Beach, Florida; and the Irish Museum of Modern Art in Dublin, among others.
Feminist Artist Statement
My beginnings as an artist are in painting—I studied with Ad Reinhardt, who had a big influence on me, and I got an MFA from Yale as a painter. But I began very early to take a critical view of the kind of work, and the kind of role as an artist, that I was being trained to take on, and I decided to explore other media. For some years now I've worked mostly in needle and thread, making embroideries on linen, sometimes on quite a large scale for those materials. In the past I've also worked by knitting wool, by hand-painting found photographs, by conceiving installations, and in other ways, but embroidery is my current concentration—although I often combine it with installation and other media. For a long time I've designed my embroideries by using a computer to do some of the prep work; lately I've begun exploring possibilities actually based on the computer, doing a website and a cd and embroidering with a computerized sewing machine. The idea of using the computer isn't incidental to my work, it's not just a technical shortcut; it's part of the work's hybrid character. None of these ideas ever really leave me.
Translation is not only a basic process for me—I'm always translating information from one form into another—but it's also a basic interest of mine. In retrospect, I realize that translation has been a constant in my work. In the '80s, I was remaking different kinds of architecture in knitting, or as knitting patterns—I wanted to see how these buildings and dwellings changed meaning when they were realized in a radically different medium. Part of that desire, I think, has to do with aesthetic politics: when I was growing up and was a student, painting was the dominant art form, really the center of a cult, and the members of that cult were historically mostly male—there was very little room for women there. And I have to say I love painting, but I also feel, what's the big deal? I can make these same images using knitting, using embroidery—using media traditionally associated with women. But if I make them that way, of course their meaning changes, since the meaning of an artwork is always bound up with its media and processes and their history. Following through those changing meanings is one of the basic pursuits in my work.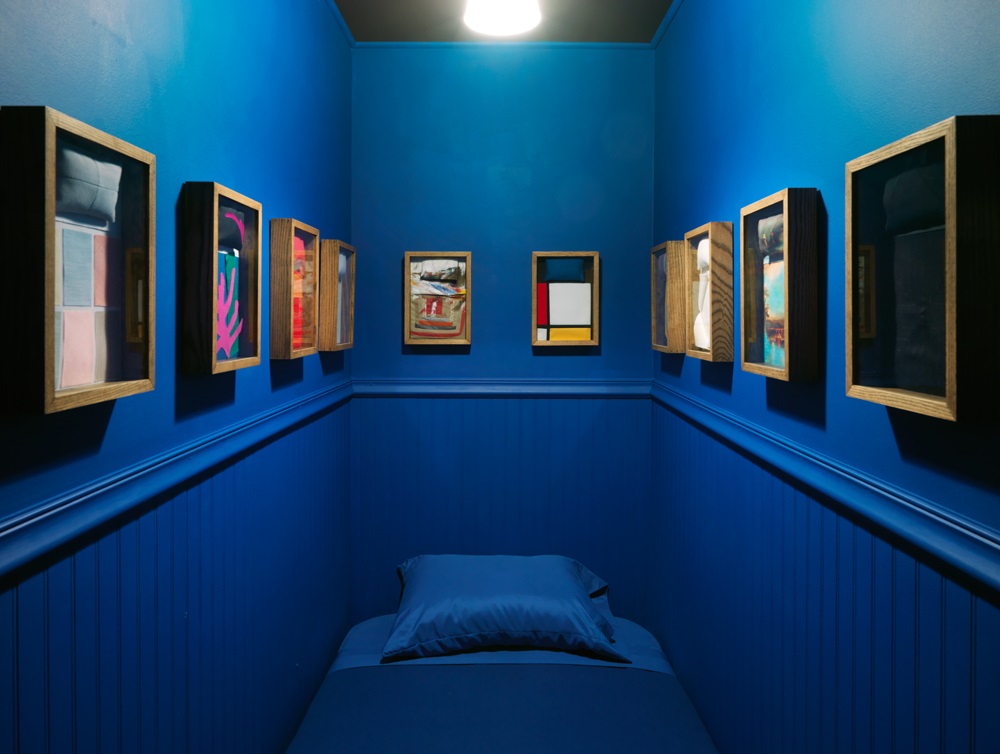 Contact
Zach Feuer Gallery, 548 West 22nd Street
New York, 10011
USA
Email
Text, images, audio, and/or video in the Feminist Art Base are copyrighted by the contributing artists unless otherwise noted. All rights reserved.