Elizabeth Berdann
New York,
USA
Born in 1956 in Allentown, PA, Elizabeth Berdann is a painter and multimedia visual artist. She has been creating work that presents body-based imagery in an installation format since the mid-1980s. Ms. Berdann's work was featured in Marcia Tucker's 1994 "Bad Girls" exhibition at the New Museum of Contemporary Art, and also in its concurrent West Coast version, "Bad Girls West". Other shows include a solo site-specific show at The Montclair Museum (1995-96); solo and group shows at White Columns (1992); Hallwalls Contemporary Arts Center (1990 and 1992); the School of the Art Institute of Chicago (1992); the Santa Barbara Contemporary Arts Forum (1997); Otis College (2006); and the Shelburne Museum (2009), in addition to solo and group shows at many commercial galleries. In 2010 she was the subject of a 20-year retrospective at the Contemporary Museum, Hawaii. Critical reviews and feature articles about Berdann's work have appeared in Art in America, The New York Times, New Art Examiner, The Los Angeles Times, Newsweek Magazine, Art Issues, Juxtapoz Magazine and The Magazine Antiques. She was a resident fellow at Acadia Summer Arts Program in 2004 and received a Pollock-Krasner Foundation Grant in 2005.
Feminist Artist Statement
I grew up in the 1970s as the daughter of a woman who was one of five sisters. A grim reminder of the desperate time before Roe v. Wade, my mother's grandmother died from a self-administered abortion. With this family history, gender equality was a given concern, and feminism was just common sense.
My feminist orientation solidified while an undergraduate student at Smith College. In January of 1979 I assisted at the Smith College Museum's panel discussion and exhibition, "Contemporary Women in the Visual Arts." Specifically, I helped Hannah Wilke with the installation of her work. My payment took the form of one of her gum sculptures in a plastic box for which she had me chew 3 different flavors of gum. I watched as she then formed them into the iconic shape that distinguishes that period of her work. That event preceded a brief but unforgettable relationship with Hannah, which left an indelible impression on my aesthetic development.
As a "third wave" feminist, I had found the previous generation's strident approach somewhat alienating. Rather than risking an antagonistic reaction to the work, I chose to provoke the viewer's empathic responses with humor. This strategy, I found, can directly engage the viewer in the conversation and cause him/her to look more closely at uncomfortable images than (s)he might otherwise do. Engagement became one of the fundamental and most satisfying objectives of my work.
My artistic approach has its origin in experience—so being a woman, and specifically a woman in American culture, has guided my practice from the outset. This begins and ends with the body as subject matter. I initially decontextualized body images, breaking them down and presenting them in an isolated way in order to raise new questions. As my process has evolved, I continue to explore subtle psychological issues, and use them to investigate the paradoxes inherent in contemporary culture.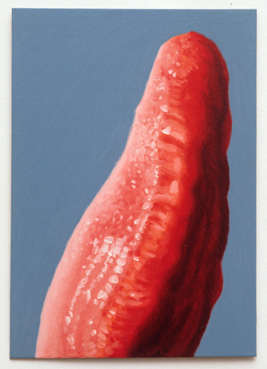 One of 31 paintings of writhing tongues, this piece is flexible in installation.
Text, images, audio, and/or video in the Feminist Art Base are copyrighted by the contributing artists unless otherwise noted. All rights reserved.