Elizabeth Payne
Yoakum, TX
USA
Elizabeth Payne was born in 1948 and grew up in the Midwest. She was influenced by different cultural spheres: the collection of The Art Institute of Chicago (Georgia O'Keeffe and Lee Bontecou) and summers on a farm in Kentucky. The availability of a studio in college in which to work allowed her to concentrate on painting. Her work took the direction of minimal abstraction, with a painting included in the 1975 Biennial Exhibition at the Whitney Museum of American Art. She moved from San Francisco to New York to attend graduate school at Hunter College. While living in Brooklyn her work changed. She began to paint portraits of her women artist friends. Looking out of the windows of her Brooklyn apartment she made a series of paintings called "The Four Seasons". In 1993 she moved to a small town in south Texas where she made paintings of her surroundings (a bathtub in a field, a burned church). Her work has been exhibited in galleries and museums, most recently in a one person exhibit at the McNay Art Museum in San Antonio where her painting "Artschwager Table" was included in the Artists Looking at Art series. Her paintings are in private and public collections including the Art Museum of South Texas in Corpus Christi, Texas.
Feminist Artist Statement
Painting has always been a way for me to connect with the world. Hence my series of paintings of Brooklyn, a place different from the Lower East Side and Lower Manhattan where I had been living. While living in Brooklyn I also painted a series of portraits of my women artist friends (something artists have done for centuries). Since 1993 I have lived in a small, isolated town in Texas. In 2012 I joined GAGA (Gentileschi Aegis Gallery Association) founded by Sylvia Benitez. This has been a beneficial experience: meeting other women artists, meeting with curators, and exhibiting our work as a group in galleries and museums in Texas including in 2014 the McNay Art Museum and The Southwest School of Art in San Antonio, which resulted in a catalog: GAGA The Exquisite Rainbow Corpse.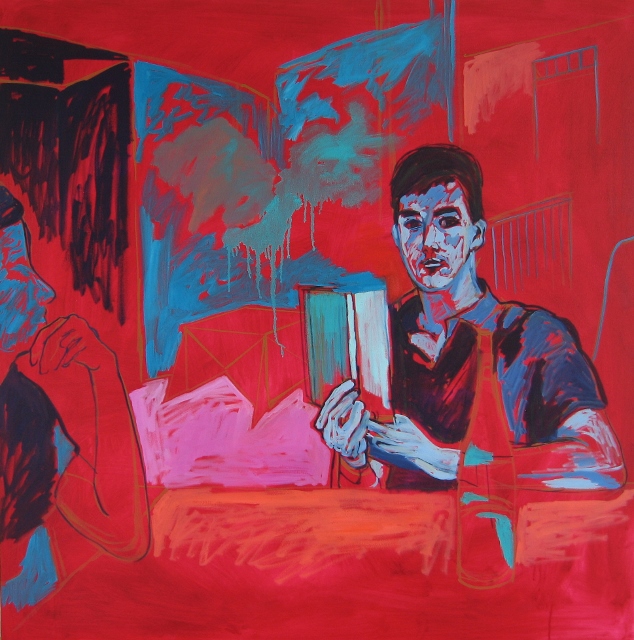 Contact
Yoakum, TX 77995
USA
Email
Text, images, audio, and/or video in the Feminist Art Base are copyrighted by the contributing artists unless otherwise noted. All rights reserved.