Emily Kimball
Santa Fe,
USA
Emily Kimball is a native of Santa Fe, New Mexico who struck out on her own to build her artistic career. She boldly decided to forego art school in favor of dedicating more time to producing art while supporting herself working as an assistant and a studio manager. Her hard work resulted in her first exhibition at Niman Gallery in Santa Fe in 2003. Since then, she has been featured in most major art fairs nationwide, including Miami Art Basel.
In addition, she has exhibited her art in two solo shows at Box Gallery, with Judy Chicago at her Through the Flower Foundation, and with Gerald Peters Gallery in Santa Fe. Her installations can currently be seen at Yares Art Projects in Santa Fe and she will be featured in another solo show in May of 2014. Emily currently splits her time between Santa Fe and Santa Barbara, California. While she maintains a studio, she prefers to work at her kitchen table.
Feminist Artist Statement
My installations are a personal reflection on the thought patterns, habitual routine, and cognition that can often overpower our innate ability to change. I am interested in texture, patterns, and in creating a subtext with shadow play through subtle kinetic movement. Meaning is enacted upon the body, and it is the body that is the source of active expression.
Each group of figures represents the confining boundaries of societal expectations, defined roles, cultural norms, prescribed emotional states, and ideological constructs. Although each casting is empirically unique and original due to the impossibility of exactitude in any process of reproduction, there remains a rigid conformity among the figures. Only a pronounced individuation, a dramatic mutation of code, stands alone in the populous.
The story these figures create is a story of humanity. This narrative of the radical potential of the individual is one to which any viewer can relate.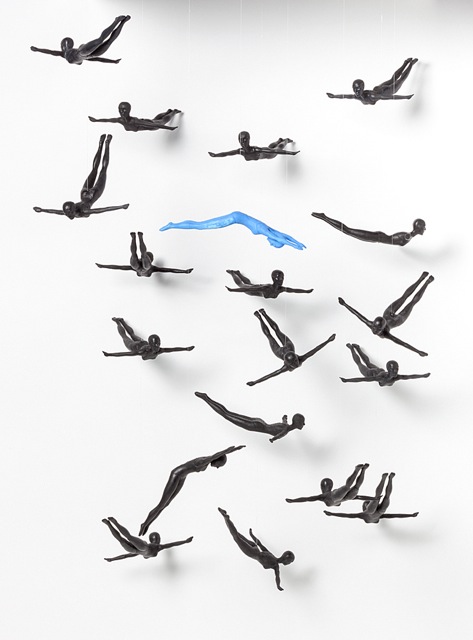 Text, images, audio, and/or video in the Feminist Art Base are copyrighted by the contributing artists unless otherwise noted. All rights reserved.