Enid Crow
Brooklyn, NY
USA
Enid Crow (nee Lori Barrett) is a photographer living in Brooklyn, New York. She earned a B.A. in Dramatic Arts from the State University of New York at Geneseo in 1989, an M.A. in Performance Studies and Theatre from Northwestern University in 1993, and a J.D. from New York University School of Law in 2004. Crow began photographing herself in her late teens when she was an acting student. Her photographs are influenced by the work of Cindy Sherman, Nikki S. Lee, Lori Nix, Meghan Quinn, and Jo Spence.
Crow's Disaster Series is a collection of comic photographs inspired by media photographs of large-scale catastrophes and pictures from horror films and pulp fiction. In the series, she portrays about 50 different characters, such as a Boy Scout, frightened nurse, and beer drinking Mets fan, observing undefined disasters in the distance. Crow's interest in gender has led to two series in progress: Faggots and The History of Moustaches. In Faggots, Crow photographs herself with artist Justin Duerr portraying gay couples and in The History of Moustaches, Crow photographs herself as archetypal moustachioed male figures such as a singer in a barbershop quartet, construction worker, and hunter.
Crow's self-portraits were first exhibited in 2000 at the first Ladyfest in Olympia, Washington, a feminist arts festival organized by many of the women involved in riot grrrl. From 2005 to 2006, Crow was an artistic fellow at A.I.R. Gallery in New York City. She is a member of the Department of Craft, an arts and craft collective in New York City.
Feminist Artist Statement
The old joke goes, "Q: How many feminists does it take to screw in a light bulb? A: Don't laugh. It's not funny."
Through my self-portrait photographs, I tell jokes about social constructions of masculinity and femininity. Humor is a very important tactic in my artwork to draw attention to the silly ways people are expected to behave based on the presence or absence of a chromosome. Humor makes thinking about this difficult issue more palatable for people who aren't used to or are resistant to feminist thinking. For example, if I came right out and confessed to a perfect stranger about the horrible, graphic sexual harassment/assault that I experienced when I was working as a carpenter, my candor might alienate or embarrass that person. Instead, I can photograph myself as a mustachioed construction worker in a series called The History of Moustaches and make that same stranger laugh and subconsciously acknowledge that it's funny because I am a woman playing an archetypal male figure in a place where women have been historically excluded. And when that person views me as a mustachioed hunter, barbershop quartet singer, and Coast Guard member, he/she can continue to laugh at my jokes as insidious patterns of female exclusion become all the more clear.
My work is heavily influenced by feminist thinkers like bell hooks, my law school professors Carol Gilligan and David A. J. Richards (whose eloquent writings about the Constitution and women's and gay rights is the foundation for my series Faggots), and Lucy Lippard. My direction has been focused by feminist art venues like Ladyfest (which exhibited my self-portrait photographs for the first time), A.I.R. Gallery (my first NYC solo show), and Venuszine.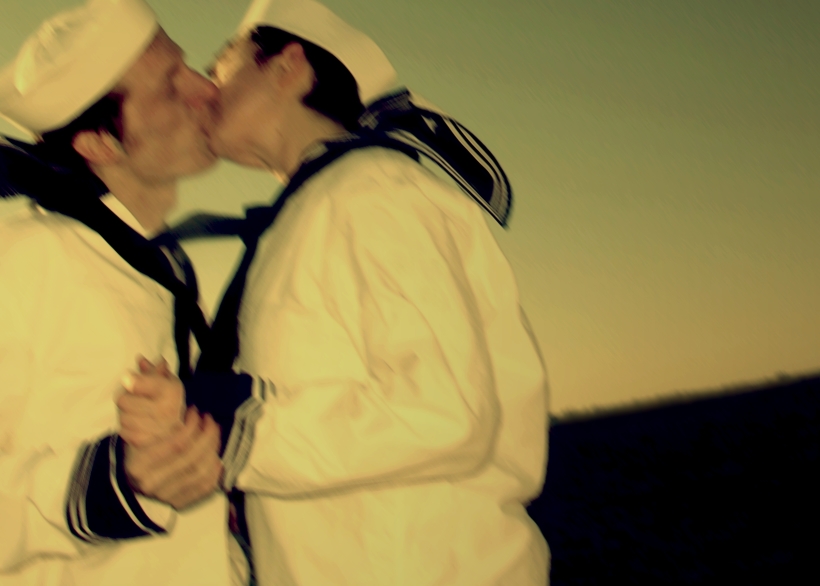 Self-portrait photograph with Justin Duerr
Contact
41 Hampton Place
Brooklyn, NY 11213
USA
Email
Text, images, audio, and/or video in the Feminist Art Base are copyrighted by the contributing artists unless otherwise noted. All rights reserved.