Esperanza Mayobre
Brooklyn,
USA
Esperanza Mayobre is a Brooklyn-based, Venezuelan artist who creates fictive laboratory spaces. She inserts the role of a hero, writing a role for herself in the work, uses light as a metaphor for birth, drawings to create infinite lines, candles to create lines of light, gives money away to talk about the third world countries debt, dust to convert illegal to legal aliens, urban chaos landscapes as elegant graffittis, and sugar cubes to talk about death.
She is the recipient of the Smack Mellon Studio Program 2011, the LMCC Workspace 2008 residency, received a fellowship to attend Skowhegan School of Painting and a Traveling Scholars Award from the School of the Museum of Fine Arts, Boston. She has exhibited at the Museum of Fine Arts Boston, the Bronx Museum, the Jersey City Museum, MIT Cavs, the Contemporary Museum of El Salvador, the Incheon Biennial, among others. Her work has been reviewed in BOMB, The New York Times, Artnet, El Nacional, Arte al Dia and Artforum.
Feminist Artist Statement
As a result from the fights of previous women generations it seemed to me that I was just lucky, I was born in the right time and place; the choice of what I could be was simply personal. I was born in 1974. I grew up in Venezuela, Latin America. Growing up it appeared as though that women and men had equal rights. I went to a school for boys and girls, was the president of my class several times, did the same things that boys would do, and never felt that I had to marry and have kids. I admired and wanted to be like Noemi Sanin, the Colombian Foreign Minister.
I always felt respect for women around me, and I felt respected as well.
It was not until my early 30's, facing the realities of a woman that age, that I did not feel that respect anymore. I began dealing with similar conflicts and disadvantages of past generations. Things that once didn't matter, became important. The problem lies within how it is still defined and expected to be a woman and how that is in embedded in our minds.
There is a need of a new woman's culture.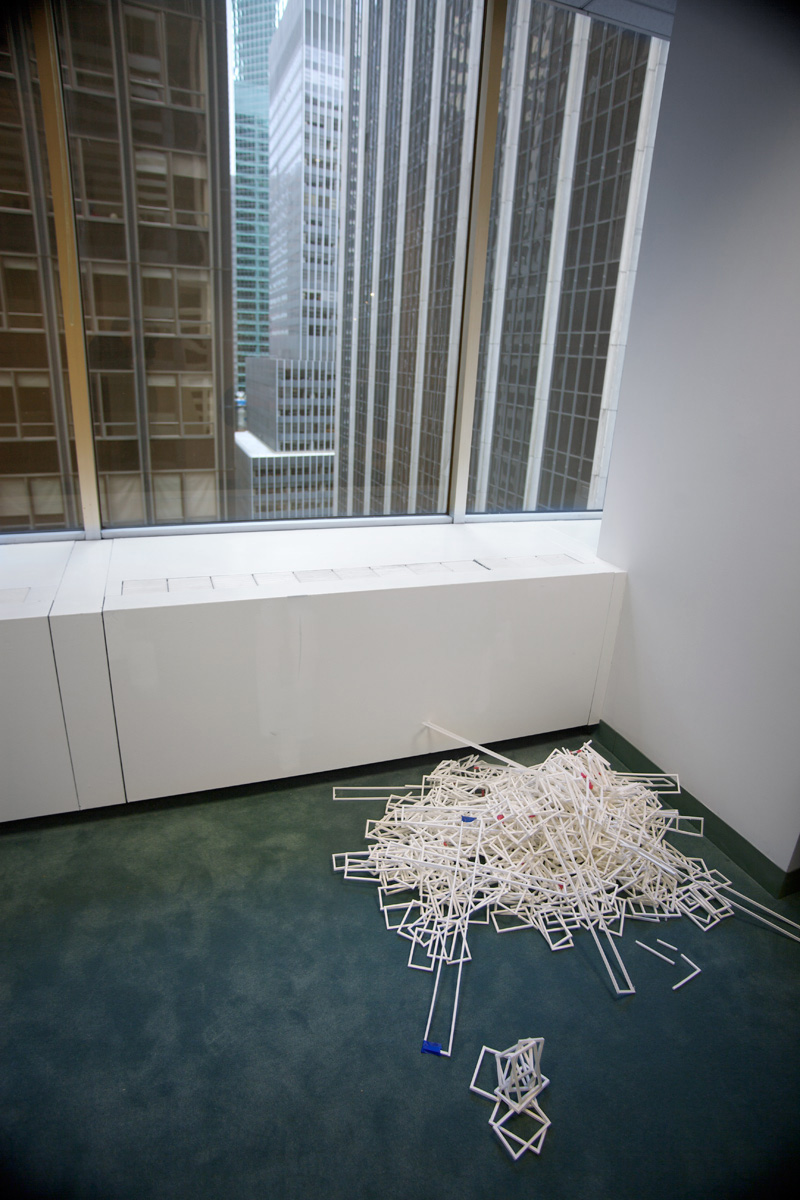 Detail of installation created in Lower Manhattan office space during my workspace residency at the LMCC.
I emptied my then studio and made a foamcore model of empty frames based on the exterior and interior rectangular forms that was repeated over and over again in the architecture elements.
By using this model / sculpture I would morph and create several different structural landscapes. I photograph them, create blueprints and make wall drawings.
Text, images, audio, and/or video in the Feminist Art Base are copyrighted by the contributing artists unless otherwise noted. All rights reserved.