Helen Gorrill
Newcastle-upon-Tyne,
United Kingdom
Helen Gorrill is a British feminist artist. She graduated with a first class degree in Drawing in 2007, and walked out of art school when they wouldn't let her create any more work of a feminist nature, going on to gain a First Class (Hons) in Contemporary Applied Arts in 2011, using more traditional 'feminine' skills within a fine art context.
Her first degree show was censored by the police and reported in The Guardian/The Observer on Sunday in "Britain is not radical enough" for featuring dominant powerful females and nude submissive men: "…The male figures have been censored but to protect whom? The spam I receive contains more indecency than Ms Gorrill's work. And it is much less interesting because she makes a valid point."
Gorrill has exhibited nationally and internationally and had her feminist and gender work featured in many publications. Her major London solo show Deicide was a showcase of four years of feminist research: "Multimedia Artist Helen Gorrill welcomed over a thousand spectators to the preview of her recent solo exhibition Deicide at DegreeArt's Execution Room. Taking a political stand against the portrayal of women in art and religion, Gorrill's work has caused controversy, thought, and extreme inspiration."
Gorrill's interactive Benedict XVI Confession Chamber is an anti-tribute to the current Pope's decision to edit women out of the bible in his new book for children. The Chamber contains 100 secret and sealed confessions from outstanding art world and feminist figures who supported the project, including The Guerrilla Girls, Catherine Opie, Peggy Ahwesh, Alexis Hunter, Melanie Manchot, Allyson Mitchell, and hundreds of others who remain anonymous: "Gorrill's confession chamber is a fascinating affair, it works on so many levels and has endless depth to it…Having already gained national and international press attention for her controversial drawings showing anonymous men in sexually submissive positions, Gorrill describes her work as exploring 'post-feminist concepts of power and control, that investigate enforcement, reinforcement and reactions to patriarchal society.' With the subject of patriarchy so immediately apparent in her new project, I can't help but wonder whether Pope Benedict XVI has gone slightly beyond this concept with his decision to just omit the existence of women from his new children's book completely…" Zeitgeist Magazine, July 2011
Feminist Artist Statement
"The drawings for her degree show, which reverse the female submissiveness advocated by a religious pamphlet posted through her door, put women in a dominant position while the men are bent and bound in sexual submission. The male figures have been censored, but to protect whom? The spam I receive contains more indecency than Ms Gorrill's work, and it is much less interesting because she makes a valid point." -The Observer on Sunday/The Guardian in "Britain is not radical enough'"
Much of my work questions the submissiveness of women advocated by religion, particularly in my investigation of Christianity and the representation of the Virgin. My work has grown increasingly towards mixed-media and sculpture/installation. I also work with unexpected found/lost objects, such as reclaimed prosthetic limbs and medical applicances, combining these with traditional 'feminine' techniques such as stitch and embroidery. People are often afraid to discuss religion and it remains one of our last taboos, a subject we avoid for fear of causing offence. With Western restrictions on the media's criticism of any religious practice, male-controlled religion will continue to dominate and underpin our society. My feminist subject matter is deeply disturbing, and to me vital in speaking the unspeakable.
Galerie Hors Champs, PARIS- "For Helen Gorrill, the body is reduced to legs, or more precisely prostheses presented as sadomasochistic imagery. Whereas for Georges Bataille the female body is one of the forms of 'the other', her prostheses as stigmata of mutilation, representing the lack where pleasure penetrates. "You see I am God", said the prostitute Mrs Edwards, parting her legs to show her 'open sore'. Here, God would be the gaping hole, and it's not for nothing that Helen Gorrill has worked extensively on the theme of biblical women. In other words, as she claims, a gaping hole to be filled in, or simply in need of being reinvented with the support of fetishism and iconoclasm (drawings accompanying the sculpture represent the assumption of Pope Pius IX, nude and bound)..."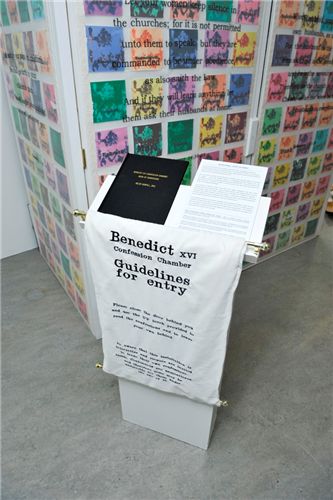 Interactive textile installation based on Pope Benedict editing women out of the bible in his new book for children. Each and every biblical female has been named on a ball-gagged Pope commemoration. Contains hundreds of confessions - some are sealed and belong to some of the world's leading figures in the arts (including key feminist artists)- some are visible and anonymous. Viewers are invited to confess their own sins and leave them hidden or revealed within the chamber. My aim is to inspire people to look more closely at feminist issues inherent within the bible and Christianity.
Text, images, audio, and/or video in the Feminist Art Base are copyrighted by the contributing artists unless otherwise noted. All rights reserved.