Helen Redman
San Diego,
Helen Barchilon Redman, MFA, is a figurative painter, mixed media artist and educator whose work runs the gamut from intimate portraits to satiric social commentary. She explores personal identity, gender stereotypes, health issues, and cycles of life in the expressive tradition of Alice Neel and Frida Kahlo. The sequential series she has created include A Life Line of Art (1964-present); Mediatypes of the Sexes (1975-1980); Parables of So Cal (1985-1991); and Birthing the Crone: Menopause and Aging through an Artist's Eyes (1992-present).
Redman has taught at the University of Colorado and the University of Iowa. She has been an active and continuous force for the support and recognition of women in the arts, co-founding Front Range Women in the Visual Arts in Boulder, Colorado in 1974 and serving as the first president of the San Diego Women's Caucus for the Arts in 1992.
Redman's first of 43 solo exhibits was at the Salt Lake Art Center in 1964 and her most recent at Chicago's Woman Made Gallery in 2006. Her work has been in numerous juried and invitational exhibitions including Le Centre Culturel Americain, Paris (1967), the Denver Art Museum (1971, 1978), the Joslyn Art Museum in Omaha, Nebraska (1966, 1973), the Colorado Springs Fine Arts Center (1969, 1977, 1983, 2003) and the Boulder Museum of Contemporary Art (1978, 1984, 2000). Her signature series: Birthing the Crone: Aging Into Full Creativity, has been exhibited at the Thacher Gallery, University of San Francisco (2002), New York Open Center (1994), University of San Diego (1998), and Hearst Art Gallery at Saint Mary's College, Moraga, CA (2002).
Redman's work serves as a catalyst for others to explore the issues she raises, and for women to communicate their knowledge with one another. Her ongoing "Creativity and Aging" workshops use art to foster personal creativity, elicit diverse narratives and re-frame aging.
While Redman shares her vision at studio gatherings, on college campuses and at fine arts, health and community centers, the Internet transmits her work globally. Her popular website www.birthingthecrone.com has been used as a study guide in college curricula and evokes responses from all around the world.
As described by Debra Koppman, Helen Redman "...offer(s) a visceral sense of artistic growth and new vitality… (her) art functions as a kind of tapestry, weaving alternative visions of beauty found in experiences lived, love shared, pain survived, wisdom earned."—Artweek, January 2002.
Feminist Artist Statement
Since the early 1960's, I have created, taught and presented art that explores body image, personal identity, and life cycle experience from a feminist perspective. The subject matter includes pregnancy, mothering, the death of a child, various stages of my children's growth and gender identity, menopause and aging.
My art trajectory is one of observation and action. As a feminist, I have consciously integrated self-awareness, social inquiry, commentary, and community building into my creative process. Female voice and expression are at the heart of my lifelong work to realize art's healing power.
In a pre-feminist era, I managed to integrate being an artist and a mother when the two were considered oppositional. In 1964, as a recent University of Colorado MFA graduate living in Paris, I created a series of life-size drawings of my unborn daughter, Nicole, in utero. I was aware of declaring, "Here is my body, my child is within, and I am drawing myself as both a woman artist and an expectant mother!" This powerful affirmation helped me transform the grief of losing my first child, Paula, which occurred when I was five months pregnant with Nicole. Experiencing child loss and childbirth so close together, I developed a heightened awareness of life passage that has endured throughout my artistic career.
I continued to chronicle Nicole's life from infancy through her own pregnancies and motherhood. The same scrutiny, humor, and care were directed towards my son Paul through the stages of his development, including an ongoing appreciation of his gay identity. Becoming a grandmother in 1984, added a third generation to my ongoing Life Line of Art series.
Having come full circle through the biological markers of female passage, I see the complexity and synergy of life's layers. I create evocative portraits of myself and other older women, collaborating with them to celebrate the beauty of old, creative aging, and our shared connection to the earth.
Since the early '90's, I have created and exhibited art that shares the process of aging from both personal and researched perspectives. Constructed in 1994, my website, http://www.birthingthecrone.com, was expanded and redesigned in 2007 with the intergenerational help of my son and granddaughter. Global, interactive and ongoing, my digital studio now reaches far beyond traditional venues, and contributes to an international dialog on feminism and female aging.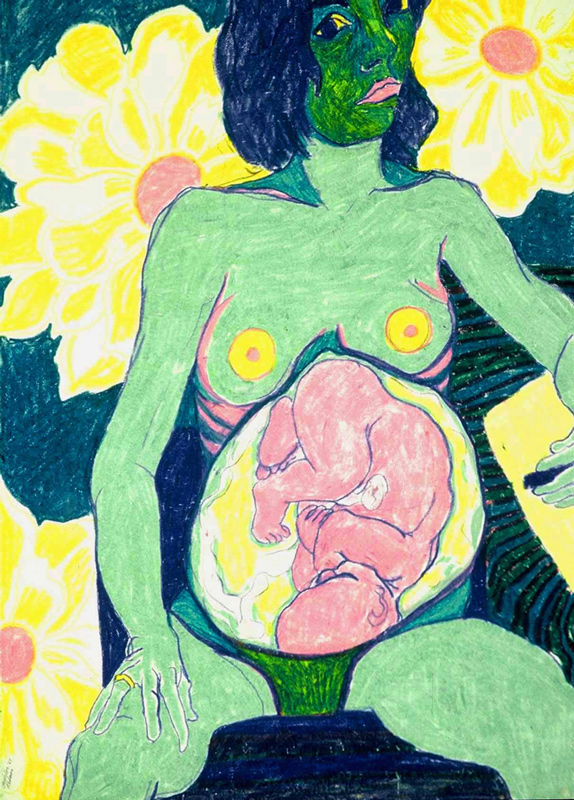 During my ninth month of pregnancy, I created a series of drawings of my child to be, Nicole, as I imagined her inside of me. It was a way to survive the death of my first child Paula that occurred when I was pregnant with Nicole. In the midst of such continuing grief, I was nevertheless aware of artistic self-authorship: "Here is my body, my child is within, and I am drawing myself as both a woman artist and an expectant mother!"
The drawing is oil crayon on paper—a greasy, rough, expressionistic, scribbly medium that allows for no changes. My natural drawing scale is just larger than life size and the color choices are emotional. While I stare myself down in the mirror, I review fetus development in birth manuals to prepare for a natural Lamaze childbirth.
I had been trained to perform like male artists—the "universal" model of the time. After having been through a death as a mother at the young age of 24, I needed my art to visualize a healthy life for the new baby. In 1964, when Abstract Expressionism was giving way to Minimalism, I was a recent University of Colorado MFA graduate living in Paris. After my child Nicole was born, I continued to chronicle her life from infancy to her own pregnancies and motherhood. Well before the feminist art movement encouraged us to examine and respect our experiences as women, I chose to weave my life as a mother into my art.
Contact
San Diego, 92107
Email
Text, images, audio, and/or video in the Feminist Art Base are copyrighted by the contributing artists unless otherwise noted. All rights reserved.