Howardena Pindell
New York,
USA
Howardena Pindell is a full tenured Professor in the Art Department of Stony Brook University (State University of New York), where she has taught since 1979 and was Director of the MFA Program from 2003 through 2006. She teaches graduate and undergraduate drawing, painting and seminar courses.
She received an MFA from Yale University's School of Art and Architecture in 1967 and a BFA in Painting from Boston University's School of Fine and Applied Arts in 1965. She has two Honorary Doctorates, one from the Massachusetts College of Art in Boston and one from Parson School of Design/The New School University, New York.
Howardena Pindell worked at the Museum of Modern Art in New York for twelve years and was an Associate Curator of Prints and Illustrated Books. She was a visiting Professor of Art at Yale University's School of Art from 1995 to 1999. She has received numerous grants and awards including the Guggenheim Fellowship, two National Endowment for the Arts grants, a Joan Mitchell Grant, a Studio Museum in Harlem Artist Award as well as an Anonymous Was A Woman award and the Most Distinguished Body of Work or Performance Award from the College Art Association.
Her work is in numerous private, cooperate and public collections, including the collection of the Metropolitan Museum of Art, New York, The Museum of Modern Art, New York, The Whitney Museum of American Art, The Yale Art Museum, New Haven, The Fogg Art Museum, Harvard University, The Rhode Island School of Design Art Museum, and the Museum of Contemporary Art, Chicago among many others.
Midmarch Arts Press, New York, published a book of her writings, The Heart of the Question, in 1997. She has written articles that have appeared in The Print Collector's News Letter (New York), Art Papers (New York), New Art Examiner ( Chicago) , International Review of African American Art (Virginia), n.paradoxa (London) and Third Text (London).
Her most recent one person exhibition in New York was at the G.R. N'Namdi Gallery in Chelsea (2006). Her work includes painting and three dimensional prints and drawings. She also incorporates photography into her work. She often works on a very large scale. She has a current one person exhibition is at Louisiana Museum of Science and Art in Baton Rouge, Louisiana (Jan.19-April 7, 2007).
Feminist Artist Statement
One of my first one-person exhibitions was held at AIR Gallery, the first women's cooperative at 97 Wooster Street in New York City. The New York art world was more rigidly and solidly white and male at the time than it is now and this condition was being resisted. I developed a number of tools for inward looking, personal assessment through the women's movement's consciousness raising processes in order to understand how racism and sexism work within the art community as well as the community at large. I found my true voice through the African American movement but received my training wheels in the women's movement in the late 1960's and early 1970's. I feel that this is true because I was shy and did not have my original family and community roots in the black community in New York City, but in Philadelphia. I was invited by the white feminist community to join them, whereas the African American community in general at the time was highly critical of abstract African American artists. My use of odd materials also came through the influence of work that I saw exhibited within the feminist community. The materials I used included powder, perfume, glitter, thread and sewing sequins. African influences came by way of seeing loose hanging textiles, both here and in Africa. I saw nails in nkisi sculpture. I also was aware of a kind of stenciling and sewing together of loose fabrics as well as having a very dense and energetic surface tension in my paintings and works on paper.
Howardena Pindell ?2007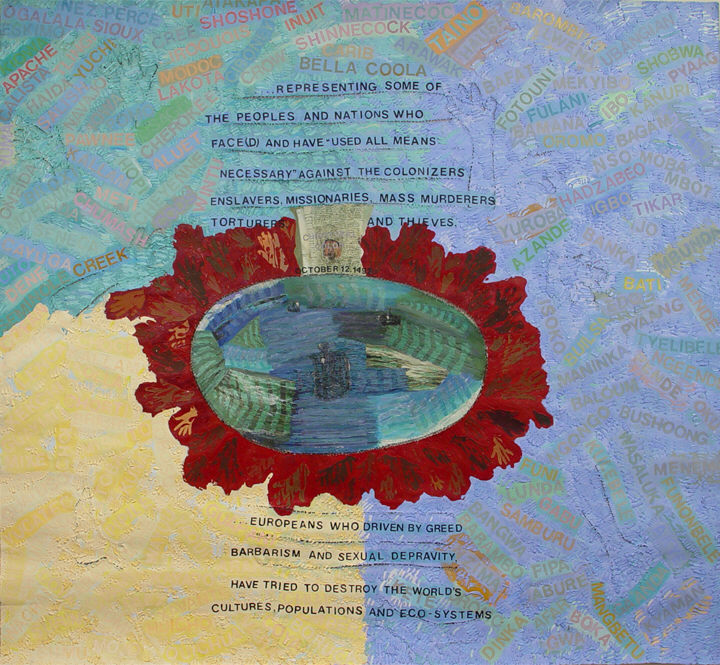 The text reads: Representing some of the peoples and nations who face(d) and have 'used all means necessary' against the colonizers, enslavers, missionaries, mass murderers, torturers and thieves. ...Europeans who driven by greed, barbarism and sexual depravity have tried to destroy the world's cultures, populations and eco-systems.
Text, images, audio, and/or video in the Feminist Art Base are copyrighted by the contributing artists unless otherwise noted. All rights reserved.