Ida Applebroog
New York,
United States
1929 Born in Bronx, NY. 1944-48 Attends Taft High School. 1948-50 Attends NY State Institute of Applied Arts and Sciences. 1950 Marries Gideon Horowitz. 1952 Daughter Debra born. 1955 Daughter Beth born. 1956 Moves to Chicago. 1957 Son Paul born. 1960 Son Ned born. 1965-68 Attends School of the Art Institute of Chicago. 1968 Family moves to San Diego. 1971 Attends first Feminist Artists Conference at Cal Arts. 1972 "Invisible/Visible", Long Beach Art Museum. 1973 Teaches at UCSD. 1974 Returns to NYC. 1975 Formally changes name to Applebroog. 1977-81 Series of self-published books sent out through mail. 1978 Joins Heresies/A Feminist Journal on Art and Politics. 1981 "Applebroog: Silent Stagings," first exhibition at Ronald Feldman Fine Arts, New York where I showed for over 20 years. 1991 Joins Women's Action Coalition (WAC). 1995 College Art Association Distinguished Artist Award for Lifetime Achievement. 1997 Honorary Doctorate of Fine Arts, New School for Social Research/Parsons School of Design, NY. 1998 MacArthur Foundation Fellowship; Retrospective at Corcoran Gallery of Art, Washington, DC. 2005 PBS Documentary "Art 21: Art in the Twenty-First Century" (season 3). 2007 Currently producing new work "Photogenetics".
Feminist Artist Statement
My work deals primarily with the subtexts of gender politics, communication breakdowns, and socio-sexual dysfunction, while always chronicling the banal. As to my relationship to feminism, I attended the Art Institute of Chicago in the 1960's, before feminism was out of the closet. I was actually flattered when a male instructor told me, "Your work is as good as a man's." By the 1970's, I was living in California and feminist activism was in full force. I had not yet changed my name from Ida Horowitz to Ida Applebroog. In 1972 Dextra Frankel curated an exhibition "21 Artists – Invisible/Visible" in Long Beach, California, presenting women as artists. I was in that exhibition, and the question was, "Would artists consent to an all-women show?" The answer was, "Yes, they would." As I was looking through my files I also came across the publication "Anonymous Was A Woman," published by the Feminist Art Program of the California Institute of the Arts, Valencia, California, 1974. It is a compilation of letters to young women artists, a documentation of the Women's Art Festival. Included are letters from Linda Nochlin, Mimi Schapiro, Hannah Wilke, Carolee Schneeman, Joyce Kozloff, Lucy Lippard, Lee Krasner, Judy Chicago, Eleanor Antin, Lynda Benglis, myself, and many others. The letters deal with feminism and art, feminist art and what it means to be a woman, an artist, and a feminist. Now, after more than 30 years, the creation of this archive feels somewhat like a mixed blessing in that we still have to give recognition to women by providing them their own registry and we are still asking the same questions. Men have never had to resort to a "male archive," or for that matter, to a " men's show." These issues are still here. I hope that with our perspective broadened by global concerns, we will continue moving forward.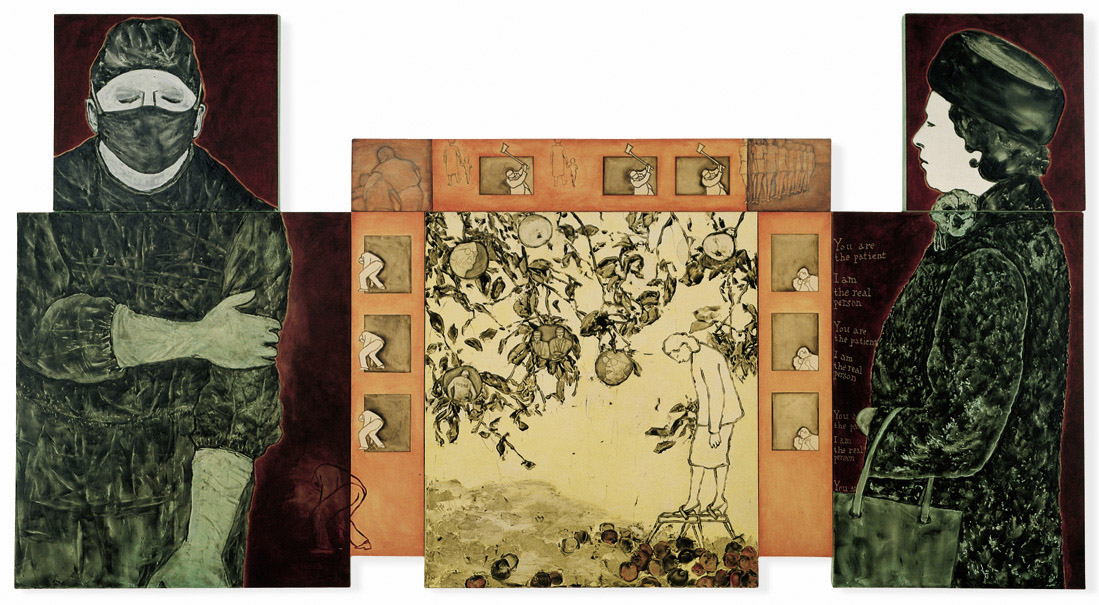 Text, images, audio, and/or video in the Feminist Art Base are copyrighted by the contributing artists unless otherwise noted. All rights reserved.