Jane Richlovsky
Seattle, WA
USA
Jane Richlovsky has been painting on patterned textiles for nearly twenty years, scouring local thrift stores for the fabrics and the American collective unconscious for the narrative material. She resides in Seattle, Washington.
Her paintings have been exhibited in solo and group shows throughout the United States, including the Museum of Northwest Art and the Tacoma Art Museum in Washington; JoAnne Artman Gallery in Laguna Beach, California; LA Art Show and A Shenere Velt Gallery in Los Angeles; Archangel Gallery and Coral Sands in Palm Springs, CA; The Painting Center in New York City; Heineman-Myers Contemporary Art in Bethesda, Maryland; Art Now Miami in Miami Beach; Art Santa Fe; the Butte-Silver Bow Arts Foundation in Montana; and in Seattle at the Fetherston Gallery, Atelier 31, Pratt Gallery, and the Seattle Art Museum. Her next solo exhibition is scheduled for January, 2015 at the Lois Lambert Gallery in Santa Monica, California.
She is the recipient of grants from the George Sugarman Foundation, the Ludwig Vogelstein Foundation, the King County Arts Commission, USA Projects, and Artist Trust. Her work is included in the collection of the King County International Airport and in private collections around the world.
Feminist Artist Statement
Before they became paintings, the pieces of fabric I paint on had lives of their own. They were tablecloths, curtains, slipcovers, and other domestic ephemera. I leave their floral, polka-dotted, and paisley surfaces partially revealed as people's clothing or objects, using painted shadows and reflections to merge them visually and symbolically with their environments.
I appropriate images of the American Dream from mid-century advertisements aimed at women, and unpack their promise of idyllic family life with a high-heeled, pearl-bedecked, sexy housewife at its spotless center. I recontextualize found, fakey, blissful female characters and their companions in new futuristic spaces and ambiguous relationships. I try to uncover what lies at the heart of our collective consumerist obsession with domesticity and women's submersion in it. I give the fictional women new, unresolved stories to act in, restoring a bit of their complex humanity.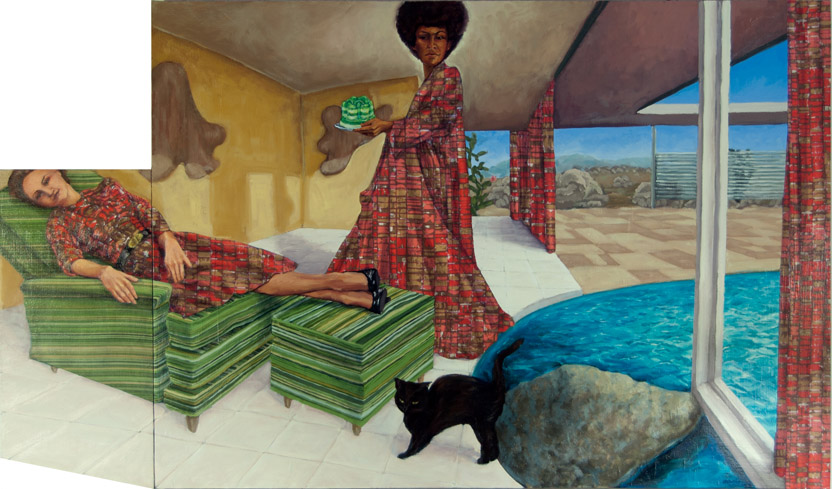 Two-paneled painting on patterned reclaimed textiles. The prints are visible in the women's dresses, chair, and curtains. A cover of Manet's Olympia.
Contact
Seattle, WA
USA
Email
Text, images, audio, and/or video in the Feminist Art Base are copyrighted by the contributing artists unless otherwise noted. All rights reserved.