Jen Kennedy and Liz Linden
Brooklyn, NY
United States
Jen Kennedy was born in 1982 in Southwestern Ontario. She received her BA and MA from the University of Western Ontario. Liz Linden was born in 1980 in Seattle, Washington and grew up in the San Francisco Bay Area. She received her BA in Literature from Yale University in 2002. Kennedy and Linden both completed the Whitney Independent Study program in 2009.
Feminist Artist Statement
"Cultural events sustain feminists' collective identity, recruit new women to the movement, and provide a base from which participants organize other forms of protest. More directly, cultural challenges undermine hegemonic ideology about gender by constructing new ways of being a woman that are visible to outsiders as well as insiders. Far from being non-political, such efforts are central to the survival and impact of the women's movement." Nancy Whittier
Our collaboration began in 2008 after discovering that we had both been told by a number of prominent feminists from various generations that feminism is dead. We were troubled that this was their perception when we see so much life in it still. In an effort to understand this why this is the case, we began our wide-ranging artistic collaboration to publicly explore the question: what does feminism look like today?
But this question is immediately complicated by a semantic stumbling block. The predominant understanding of "feminism" is coded by a body of works, actions, and texts produced in the '60s and '70s, such that it has become nearly impossible to talk about contemporary feminism in a way that doesn't tie it to an historical moment.The feminist practices and attitudes cultivated in the 1960s and 1970s have become the gauge by which all subsequent actions have been judged, producing a hierarchy within feminism that obscures its complicated and multifaceted relationship to the social, cultural, and political events of our own time.
Our collaboration is an ongoing effort to find ways to transmit feminism forward. Each instantiation of our project seeks to develop techniques to incorporate a more diverse set of voices and methodologies. From language games to our ever-evolving public library of feminist books to our renegade feminist press to polling station sculptures to experimental discussions, performances, and interactive installations, our art works function as platforms to describe and preserve our movement in a way that does not retroactively erase difference, but instead makes it visible for all to see.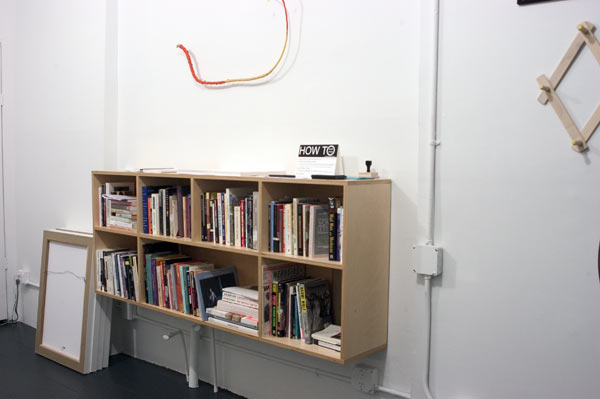 Book swap… is a constantly evolving feminist library where visitors are encouraged to take books from the collection in exchange for one from their own. This ever-expanding installation, which initially consisted of over 100 books from the artists' personal collections of feminist literature, works on the principle that knowledge production should be a community based, collective pursuit unencumbered by the increasing privatization of universities and libraries.
Book swap… has been installed at DISPATCH, New York, NY and at The Sackler Center for Feminism Art in the Brooklyn Museum, Brooklyn, NY
Contact
Brooklyn, NY
United States
Email
Text, images, audio, and/or video in the Feminist Art Base are copyrighted by the contributing artists unless otherwise noted. All rights reserved.