Jocelyn Braxton Armstrong
Bridgeport,
USA
Jocelyn Braxton Armstrong is a ceramic artist whose sculptures have a fresh sophistication and modern aesthetic that link fine art with craft. Before devoting herself full-time to ceramics in 2001, Ms. Armstrong spent nearly 20 years as a freelance fashion stylist/editor in Manhattan. Since then, she has developed a signature technique of building black and white porcelain ceramic sculptures to look delicately stitched together. Ms. Armstrong's talent has been recognized and her work critically acclaimed. She received an Artist Fellowship Grant from the Connecticut Commission on Culture and Tourism in 2008, and was granted a prestigious Emerging Artist Awards from American Style Magazine in 2008, Ceramics Monthly in 2007, and The Aldrich Contemporary Art Museum in 2005. She won the First Prize in Sculpture in 2008 and 2006 during the Annual Art of the Northeast USA Exhibition at the Silvermine Guild Arts Center (New Canaan, CT). Her porcelain sculptures have been exhibited regionally and nationally at venues including the Fuller Craft Museum (Brockton, MA), San Angelo Museum of Art (San Angelo, TX), Peninsula Museum of Art (Belmont, CA), Lincoln Arts & Cultural Foundation (Lincoln, CA), Mesa Contemporary Arts (Mesa, AZ), Wayne Art Center (Wayne, PA), Annmarie Sculpture Garden & Arts Center (Dowell, MD), Sherrie Galerie (Columbus, OH), Visual Arts Center of New Jersey (Summit, NJ), Fairfield Arts Council (Fairfield, CT), Westport Arts Center (Westport, CT) and The Aldrich Contemporary Art Museum (Ridgfield, CT). Ms. Armstrong is a juried member of the Silvermine Guild of Artists (New Canaan, CT). Jocelyn Braxton Armstrong holds a BFA from the Maryland Institute College of Art. She currently lives in Westport and maintains a studio in Bridgeport, CT.
Feminist Artist Statement
In the exhibition, I AM SHE, I examine issues relating to feminism past, present and future, exploring the causes of gender based violence and inequality from both a personal and global perspective. My interest in women's issues began at an early age. As a young girl, in the 70's, I petitioned my elementary school to allow girls to wear pants. I argued that the rule was preposterous, gender biased and particularly punitive to girls during the cold winter months. The rule was changed and I learned through this first taste of empowerment that one person could effect positive change. Today in many parts of the world, modern advances in technology and communication collide with traditional religions, cultures and customs and what emerges is a society that is out of step with modern times, particularly issues related to feminism, the causes of which I discover are sometimes surprising. Closer to home, issues of human trafficking and domestic violence compromise our tenuous hold on feminism, the extent to which is underestimated and misunderstood. Through the use of figurative imagery and my shoe installations, I address issues of love, family, conflict, and gender inequality. Some of my sculptures and installations are confrontational and that is my intent: to inspire curiosity, thought and dialogue, to raise awareness, and incite positive action.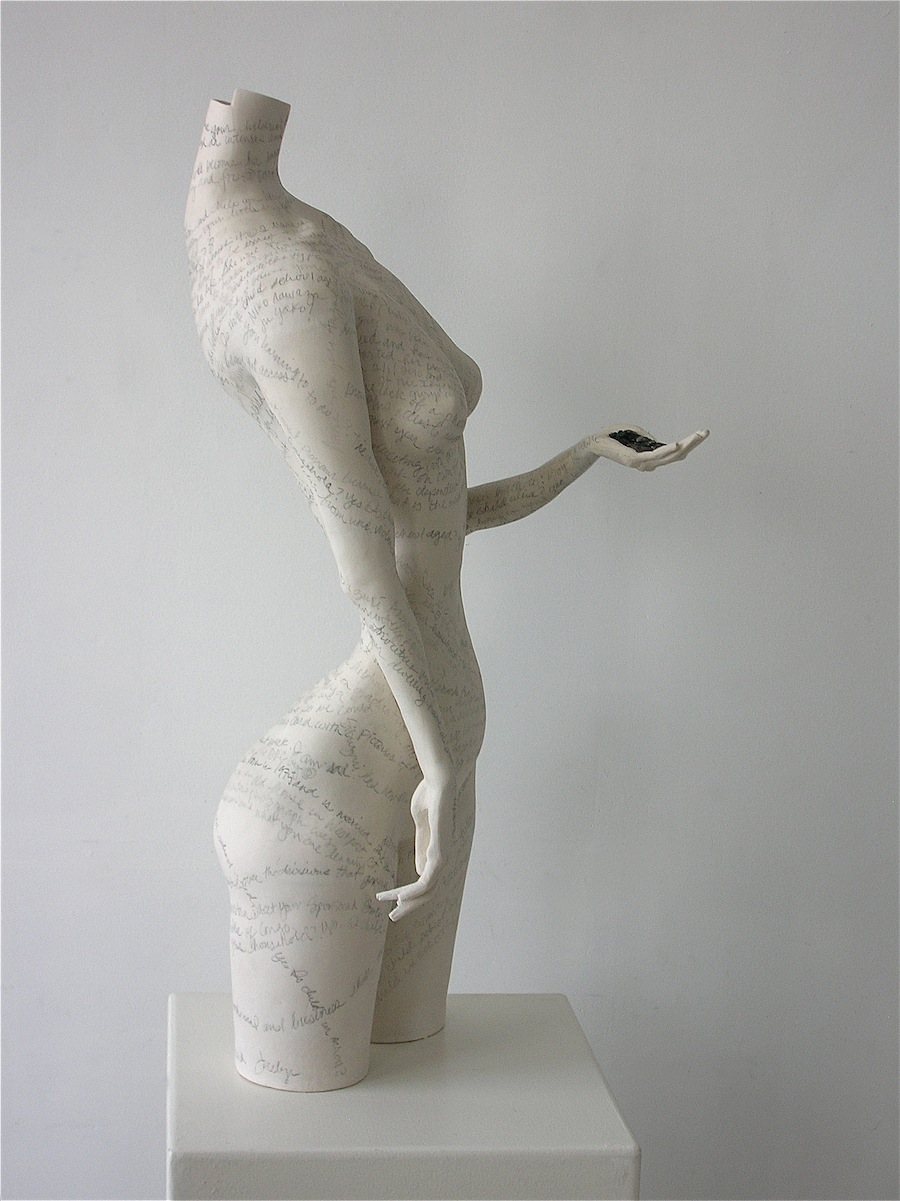 Contact
1069 Connecticut Ave
Bridgeport, 06607
USA
Email
Text, images, audio, and/or video in the Feminist Art Base are copyrighted by the contributing artists unless otherwise noted. All rights reserved.