Joyce Kozloff
New York, NY
USA
Joyce Kozloff was born in Somerville, New Jersey in 1942, and received BFA from Carnegie Institute of Technology, Pittsburgh, PA in 1964 and an MFA from Columbia University in 1967. She cites a 1973 trip to Mexico as the beginning of her on-going concern with patterns and their cultural significance. Kozloff was a major figure in both the Pattern and Decoration and Feminist art movements during the 1970s. By 1979, she began concentrating on the field of public art, both to expand the scale of her installations and increase their accessibility to a wider audience.
Since that time, Kozloff has executed a number of major commissions in public spaces. Since the early 1990s, Kozloff has utilized mapping as a device for contextualizing her long-term interests in history, culture, decorative, and popular arts. In 1999-2000, Kozloff was awarded the Jules Guerin Fellowship, Rome Prize from the American Academy in Rome, Italy. During her yearlong residency abroad Kozloff conceived and completed a series of twenty-four collaged drawings based on maps, diagrams and illustrations of historic battles, which examine the fascination shared by many young boys for war. An oversized artist's book of these works was published by D.A.P./Distributed Art Publishers in 2003.
Recent solo exhibitions include: Joyce Kozloff: Voyages + Targets at Galleria Michela Rizzo in Venice, Italy in 2006; Joyce Kozloff: Exterior and Interior Cartographies at the Regina Gouger Miller Gallery of Carnegie Mellon University, Pittsburgh, PA, also in 2006; Joyce Kozloff: Topographies at the Contemporary Art Center of Virginia, Virginia Beach, VA in 2002; and Boys' Art and Other Works, Targets, and Knowledge: an ongoing fresco project, all at DC Moore Gallery, New York, NY.
Feminist Artist Statement
I had the good fortune to come of age as an artist just as the women's movement swept through our culture, changing the way we live, think, and create. I was a young mother and painter in Los Angeles in the fall of 1970, when a fellow faculty wife invited me to join a consciousness raising group. Within a few weeks, we were all radicalized, questioning the way our society was structured, our personal relationships were conceived and our educations had been constructed.
Since that time, I've been in many feminist collectives – the support, excitement, and energy in these groups is almost an addiction. During that first heady year in Los Angeles, we formed an activist group called the LA Council of Women Artists, which challenged the LA County Museum of Art on its woeful representation of women and minority artists. The statistics that we presented at a press conference were so shocking that the museum agreed to host the first ambitious historic show of women's art, "Women Artists: 1550-1950," curated by Linda Nochlin and Ann Sutherland Harris.
Later in New York in 1975, I became a founding member of the Heresies publishing collective, which produced a thematically organized quarterly about Feminism, Art and Politics. My own art was in flux, as I began to look at women's traditional arts as a source and inspiration. Feminism had challenged me to examine the language of art history, which relegated decoration to a lower place in the high/low art hierarchy. I wanted to break down those hierarchies, which were based on sexist and racist assumptions.
At first, I brought patterning into my paintings on canvas, but then I began to work in ceramics and textiles, decorating whole rooms. From there, it was natural to move into public art, where there was a centuries old, world-wide tradition of grand-scale ornament to emulate! I feel as connected to the women's art movement today as I did 37 years ago. The networks of friendship are sustaining, new generations of artists continue to interest and provoke me, as the theory and practice of feminist art expands and morphs. In the beginning, there was a utopian idealism; later, we came to a realization that evolution is slow and there are setbacks along the way. I am gratified by the renewed interest in the groundwork laid in the 1970s.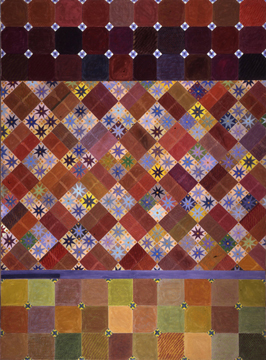 Contact
c/o DC Moore Gallery, 724 Fifth Avenue
New York, NY
USA
Email
Text, images, audio, and/or video in the Feminist Art Base are copyrighted by the contributing artists unless otherwise noted. All rights reserved.