Julia Kunin
Brooklyn,
USA
Julia Kunin was born in Vermont, and lives and works in Brooklyn, New York. She graduated from Rutgers University (M.F.A.) and Wellesley College (B.A.). Her work has been featured in The New York Times, ARTnews, and House and Garden. She is featured in Harmony Hammond's book Lesbian Art in America (Rizzoli, 2000).
Kunin is the recipient of The John Michael Kohler Arts/Industry Artist Residency, Shebyogan, WI (2007), and has participated in many artist residency and fellowship programs, including The MacDowell Colony, Petersborough, NH; the Marie Walsh Sharpe Art Foundation, NY; and Yaddo, Saratoga Springs, NY. Her work was recently on view at the 2007 Armory Show on the Piers, NY; Karyn Lovegrove Gallery, LA; and Sandra Gering Gallery, NY. She is represented in New York by Greenberg Van Doren Gallery.
Julia Kunin works in drawing, mixed media collage, and ceramic sculpture; she is inspired by organic forms, undersea creature, insects, and other natural forms that reference the surreal landscape and interior spaces of the body.
Feminist Artist Statement
The octopus is both mysterious and sensually evocative; its parachute like body and its long tentacles bring to mind a polymorphous sexuality. The impulse to create artifice based upon the natural world is a theme in my ceramic work, in which I often use suggestive animal forms. The concepts are informed by a practice of art making about female sexuality that has been a thread in my sculpture since 1987. The works made 2004-2007 use animal imagery as a transition from my previous sculptures, which related directly to the female body. In piling up ceramic animal bodies in an orgiastic mass I reference the interiors of the body and the surreal landscape. The works are still sensual at their core, and refer to the decadence of excess, and the grotesque. The pieces are ambiguous in their relationship to the body, and relate to scholars rocks, as well as to the garden grotto.
My work made in the 1990's, which is more specifically feminist, is well described by Harmony Hammond in her book published in 2000, called Lesbian Art in America:
"Julia Kunin's work is about the eroticized object, its ability to give visual pleasure, to evoke activities and fantasies. Working with minimal forms, referring both to objects and the female body, Kunin addresses the representation of female sexuality through erotic desire inherent in the body's relationship to those objects. Intentionally fetishized, her red suede saddles, flocked cast-iron hairbrushes, and vagina-shaped keyholes (which concretize, or make an object of, 'opening' or 'absence') are created with a sense of humor, as 'serious sculpture', subverting and eroticizing the original function of the object. In Squid in Love, two saddles covered with sexy red suede hang like two giant labia almost touching, stand-ins for the women who might ride them. In more recent pieces she has dissected and reconstructed new forms out of old saddles that are then covered with red suede. These objects flaunt and camp essentialist forms from the 70's."
Excerpt from Harmony Hammond, Lesbian Art in America (Rizzoli International Publications Inc, New York, 2000) p. 95.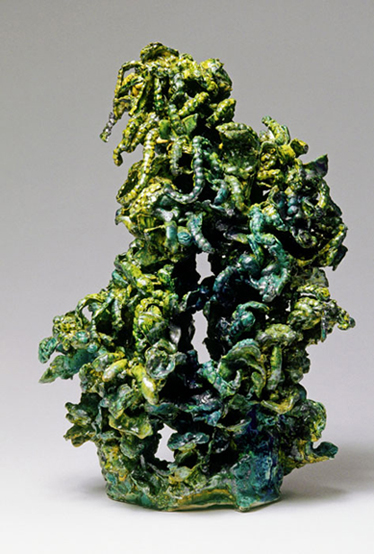 Text, images, audio, and/or video in the Feminist Art Base are copyrighted by the contributing artists unless otherwise noted. All rights reserved.