Julie Rrap
Leichhardt, Sydney,
Australia
Julie Rrap has been a major figure in Australian contemporary art for more than thirty years. Since the mid-1970s, she has worked with photography, painting, sculpture, performance and video in an on-going project
concerned with representations of the body.
Between 1986 and 1994 she lived in France and Belgium where she exhibited widely. Rrap was included in the important Australian Show in 1988 that toured to the Frankfurter Kunstverein in Germany and in 1988, Edge to Edge, which toured in major museums in Japan. Other significant group exhibitions include Fieldwork: Australian Art 1968 - 2002 at the National Gallery of Victoria, Systems End: Contemporary Art in Australia that toured Japan and Korea in 1996, The Body Show AGNSW in 1997 and in the 1986, 1988 and 1992 Biennales of Sydney. Rrap also participated in the 2008 Sydney Biennale Revolutions: Forms that Turn curated by Carolyn Christov-Bakargiev who is the current Artistic Director for Documenta (13). Recently she has been included in the 2007 Auckland Triennale, the 2009 Clemenger Contemporary Art Prize, NGV, Melbourne and in 2010, the Gyeonggi Museum of Modern Art, Korea. Rrap won the Hermann's Art Award for her photograph, Overstepping, in 2001, the Redlands Art prize for a combined sculpture and photographic work, in 2008 and the University of Queensland National Artists' Self-Portrait Prize for her video work, 360 Degree Self-Portrait in 2009. The video work, Fleshpool, 2004 was commissioned by the Australian Centre for the Moving Image (ACMI), Melbourne and SBS Television as part of the ARTV project in 2004. In 2007, a publication and 25 year survey exhibition, Body Double, was curated at the Museum of Contemporary Art, Sydney by Victoria Lynn. Rrap's works are held in every major public collection in Australia as well as many corporate and private collections in Australia and overseas. She currently exhibits with Roslyn Oxley9 Gallery in Sydney and Arc 1 Gallery, Melbourne.
Feminist Artist Statement
Since the 1970's I have worked with photography, painting, sculpture, installation and video in an on-going project concerned with representations of the body; my body and sometimes the body by suggestion. This subject is, if you like, a very classical one but one which has allowed me to channel history through differing philosophical and theoretical positions. Deconstructive principles combined with the work of feminist thinkers such as Simone de Beauvoir and Luce Irigaray initially acted as textural threads that disarmed and critiqued entrenched hierarchical positions.
What these different theories did was to raise the question of whether "Art can function as an agent of change and escape its own limits as purely aesthetic exchange object without recourse to what critic Jean Fisher termed "an oppositionality-as-complaint" in which the political and issue-ridden tended to dominate the art work. Fisher introduced a field of activity which was much more driven by a displacement of perception and meaning that found its true encounter with the viewer. She spoke of a "re-empowerment through subterfuge" and introduced the character of the trickster as a transformative agent in this process.
This character of the trickster is one with which I have identified from the inception of my practice because it better suited my purpose in undoing history's hierarchical and often binary constraints that tended to divide the world into subject and other. As trickster, dancing in the margins and making night raids into enemy territory seemed an exhilarating and productive strategy that could challenge established positions and send cracks through powerful edifices that supported the status quo.
Media such as photography and video became mischievous companions in undermining and poking fun at stereotypical representations of women transforming these characters into active agents for change. These images also contained some of the "blasphemous energy" of the surrealists and the informe or formless proposed by Georges Bataille.
The body as trickster can become ambiguous or hybrid and dissolve between states merging with its shadow, performing impossible postures or dissolving into its reflections. In visual terms we could imagine this as a liminal space in which different elements redefine themselves by losing themselves, and by so doing create an expanded field in their self-definition. Within these parameters fluid identities unsettle in order to transform, allowing connections between things that may otherwise always be placed in binary relationships that support old hierarchies of difference.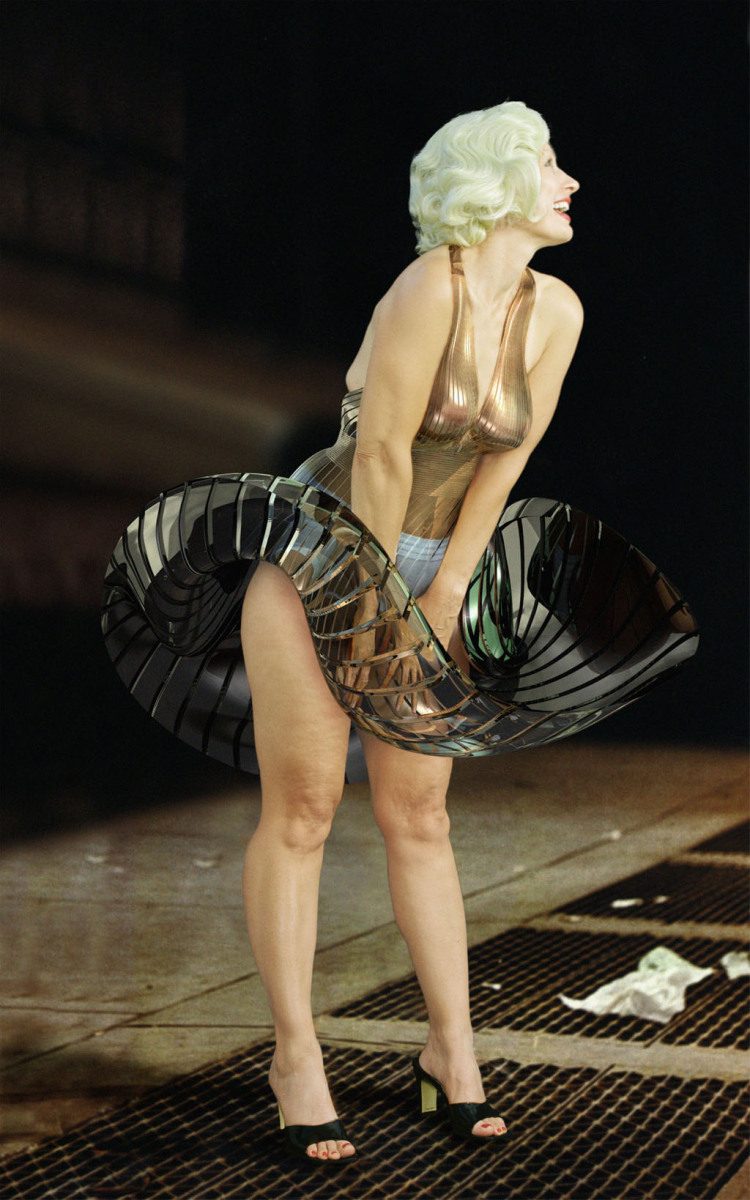 Contact
P.O. Box 210
Leichhardt, Sydney, 2040
Australia
Email
Text, images, audio, and/or video in the Feminist Art Base are copyrighted by the contributing artists unless otherwise noted. All rights reserved.