Karen M Heagle
Brooklyn,
Kings
Karen Heagle was born in Tomah, Wisconsin, and grew up on a dairy farm. Moving to New York, she earned her MFA at Pratt Institute in 1995, and two years later attended Skowhegan. Since then she has produced three solo exhibitions. "Puritans Perverts and Feminists" was her first show and it was at 31 Grand Gallery in Williamsburg, Brooklyn in 2001. The show utilized an essay by Dorothy Allison recounting her science fiction based sexual fantasies, calling for an expansion of the feminist imagination. Heagle's most recent solo show, "Strictly Naturals", inaugurated I-20 Gallery's new gallery in Chelsea in 2006. The show's theme surrounded nature and erotism. Heagle's work appeared recently in "Panic Room", at the Deste Foundation of Contemporary Art, in Athens, Greece, last summer, and was included in group shows at Gavin Brown's Enterprise, and Alexander and Bonin Gallery.
Feminist Artist Statement
Feminism initiated significant changes in the way we think about woman's contributions to visual art. My feminist awakening happened in graduate school. When I was first introduced to the art of the seventies' feminists, I came to value the shared experiences of woman who made art as well as to the uniqueness of my own voice. In school, as a woman making content-based painting, I encountered a dismissive attitude from male professors. The pursuit of personal imagery that I felt was the most honest was not encouraged. Instead of recognizing such marginality as discrimination, I had accepted it as a mandatory struggle. During these developmental years, I became angry, and this anger profoundly influenced my painting. The imagery, and work of the early feminist artists gave me license to own my anger. As my imagery continued to develop I began mining popular culture for icons that represented powerful woman who owned their sexuality. For example the cult of the female super hero was rich with interpretations. Eventually those explorations led to explorations of other existing sexual imagery from mass media and subverting its meaning. My goal is to comment on contemporary culture, revision women's place in culture, as both strong and sexual.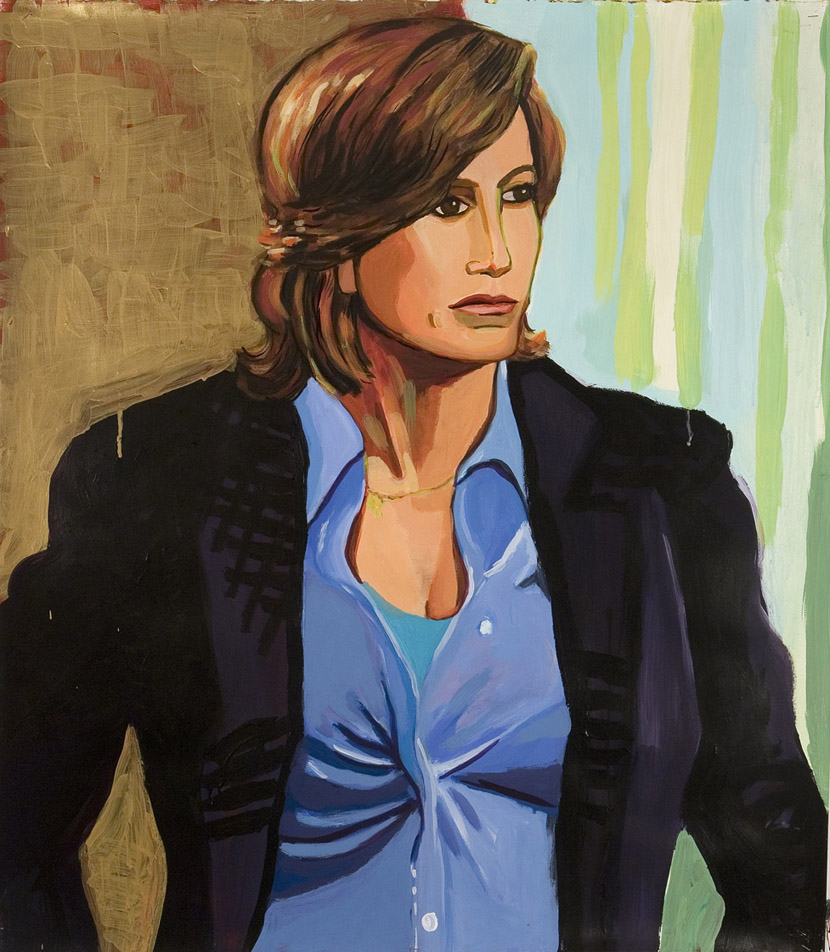 A portrait of Olivia Benson, a character portrayed by Mariska Hargitay on Law and Order, Special Victims Unit. Her character is herioc, and sexy.
Text, images, audio, and/or video in the Feminist Art Base are copyrighted by the contributing artists unless otherwise noted. All rights reserved.