Katarzyna Kozyra
Warszawa,
Poland
Katarzyna Kozyra – Polish sculptor, creator of installations and video art, perfromer. Born February 1, 1963, in Warsaw; resides in Warsaw, Berlin and Trento. She studied at the Academy of Fine Arts in Warsaw (1988–1993). The Animal Pyramide her thesis project, touched upon the issue of death. The work gained her significant renown and was the subject of broad discussions, and effectively initiated the phenomenon of 'critical art' in Poland. In 1998 she won an honorary distinction at the Art Biennial in Venice for the videoinstallation 'Men's Bathhouse'.
Feminist Artist Statement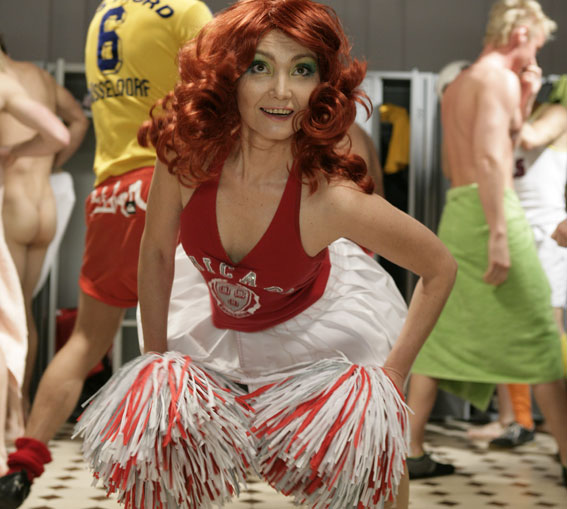 The Cheerleader is conceived as a pop video to the music and words of the Gwen Stefani song "What You Waiting For?" but it does not make reference to the themes of the original video. The scenes unfold in a typical men's changing room. In the beginning the young, fit men do not pay the slightest attention to the activities of the singing and attractive, dancing cheerleader acted by Kozyra. The video explores, amongst others, the problems of the body as a costume and of one's own identity that have frequently been the artist's preoccupation. It is not without significance that in the work Cheerleader the artist makes use of images she had created of herself in previous works: the fat woman from Diva. Reincarnation — a performance that took place last year in the Centre for Contemporary Art Ujazdowski Castle and herself dressed as a man from the work Men's Bathhouse that won an award at Venice Biennale. In the film also appears a choir comprising two of the directors and curator from Zachêta Gallery.
Text, images, audio, and/or video in the Feminist Art Base are copyrighted by the contributing artists unless otherwise noted. All rights reserved.