Kate Just
Melbourne,
Australia
Kate Just was born in Hartford, Connecticut in 1974 but moved to Melbourne, Australia, in 1996. She is known for her diverse practice encompassing large-scale sculptural knitted work, mixed-media installation, collage and digital print.
Kate Just holds a Bachelor of Science in Film Making from Boston University, a Bachelor of Fine Arts (Painting) from the Victorian College of the Arts, Melbourne, and a Master of Arts (Fine Arts) from RMIT University, Melbourne. She has exhibited her work across Australia at a range of public, artist run and commercial galleries including Canberra Contemporary Art Space, Gertrude Contemporary Art Spaces, Centre for Contemporary Photography, Perth Institute of Contemporary Art, Contemporary Art Spaces Tasmania, and Daine Singer Gallery.
Just has been shortlisted for numerous national prizes including the Beleura National Works on Paper Prize 2010, The Woollahra Small Sculpture Prize, 2009, The Blake Prize, 2009 and the 2007 RIPE: Art& Australia Award. In 2006, Just was the winner of the Siemens Fine Art Prize. She was an artist in residence at Heide Museum of Modern Art in Melbourne 2007, at Gertrude Contemporary Art Spaces from 2008 - 2009 and will undertake a residency at Krems Artist in Residence in Austria in 2011 and the Australia Council Studio in Barcelona in 2012. She has been a lecturer at the Victorian College of the Arts in Melbourne since 2005.
Feminist Artist Statement
My tactile sculptures and installations are reinterpretations of my own experiences in relation to historical or fictional representations of femininity. In all my works, I look at the materiality and power of bodily experience, and its potentially transformative effect on identity.
In earlier elaborate knitted works, I drew on Greek myth, art history and biblical folklore linking women with nature to metaphorically reflect a range of my own personal experiences including the death of my brother, sexual awakening, and my desire to be a mother. These included a life-sized tree embedded with the faces and hands of my family, a Persephone-like figure descending into the muddy waters of her suburban lawn, a Bosch inspired pink fountain approximating a giant uterus, and the last moments of a Daphne's chosen transformation into a laurel bush.
More recently, I have been attempting to 'write' my own and a wider female bodily history with resin-clay sculptures and collages of archetypal objects and forms including spiders webs, ominous eggs, keys, vessels and a range of mysterious tools and instruments.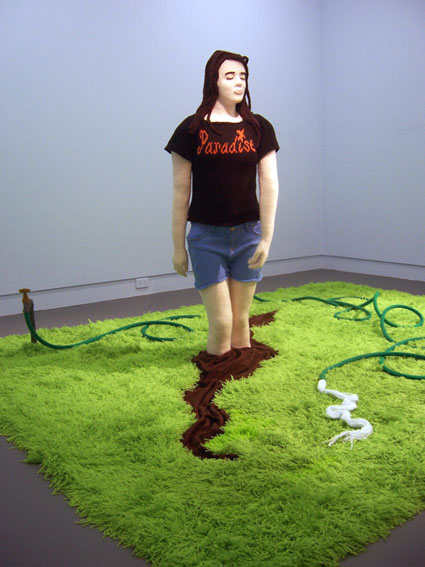 This mostly hand knitted work is a contemporary fusion of Eve's temptation and Greek goddess Persephone's descent into the underworld, imaging both women's journey into the dark and unknown regions of the self.
Text, images, audio, and/or video in the Feminist Art Base are copyrighted by the contributing artists unless otherwise noted. All rights reserved.