Kay Rosen
New York,
United States
Kay Rosen has been exploring language through her art for over 25 years, following a formal education in that field. In her paintings, drawings, wall works, collages, editions and published projects, she has used various visual, grammatical, and typographical strategies to release new meaning from found words and phrases, and to challenge the way people read. Rosen's work is included in numerous collections, among them The Museum of Modern Art, New York; the Whitney Museum of American Art, New York; the Art Institute of Chicago; Museum of Contemporary Art, Los Angeles; the Indianapolis Museum of Art; and Re Rebaudango Collection in Turin, Italy. Born in Corpus Christi, Texas, she teaches at the Art Institute of Chicago, and lives and works in Gary, Indiana.
Feminist Artist Statement
Excerpt from 'Matthew Higgs, Interview Project, "Kay Rosen: Wall Paintings and Drawings 2002-2006," Yvon Lambert Gallery, New York, 2006':
CONNIE BUTLER: Would you describe your approach to language as feminist…
KATHE BURKHART: What is the relationship between language and gender in your work?
KAY ROSEN: I think my point of view and approach to language include a feminist one, which is conveyed both through subject matter and form. "She-Man", "Various Strata", "Tide", "Aunt Bea", "Six", "The Man" (edition), "Adam and Even", "Helen" and most recently "Jackie O" are examples of work that critically address issues of gender and power through their subject. The way I approach structure (of language) in the work challenges dominant systems and usage by offering alternative ways of reading and constructing meaning.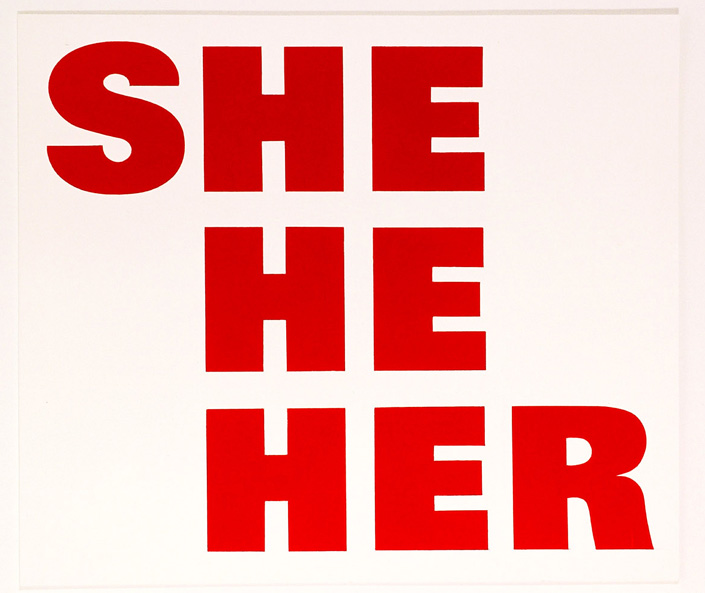 Exhibited:
"Kay Rosen: Girl Talk," Ten in One Gallery, Chicago, IL, 1998
(as wall drawing)
"Kay Rosen: Lifeli[k]e," Museum of Contemporary Art (MOCA) and Otis College of Art and Design, Los Angeles, CA, 25-year survey); curated by Connie Butler and Terry R. Myers, (1998-99)
"Kay Rosen: Big Talk," Dunedin Public Art Gallery, Dunedin, New Zealand, 2004
Contact
YVON LAMBERT NEW YORK, 550 West 21st Street
New York, 10011
United States
Email
Text, images, audio, and/or video in the Feminist Art Base are copyrighted by the contributing artists unless otherwise noted. All rights reserved.