Kristin Calabrese
Inglewood,
United States
Kristin Calabrese, b. 1968 San Francisco, is an artist-curator who lives and works in Los Angeles. The focus of her work includes psychology, humor, politics and formal issues of composition and representation, primarily through painting. Calabrese mines her own life and experience as a source to attempt to locate a small piece of the human condition. Solo exhibitions include Gagosian Gallery in Los Angeles, Brennan & Griffin in New York, and Michael Jansen in Cologne. Calabrese has also curated many group exhibitions, including at the Los Angeles Contemporary Exhibitions and Honor Fraser Gallery. Her work is included in numerous collections including Saatchi and The Armand Hammer Museum.
Feminist Artist Statement
My artwork is about my personal reality. My experience is not the same as every woman. I grew up in the 70s in a middle-class white American suburb. I had an authoritative father, and my mom was a housewife. All the kids I went to school with had stay-at-home moms. Because we moved around a lot, my mother was lonely, bored, and miserable. My childhood was a cliche of sexism. My father wouldn't allow my mom to work. She had to ask his permission to buy things. She didn't feel she could leave him because she didn't think she would be able to take care of me and my brother. I vowed to live a life as different from hers as possible.
Charlotte Perkins Gilman's "The Yellow Wallpaper" gave voice to my paintings. Edith Wharton is another strong influence because her writings describe the ways that women were supposed to look and act ("ladylike") and had to resort to indirect communication.
I am primarily an oil painter. My paintings speak plainly, make jokes, and are irreverent. I was drawn to the medium because a painting is both a picture and a real object that cannot be denied by the viewer. Even though my paintings don't make actual sounds, paintings are articulate in the language of imagery and physicality. I paint to make my thoughts, feelings, and experience into monuments that mark my small and large, personal existence.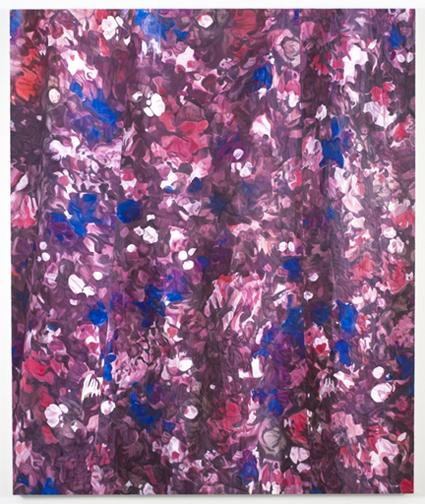 Mom's Dress is a 5 x 6 foot painting of a small area in the lap of a dress, blown up.
It's a 4 year old kid's eye view of Mom when going up to hug her legs. I didn't realize the painting would be this when I started it. My goal had been to put many different colors on the canvas, but have them illusionistically look like one surface, that was not the surface of the canvas, but maybe an inch or two below the surface, and on the peaks, possibly appear to be in the room, forward on the canvas. The dress I took the pattern from to paint is a floral fabric. The painting ended up still really looking like a dress in the painting - a dress with the kind of fabric my mom wore in the early 70s. She would make her own dresses and small versions with the same fabric for me. I didn't realize the content of the painting - that it was about the memory of being a kid - until I was well into the painting of it.
Text, images, audio, and/or video in the Feminist Art Base are copyrighted by the contributing artists unless otherwise noted. All rights reserved.