Lauren Kalman
Detroit,
USA
Lauren Kalman is a visual artist whose practice is invested in contemporary craft, video, photography and performance. Through her work she investigates beauty, adornment, body image, value, and consumer culture. Raised in the Midwest, Kalman completed her MFA in Art and Technology from the Ohio State University and earned a BFA with a focus in metals from the Massachusetts College of Art. She has been awarded residencies at the Corporation of Yaddo, Virginia Center for Creative Arts, and Santa Fe Art Institute. She has received Ludwig Vogelstein Foundation, Puffin Foundation West and ISE Cultural Foundation Emerging Curator grants.
Kalman exhibits and lectures internationally. Her work had been featured in exhibitions at the Renwick Gallery at the Smithsonian American Art Museum, Museum of Contemporary Craft, Contemporary Art Museum Houston, Museum of Fine Arts Boston, and the deCordova Museum in the United States. Her work has been exhibited and screened internationally in countries including South Africa, Argentina, Slovakia, France, Switzerland, Sweden, Ireland and Egypt. Her photographs and objects are part of many private collections as well as the collection of the Museum of Fine Arts Boston and the Renwick Gallery at the Smithsonian American Art Museum.
Feminist Artist Statement
My work combines functional and craft objects, sculpture, photography, video, installation and performance. Fabricated objects that reflect sculptural ornamentation and adornment are combined with the body and design objects to produce images and videos. These juxtapositions point to historical, political, and social contexts relating to sex, gender, power, pleasure, and beauty.
But if the Crime is Beautiful… is comprised of multiple related bodies of work. The first completed series are subtitled Composition with Ornament and Object and Hoods. The titles of the project are inspired by the architect Adolf Loos' 1910 lecture 'Ornament and Crime', where he proposes that ornament is regressive and primitive, and that in (his) contemporary society only degenerates and criminals are decorated (this includes women). The "crime" in my work points to the decorated, and also to female sexuality. Loos' writings on architecture and functional art helped to define the principals of the Modern architecture and design movements. The influence of these movements permeates the contemporary built environment and therefore impacts our psychological and bodily relationship to space and objects.
The objects I build, in contrast to Modernist design reference, historic, decorative renditions of ephemeral forms like clouds, smoke, and halos. Through the use of the semiotics of precious gems and metals, this work visualizes the aesthetic, social, and ethical implications of the shift from adornment to encasement promulgated by Modernism, and contrasts the Modernist vision through pairing images of iconic Modern architecture with the creation of intricate body decorations in images and installation.
In my work hooding explores displays of power and oppression played out in the act of hooding or masking. The hoods range in reference, including executioner hoods, hoods used in medical images to mask the identity of patents, gimp masks, and the decorative coverings placed on the relics of saints. These images are structured like portraits, except with the identity of the figures eclipsed by their head covering.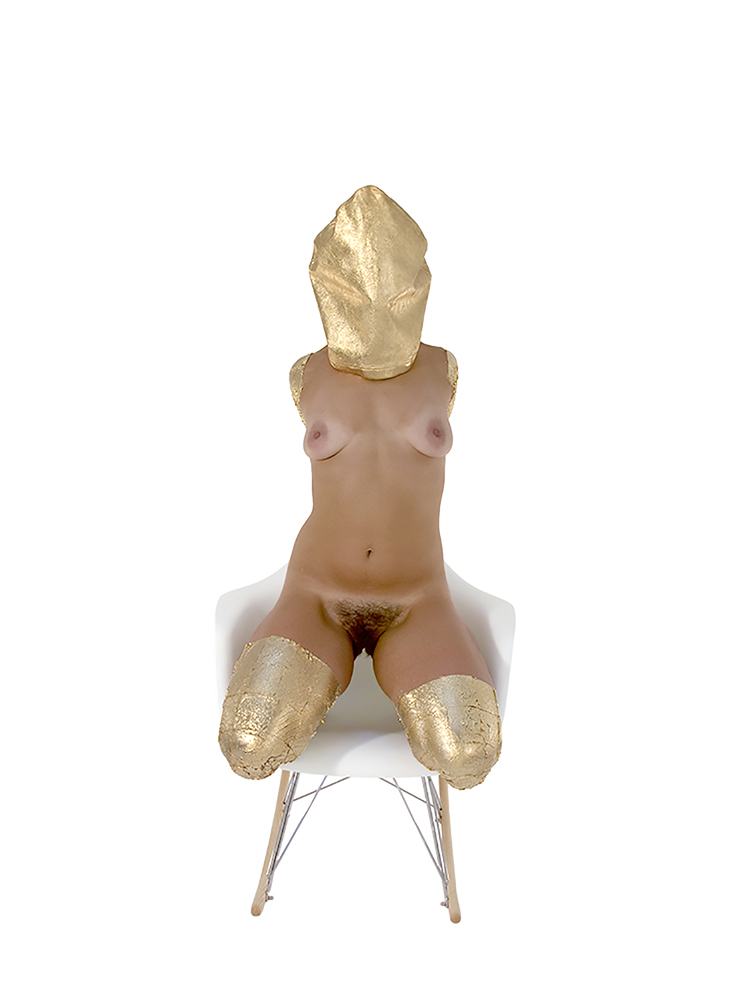 Text, images, audio, and/or video in the Feminist Art Base are copyrighted by the contributing artists unless otherwise noted. All rights reserved.