Leslie J. Kneisel
Atlanta,
USA
Kneisel is a multimedia artist based in Atlanta, GA. She completed a BFA at the University of Georgia In 1974 and an MFA from Georgia State University in Printmaking in 1987. She has exhibited extensively nationally and internationally since 1985. She has been an active member of artists' spaces, art organizations and college faculties since the completion of her graduate degree. Leslie has had her work included in New American Paintings and Fiber Arts and reviewed in the Atlanta Journal Constitution, ART PAPERS , Pittsburgh Pulp, Pittsburgh Post-Gazette, Pittsburgh City Paper, Creative Loafing Atlanta, and the Los Angeles Times, among others. Trained as a printmaker, Kneisel has a love of detail and tactility. From the past to the present, her works are full of humorous juxtapositions and feminist readings while examining the perverseness of religion and women's roles through the eyes of a southerner with a strict Catholic upbringing.
Feminist Artist Statement
Over the years, I've explored many processes and media. This exploration started with my master's degree program in printmaking, which served to foster and advance my love affair with line, texture and processes. I now use embroidery thread on fabric to create my drawings/sculptures. This manner of working I use now began when I was searching for another way to draw lines and remembered Ghada Amer, who works with thread on canvas. I started creating nonsensical narrative drawings with hybridized figures that morphed from one tableau into another. These were then transferred to fabric and embroidered. I was concerned with women's issues and looking at how gender relationships function through dysfunction. Now my drawings are sexually explicit. Sexually explicit art is our equivalent of history paintings, of landscape paintings, of providing what the market wants. These drawings that are embroidered on fabric and then upholstered like something from the Edwardian era are meant to be beautiful, funny, and perverse. They depict things like tarantula beings having wanton sex with Pamela Anderson types. Cartoons meet porn. Science fiction meets Rabelais. This is demurely embroidered erotica spoofing pornography. I live in the South where certain things are still taboo and there is nothing more enticing than that which is private, taboo and forbidden. I just happen to use tarantulas as my vehicle. In 2003, I made a visit to Joshua Tree National Park and was struck with the exaggerated, surreal qualities of the landscape there. It was easy to imagine the ribald tragicomedy that tarantula romance involves. I use hybridization to create a world of morphing imagery that suggests an absence of permanence, where nothing is stable. This non-monumental, non-heroic approach is a deliberate withdrawal from the standard of rationality and efficiency adhered to by most artists today. It has always been imperative for me that I create using my own voice, so the feminist arena is where I have been the most consistently comfortable. The themes I choose to work with—women's sexuality and attempts to limit and control expression of such in our world—provoke the undercurrents and sense of discomfort pervading my work. I have found the writings of Angela Carter particularly influential in this regard. Like Carter, I like to use the burlesque-picaresque in my imagery and continue to express my concern with sexual politics of the day.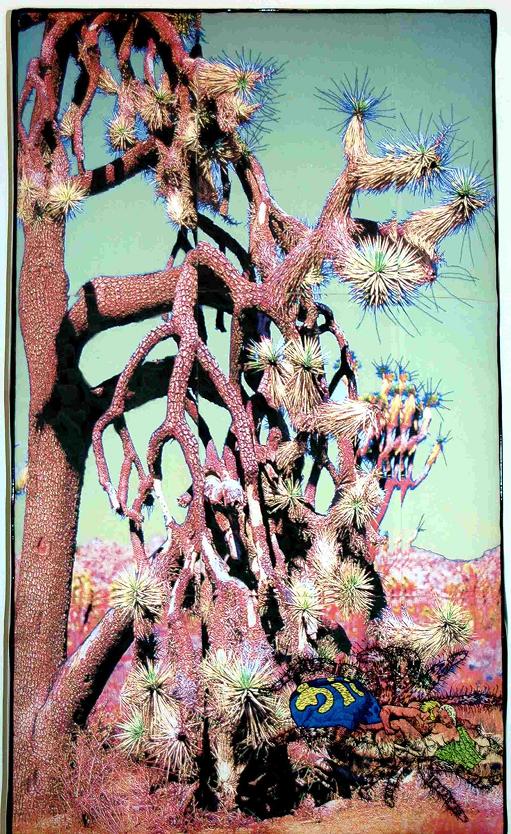 A photograph taken at Joshua Tree National Park with some spider eroticism added. The photograph is printed on fabric first and embroidered by hand afterwards.
Contact
1308 Fairview Rd.
Atlanta,
USA
Email
Text, images, audio, and/or video in the Feminist Art Base are copyrighted by the contributing artists unless otherwise noted. All rights reserved.