Lina Bertucci
New York,
USA
Lina Bertucci lives and works in New York. Bertucci's most recent photographic series explores the fluctuating periphery between exhibitionism and marginalization through the ritualized practice of tattooing. Her new series, Women in the Tattoo Subculture, was recently exhibited at the Perry Rubenstein Gallery in New York City.
Bertucci's portraits reveal psychological tensions between the pursuit of inner conviction and a desire to seek out trend. The collecting of tattoos, although personal in acquisition, in turn becomes a claim for connection and alignment; or perhaps the opposite, a desire for segregation and opposition to the mainstream.
She has lectured and taught in New York at New York University, International Center for Photography, The New School, The School of Visual Arts and teaches in Chicago at UIC and The School of the Art Institute of Chicago.
Bertucci received critical acclaim for her book Railroad Voices published by Stanford University Press in 1998, an early photographic project documenting the gritty life of railroad workers where she worked as one of the first women hired as a break-man on the freight trains.
Lina Bertucci studied as an undergraduate at the Aegean School of Fine Art in Greece and University of Wisconsin in Milwaukee where she received her BFA. Received MFA from Pratt Institute in New York in 1980. Has her first solo show in Chicago at the Rhona Hoffman Gallery. Bertucci also featured a new video in the Video Lounge at Art Basel/Miami in December 2002.
Her first one person museum exhibition opened in Turin Italy, a site-specific project on the working class neighborhood in Turin at the new The Foundation Sandretto Re Rebaudengo for Art. Bertucci also shows with Milan Gallery Francesca Kaufmann and Eleni Koroneu in Athens. Has been included in PS1/ MOMA, ARCO 2000 in Madrid and at INOVA, The Institute for Visual Arts in Milwaukee.
Her earlier research carries her into the mythology of the landscape, the figure and the American sublime. This shift to landscape largely stems from her research in American subcultures and views the landscape as a social means of representation. Landscape as portraiture, landscape as the connecting tissue that unites the social fabric of local and global concerns.
Feminist Artist Statement
"Tattoos appeal to contemporary women both as emblems of empowerment in an era of feminist gains and as badges of self-determination at a time when controversies about about abortion rights, date rape, and sexual harassment have many women thinking hard about who controls their bodies—-and why. Their significance can lie in the mere act of getting tattooed (as a form of rebellion or a way of reclaiming one's body after a rape or sexual abuse) or in their timing (to commemorate milestones such as marriage or divorce, or in remembrance of dead friends or relatives). Written on the body, these private insignia are keys to women's self-images during a period when traditional gender roles are being challenged, and often rejected." —M. Mifflin. Bodies of Subversion: A Secret History of Women and Tattoo.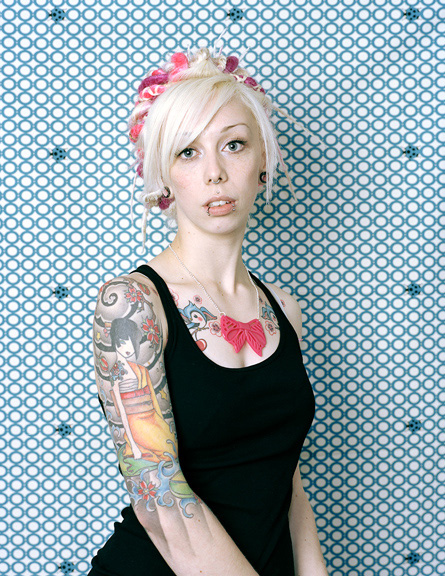 Text, images, audio, and/or video in the Feminist Art Base are copyrighted by the contributing artists unless otherwise noted. All rights reserved.