Lorraine Peltz
Chicago,
USA
Lorraine Peltz's paintings are complex ruminations on the nature of private identity and public persona. Using imagery culled from both personal history and the contemporary moment, they reference both past and present. The chandelier conjures a remembered culture while the patterned flowers, starbursts, and decorative flourishes represent the now—particularly women's fantasy and desires—through pure painterly pleasure. Peltz combines recognizable imagery with painterly abstraction, mimicking the various modes of communication and meaning that exist for us—real life alongside memory, poetry next to prose. In so doing, she illuminates larger issues surrounding identity and place that concern us all. Her works become landscapes of both the exterior world and the interior spaces of dream, desire, and memory. In a recent essay about Peltz's work, Lisa Wainwright, Dean of the School of the Art Institute of Chicago, wrote: "Both of nature and from culture, her icons speak to the polemic between essentialism and social construction that still grips feminist discourse. They are a mix of aesthetic delight and conceptual reading."
Born in Brooklyn, NY, Peltz now lives and works in Chicago, where she teaches at the School of the Art Institute of Chicago. Peltz has exhibited in numerous galleries and museums including the Hyde Park Art Center, Chicago, Galerie Piltzer, Paris, Cheryl McGinnis Gallery, N.Y., Micaela Gallery, San Francisco, Olga Dollar Gallery, San Francisco, Carrie Secrist Gallery, Chicago, Koscielak Gallery, Chicago, Rhona Hoffman Gallery, Chicago, Printworks Gallery, Chicago, the Sullivan Galleries at the School of The Art Institute of Chicago, the Rockford Art Museum, the Elmhurst Art Museum, the Renaissance Society, Chicago and the Herbert Johnson Museum at Cornell University. Her work has been written about in Art in America, Art News, the Chicago Tribune, the Chicago Sun Times, Flavorpill.com, Artnet and ArtMoco.com, among others.
Feminist Artist Statement
For the past 20 years, my work has consistently focused on issues surrounding women, including the domestic arena, fashion, fantasy, pleasure and work. Beginning with an intimate and personal narrative as a point of departure, the work proceeds to incorporate the accumulated details of women's multifaceted experiences in contemporary culture. Through the combination of pure abstraction and straightforward representation, along with the powerful seduction of visual pleasure, I attempt to illuminate the larger issues of gender politics that concern us all.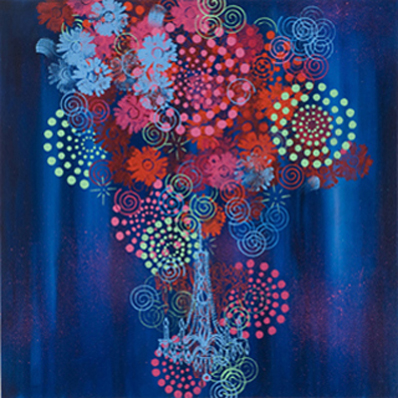 Text, images, audio, and/or video in the Feminist Art Base are copyrighted by the contributing artists unless otherwise noted. All rights reserved.