Lucinda Luvaas
Los Angeles, California
Lucinda Luvaas was born in NYC, and has studied at New York University, New School for Social Research, Art Student's League, and New York Studio School. Active in the arts from a young age, Luvaas spent summers building sets and acting in theatre productions.
Luvaas has taught at UCSD, National University, Learning Through and Expanded Arts Program, NYC, Teachers and Writers Collaborative, NYC, and was the Director and Curator of Mt. San Jacinto College's Fine Art Gallery in San Jacinto, California, for 9 years. While there, she brought a series of public programming to the gallery, including a reading series featuring well-known authors from across the country, a concert series, a weekly film series, and artist talks, among other events.
Her fine art and video works have been shown throughout the US and abroad at film festivals, museums, galleries, and non-profit spaces. Luvaas is represented by Walter Wickiser Gallery, walterwickisergallery.com, and ArtSpace Warehouse, Los Angeles. Video art represented by Salamatina Gallery, http://salamatina.com
Feminist Artist Statement
I've always seen myself as an outsider, an observer, since I was little. I remember being four years old and standing outside my home raking leaves in autumn and whispering, "I will never be like them." I hated the cliques who taunted me in grade school. So, I learned to fend for myself, sharpen my imagination and be alert. I always needed to swim in my own lane, and carve my own story. I very naturally chose art as a way of life because of my need for individual expression.
Being female afforded me a very special opportunity especially when I was growing up and onward into the future. That opportunity was to be myself, be strong, have opinions and don't shy away from anything because I was equal to anyone, anywhere. I grew up in the 60s and for me it was a very liberating time.
I've used many women in my paintings and videos—at times to express a feminine consciousness which to me is sensitive, earthy, and warm. It can be just the opposite as well, but my desire is somewhat romantic and idealistic in wanting to think that we females can be warm, and loving, protectors of our earth and home.
Two bodies of work explore in part other aspects of my own personal female consciousness: "Familiar Voices" and "Witness." The imagery is frontal, at times scary, at times dreamlike and surreal.
My desire is that we reach out and see each other as equals regardless of our gender, our ethnic background, or religion. To me as an artist, as a female, as a person occupying space on this dear, dear planet of ours, reaching out and producing energetic, life affirming works is all that really counts.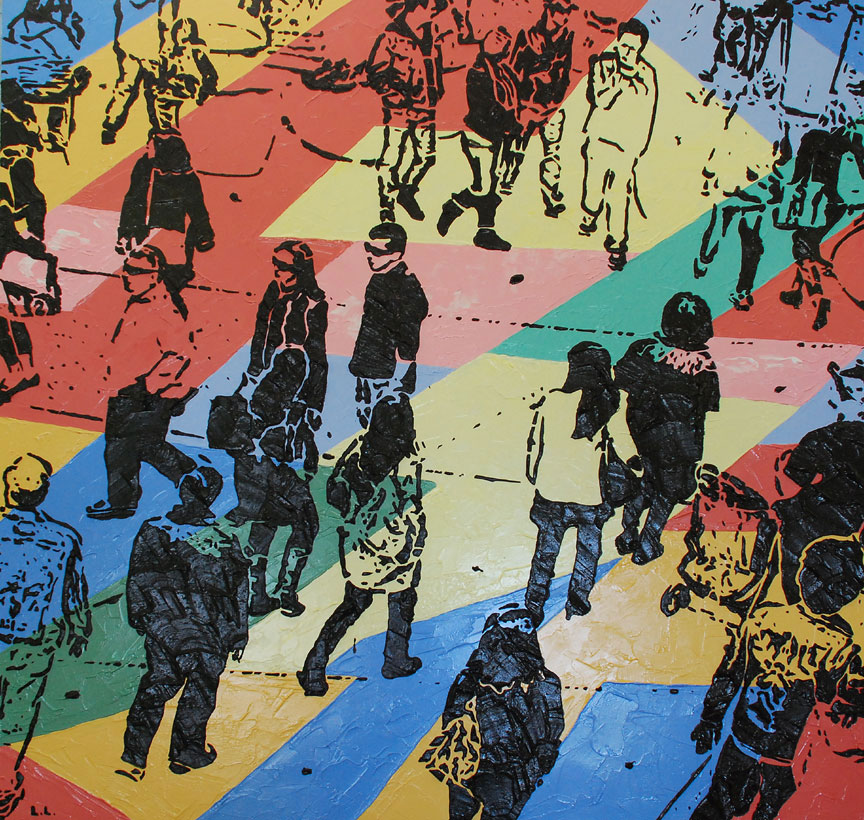 Metropolis, is a relief painting and part of a series I call "Imprints." For some reason I have a fascination with the bird's eye view of people in urban settings as though I'm eavesdropping on a scene and all the activities without being part of it, as a true observer.
Text, images, audio, and/or video in the Feminist Art Base are copyrighted by the contributing artists unless otherwise noted. All rights reserved.