Marion J Lane
New York, NY
USA
Majored in commercial art at a high school in Brooklyn, NY. Graduates. Attends after school and weekend classes at the Brooklyn Museum Art School (1944-59). Gets Scholarship for study at the Woodstock School of the Art Students League (1953). Wins award in Brooklyn Museum Alumni Juried Exhibit (1958). Goes on to get degrees from William Paterson University, and a MFA from Rutgers University. Works as a textile designer (1949-1958). Marries Sidney Lane, Industrial Designer (1953). Has a son, Spencer Lane (1956). Moves to New Jersey (1958). Has another child, Paula Ann Lane (1961). Loses Paula in a tragic accident (1963). Paints "Grief" series of figurative abstract works. Has a son, George Lane (1966). Exhibits and wins awards in New York, Connecticut, Pennsylvania and New Jersey galleries, museums, and college art galleries in group and solo exhibition (1960-1995). Accepted for inclusion by Kraushaar Gallery, NY for "New Talent Festival," involving many Madison Avenue galleries (1974). Gets BA in Art Education from William Paterson University (1976). Survives two cancer operations (1976-78). Joins Pleiades Gallery, NY (1976). Gets MFA from Rutgers University (1978). Wins two New Jersey State Council on the Arts Awards (1983, 1988). Teaches at Bergen Community College (1981-86). Works as an art therapist at a mental hospital in New York City (1986-1999). Joins Women's Caucus for Art and exhibits in Women's Caucus Juried Exhibits and other exhibits in New York and New Jersey (1978-1990). Gets divorced (1988). Moves to New York City (1998). Rejoins Pleiades Gallery, NY and has two solo exhibits (2006, 2007). Wins Florsheim Art Award to help finance a catalog for her Retrospective Exhibit at Westbeth Gallery (2000). Awarded Residencies at Edward Albee Foundation, NY; Valparaiso, Mohoca, Spain; Julia and David White Foundation, Collones, Costa Rica; Virginia Center for the Creative Arts, VA; and Rocky Neck Art Colony, Gloucester, MA (1983-2007).
Feminist Artist Statement
You might say that I was born a feminist, as I grew up competing for equal rights with a twin brother in a family of patriarchal values. Feminism was the support I needed to reject family attitudes. Knowing that I wasn't alone was important.
In the seventies and eighties I was a member of the Women's Caucus for Art. Together we protested women artists' exclusion from museums and galleries and rallied for other feminist causes. We expressed our personal ideas about feminist issues on puzzle-shaped canvases which were then assembled as one unified piece. We exhibited the work at a public space on Broadway in New York City. I documented the exhibit with a video recording of the artists speaking about their work. My own piece was a protest related to women making their own choices regarding birth control.
My work was represented in many Women's Caucus juried exhibits in New York City and New Jersey. In the mid-seventies I taught myself to work with sheet metal. I needed to bring those skills and elements of strength into my life and art. I combined fabric or paper with metal to create works that were decidedly Feminist Minimalist. The draped fabric or paper—the feminine—often was the largest and supporting element. My later work of the early eighties and beyond became Figurative-Abstract and depicted my view of feminist issues. Examples are the striding female figure in the rigid aluminum boots that control movement (Balancing Act, 1985) and the metal insertion that divides the female thinker (The Thinker (with Obstacle), 1985). Lucy Lippard kept a slide of my work to use in her lectures.
I later used metal to deny its strength and to express fluidity. Recently I have created works in relief using draped fabric, graphite, and acrylic color. These are also abstract and more gestural, aesthetic. I also make graphite drawings in combination with other media.
Often I don't know where the work will take me at the start. I allow my creative experience to be exploratory and emotional. I work with shape, color, line, and a strong feeling for dimension, movement, materials, and process, seeking a universal and spiritual experience.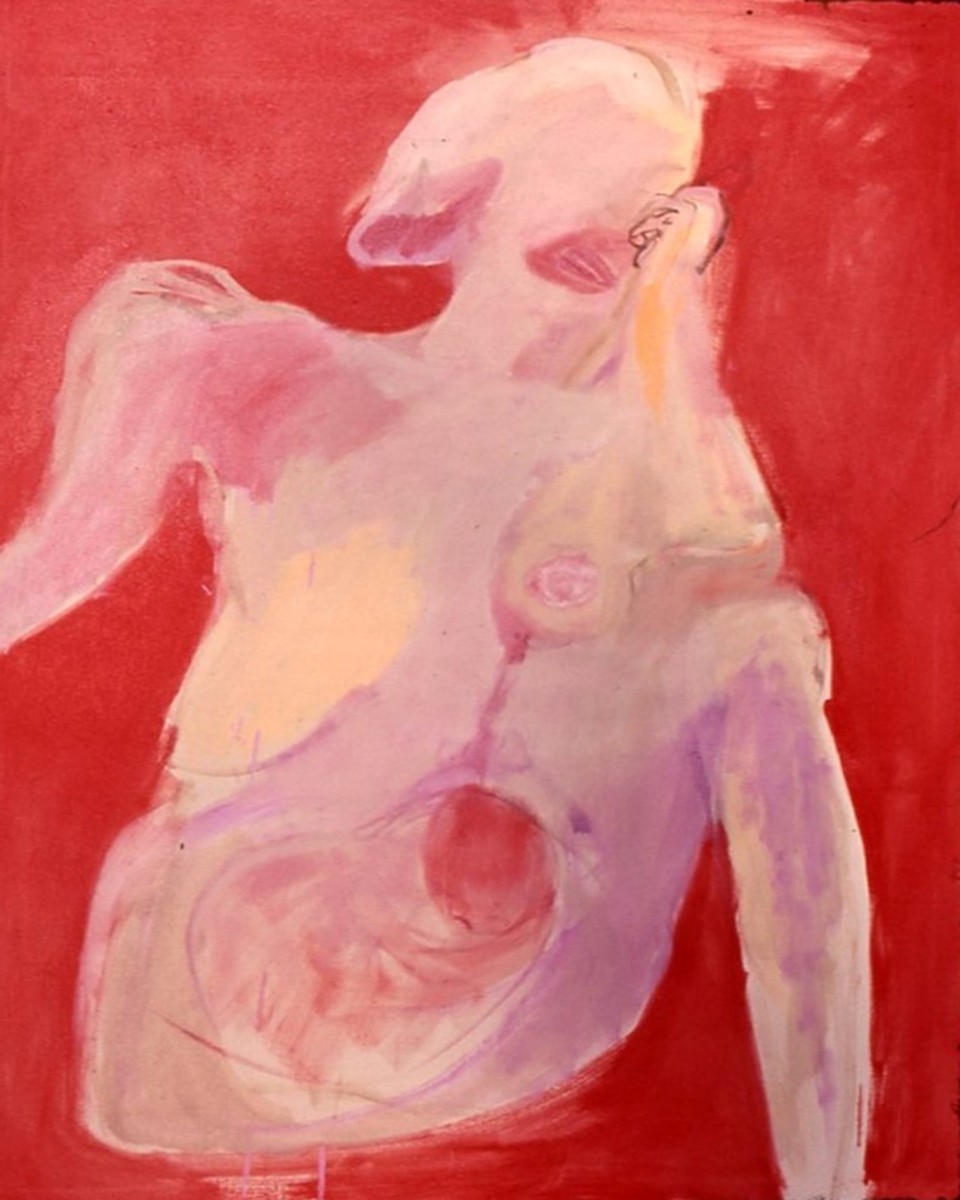 An expression of the grief I felt upon the loss of my daughter, Paula Ann, age 2 1/2.
Contact
55 Bethune St. G119
New York, NY 10014
USA
Email
Text, images, audio, and/or video in the Feminist Art Base are copyrighted by the contributing artists unless otherwise noted. All rights reserved.