Melanie Manchot
London,
UK
Melanie Manchot (born Germany) lives and works in London and Berlin. She studied at New York University and at City University, London, before attending the Royal College of Art, London, where she completed her MA in Fine Arts in 1992. Since then she has held various teaching positions at art colleges across the UK, most recently: Goldsmith College; University of London, England; New York University; London Photography Programme, London, England; London College of Printing, England (MA & BA). She frequently gives papers and artist's presentations at conferences internationally. These have included a talk on her approach to portraiture through performative strategies at Tate Modern: Photography Now: The Portait, 2006. In 2005 she contributed to two Tate conferences: Performance, Gender + Identity at Tate Modern and Photography in the 90s. Manchot has been the recipient of a number of grants and awards, for example from The Arts Council of England, The British Council, the German Institute for Foreign Cultural Affairs (ifa). Since finishing her education, Manchot has exhibited widely and internationally. Her work has focused increasingly on investigating extended notions of portraiture through photography and video. Throughout her distinct projects she uses performative strategies to set up scenarios and situations into which her subjects are invited. Manchot has a particular interest in gestures that have the capacity to reveal her subjects subtley and build up a layered portrait that goes beyond the representation of appearances. Manchot's most recent solo shows include: Security at Goff+Rosenthal, New York (2007). Shave at Galerie m, Bochum, Germany (2007). Moscow Girls at Haus am Waldsee, Berlin, Germany (2006) and Security at FRED (London) Ltd (2006). Her 2007 group shows to date include: My Vision, Reiss Engelhorn Museum, Mannheim, Germany, for which she created a four-channel video installation with Berlin-based teenage bands. Others include A Question of Gesture, Opera Leipzig and Fotohof, Salzburg, Austria; The Naked Portrait, Scottish National Portrait Gallery, Edinburgh touring to Compton Verney, Warwickshire, England. In summer 2007, Manchot presented video installations as part of the first biennial Festival of Visual Art in Zaragossa, Spain. While living in Berlin in 2006, Manchot completed a number of new multi-channel video installations, such as a four-channel work titled Wardrobe, which was premiered at the XIII. Rohkunstbau (Freedom, Rohkunstbau, Castle Gross Leuthen, Berlin-Brandenburg, Germany). In 2012, she received the Oriel Davies award.
Feminist Artist Statement
Making work through photography, film and video I consider my practice an ongoing investigation into extended notions of portraiture and the relationship of portraiture to representations of subjectivity. Increasingly, the work employs performative strategies to chart gestures, moments of transformation or personal rituals through which my subjects collaborate. Gender issues, the body as a site of subjectivity and cultural constructions of identity have been recurring themes. In my early investigations I was specifically concerned with the representation of women and the ongoing trouble with notions of beauty, both as a theoretical or philosophical 'quality' and its demands on women's sense of self. In that context a range of feminist writers have been and remain important points of reference. Throughout my practice my relationship to the various waves of feminism has kept changing and evolving. My work responds strongly to the cultures and the societies I live within - or am invited into - in both a diagnostic and analytical way. What concerns me most is to investigate visual languages as a critical tool within a socially engaged practice and as a woman artist that will include an ongoing awareness of and hopefully contribution to feminist discourses. In my most recent video installations Security and Shave, gendered physicality is observed both as an enactment and as a process of transformation. For Security, I worked with 7 Ibiza nightclub doormen, whom I filmed during the day in front of the clubs where they work each night. The work consists of 7 flat monitors showing loops of these men in real time guarding their door and 1 projection of the same men taking turns to undress until naked. For Shave I worked with a longterm collaborator, who over the course of 75 minutes is wet shaved by a professional barber. The piece is a two channel synchronised video installation for one monitor and one projection, shown unedited, leaving the structural unity of the filmed performance intact. These pieces aim to contribute to a critical dialogue around our understandings of gendered subjectivity, representations of power, and the act of portraiture. My personal ideas of how Feminism is central to my own work keep changing, same as I believe that feminist discourse will remain a vibrant and central force for as long as strong work emerges out of its critical possibilities and to the extent that its discourse remains a challenge to prevailing structures.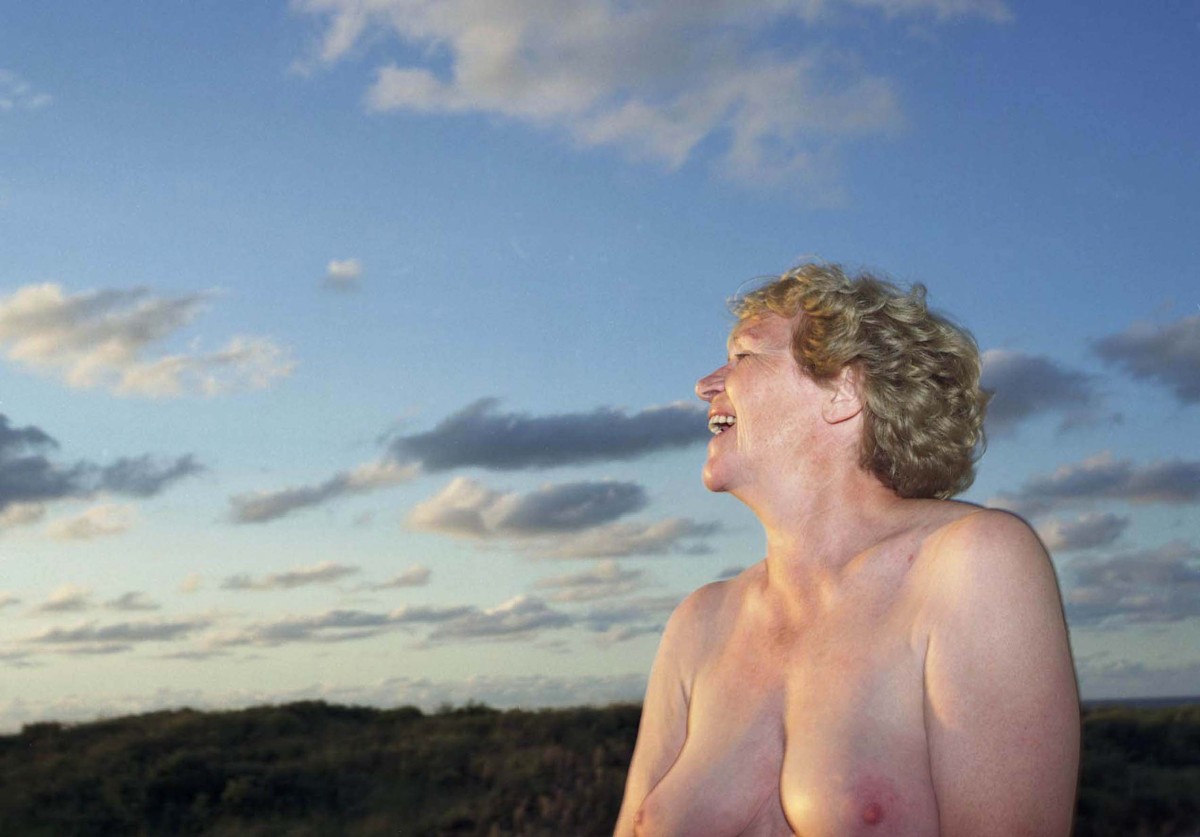 'With blue clouds + laughter' belongs to a series titled 'Liminal Portraits', which consists of 15 large scale color photographs made with my mother during 1999/2000. This series builds on an earlier set of B+W studio portraits (1996-1998) and further develops the collaborative practice of portraying my mother over an prolonged period of time. The work attempts to think through contested notions of beauty and suggests that the process of photographic portraiture can act as a moment of celebration.
Contact
33 Dunloe Street
London, E2 8J
UK
Email
Text, images, audio, and/or video in the Feminist Art Base are copyrighted by the contributing artists unless otherwise noted. All rights reserved.