Mierle Laderman Ukeles
Bronx, NY
USA
After child-birth in 1968, artist Mierle Laderman Ukeles became a mother/maintenance worker and fell out of the picture of the avant-garde. In a rage, she wrote the Cambridge, and the Ayalon Park in Israel. She has completed 6 work ballets with workers, trucks, barges, and hundred of tons of recyclables: in NYC, Pittsburgh, France, Holland, and Tokamachi, Japan. Recent and forthcoming exhibitions are a one person show in the Feldman Gallery Booth at the International Armory Art Fair in NYC, WACK! Art & the Feminist Revolution, at the Los Angeles Museum of Contemporary Art, and the Sharjah Biennial 8, United Arab Emirates. The unsalaried Artist In Residence in the NYC Department of Sanitation for 30 years, she is represented by Ronald Feldman Fine Arts in NYC. Often a visiting artist, she will teach at Yale in the sculpture department in 2007—2008. She has received multiple awards from the National Endowment for the Arts and the NY State Council on the Arts and support from the Guggenheim, Andy Warhol, Joan Mitchell, and Anonymous Was a Woman Foundations.
Feminist Artist Statement
"My Feminist Art Statement is expressed in my MANIFESTO FOR MAINTENANCE ART 1969! Proposal for an Exhibition "CARE". It remains operative today. The proposal for a three part exhibition, "CARE," still stands. This artwork is available on the Feldman Gallery website.
Please use this path to get there: www.feldmangallery.com—> Jump to an Artist—> select Mierle Laderman Ukeles from the drop down menu.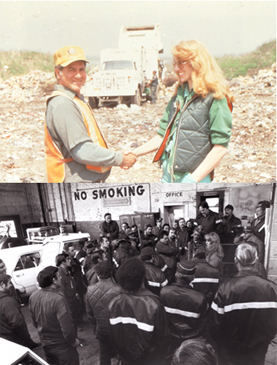 "I'm not here to watch you, to study you, to analyze you, to judge you. I'm here to be with you: all the shifts, all the seasons, to walk out the whole City with you."
I face each worker, shake hands, and say: "Thank you for keeping NYC alive." / Performance Duration: 11 months, at least 1 to 2 8-hour/per day work shifts. With 8,500 sanitation workers. / Courtesy Ronald Feldman Fine Arts, New York.
Contact
Bronx, NY
USA
Email
Text, images, audio, and/or video in the Feminist Art Base are copyrighted by the contributing artists unless otherwise noted. All rights reserved.