Nancy Azara
New York,
USA
"Nancy Azara has developed a signature vocabulary of materials (carved wood, paper), colors (red, black, silver, gold) and forms (human, tree and organic in-betweens), which she deployed in a variety of complex and simple sculptural formats in her recent exhibition… Azara coats the raw material with pigment and/or metallic leaf so that its natural color and grain are concealed. The result is a certain tension - as if the wood wants to burst out of this jacket - that heightens the expressionism of the carving and coloring." —-Janet Koplos, Art in America, January 2000.
For several decades I have been making sculpture, carving pieces of wood that are logs or milled lumber, ranging in size from 1 foot to 12 feet or more. The work is often gilded with metal leaf, painted with tempera, encaustic, and oils, stained and sometimes burned or bleached. These formal properties are the psychic outer layer. Within the psychic inner layer is the voice of my heart and what resides within it. The wood, the paint, and layers that make up the sculpture record a journey of memory, images, and ideas. I have exhibited my sculpture and paper works in New York City throughout the U.S. and abroad. My spiritually infused work has been shown in one woman exhibitions most recently at Andre Zarre Gallery in Chelsea, March 2010; at Donahue/ Sosinski Art in New York City and at the Froelick Gallery, Portland, Oregon; the SACI Gallery, Florence, Italy; A.I.R. Gallery in New York City; the Tweed Museum in Duluth, Minnesota; Rudolph E. Lee Gallery in Clemson, N.C.; the Gwinnett Fine Arts Center in Duluth, Georgia; and in numerous group shows. I have recently written a book, Spirit Taking Form: Making a Spiritual Practice of Making Art, published in December 2002 (Red Wheel/ Weisers) and an essay, "In Pursuit of the Divine" for The Kensington and Winchester Papers: Painting, Sculpture and the Spiritual Dimension, 2003 (Onerios Books). I was a founder of the New York Feminist Art Institute (NYFAI) in 1979, where I was on the board and taught a workshop called "Consciousness Raising, Visual Diaries, Art Making" for many years. I have been a visiting artist in both the United States, Europe, and India, most recently at Civitella Ranieri Umbertide, Italy; the Bogliasco Foundation, Genoa, Italy; and at Chikraneketan in South India (state of Kerala).
—- Nancy Azara
Feminist Artist Statement
"In 1970, I would rarely find women's art in a public setting. When I did find women's art in exhibits, it was a single artist's work here and there, usually tucked in among the men's work. It's been a long struggle, but a heartening one to come to, to find so many women artists working, and showing, speaking in their art about their visions, their lives, translating into color and form their unique voices—making public their presence. We may not so easily realize it now, but considering millenniums of lack of recognition and rejection, making and showing art is a courageous act for women." Nancy Azara, Re-Visioning catalogue, Maitland Art Center, Florida, July 2005.
"It was a very exciting time in the 1970s, discovering this place of empowerment inside myself. Feminism meant exploring everything. Nothing was out of reach. Being part of a consciousness-raising group, I discussed, discovered, examined everything from the very essence of my birth to my life as a woman to the forms colors and shapes that I put into my art. I asked myself what was male, what was female? Could the divine be gendered female? What would that be like? Were there unique female images? What did they look like? How were they relevant? I began drawing during these consciousness-raising sessions to try to record visually what was being said. It was an unsuccessful project because the conversations could not be translated visually. However, I found that by doing original 'primitive' drawings, forms belonging only to me would surface. In fact, I noticed that the same forms—those long lines, circles, and angular shapes similar to the kind of images that I had been taught to erase in art school—kept returning. Even then I found myself erasing them. But I came to treasure them, realizing they had emotional import as an expression in shapes and colors of the emotional dialogue taking place. A new presence beyond words kept emerging through these forms. When I finally allowed them to come through completely, my work began to flower. Eventually, I accepted my obsession with these lines and shapes as natural and normal. Later, I wondered if the experience of drawing during a discussion might be as liberating and stimulating for others as it was for me."—-Excerpt from Nancy Azara, Spirit Taking Form: Making a Spiritual Practice of Making Art (2002)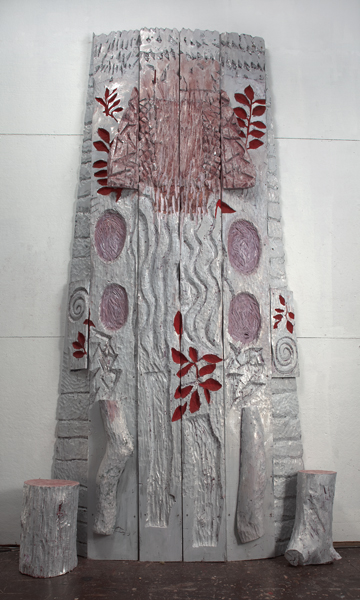 "Dawn/Light" is about the experience of my own aging, of changing life cycles – an altar piece to the inevitable, to the movement of time to a transformation of something new.
Contact
91 Franklin Street
New York, 10013
USA
Email
Text, images, audio, and/or video in the Feminist Art Base are copyrighted by the contributing artists unless otherwise noted. All rights reserved.