Natasha Maidoff
Venice,
U.S.A.
Natasha Maidoff's work is held in the permanent collection of the Museum of Modern Art, New York. Her films The Orange Orange and Is There A Cure For My Friend have toured internationally and have been screened at prominent museums such as the Guggenheim. Maidoff has taught at USC, the University of Redlands, and at Studio Arts Centers International in Florence, Italy. Her film The Stone Thieves will be screening at festivals this year and she is completing her first novel, Me and My Boy. She received her bachelor's degree from Oberlin College and her graduate degree from UCLA's School of Theater, Film and Television. She lives in Venice, California with her family.
She feels hugely honored to be part of the Elizabeth A. Sackler Center for Feminist Art, a groundbreaking institution.
Feminist Artist Statement
As a child born into the era of the civil rights movement, I acquired an active sense of justice and equality. My mother was discussing feminism while I proudly labeled myself a "tomboy." When we moved onto a farm, I rode horses, chopped wood, threw bails of hay onto a hay wagon, and felt equal to my brother. All chores were divided fairly.
When I was 11, I was given a super-8 camera. I didn't know how to operate it and felt intimidated by this sophisticated object. But it was mine and not my brother's. That made all the difference.
I began by using the camera as a way to play tricks, do magic, make something appear and disappear. It was years later when I first saw the films of Maya Deren and Jane Campion that I began to see how I could use my love of the camera's visual tricks to create narratives, be they experimental or more formal.
In film school, I was told to write films with a male protagonist, but I didn't. I made Traverse (1994) about the illusive nature of love, using the nude as a way to connect to our primordial selves. I made Is There A Cure For My Friend (1994) about female friends, and one of them is HIV. Up until that point, HIV was being treated as a gay man's disease only. But these were the stories I chose to tell.
For me, to be a feminist artist means to carve out my own language, and trust in it. I use the juxtaposition of images and ideas as my commentary on the world today. In The Orange Orange (2001) the protagonist asks, "Who do I want to be?" as she struts down an alley in Venice dressed in 1900's suffragette clothes and later as a 1960's go-go dancer. She wants to be the first female president of the United States, but she is still questioning her identity.
While my generation takes it for granted that we have more choices than our mothers and their mothers before them, I am still not satisfied with our progress. We still use our costumes to allure men and seize power in a society that promulgates sexist stereotypes in the media. So no matter where I go, I keep my super-8 camera in my holster, ready to aim, steady, and shoot.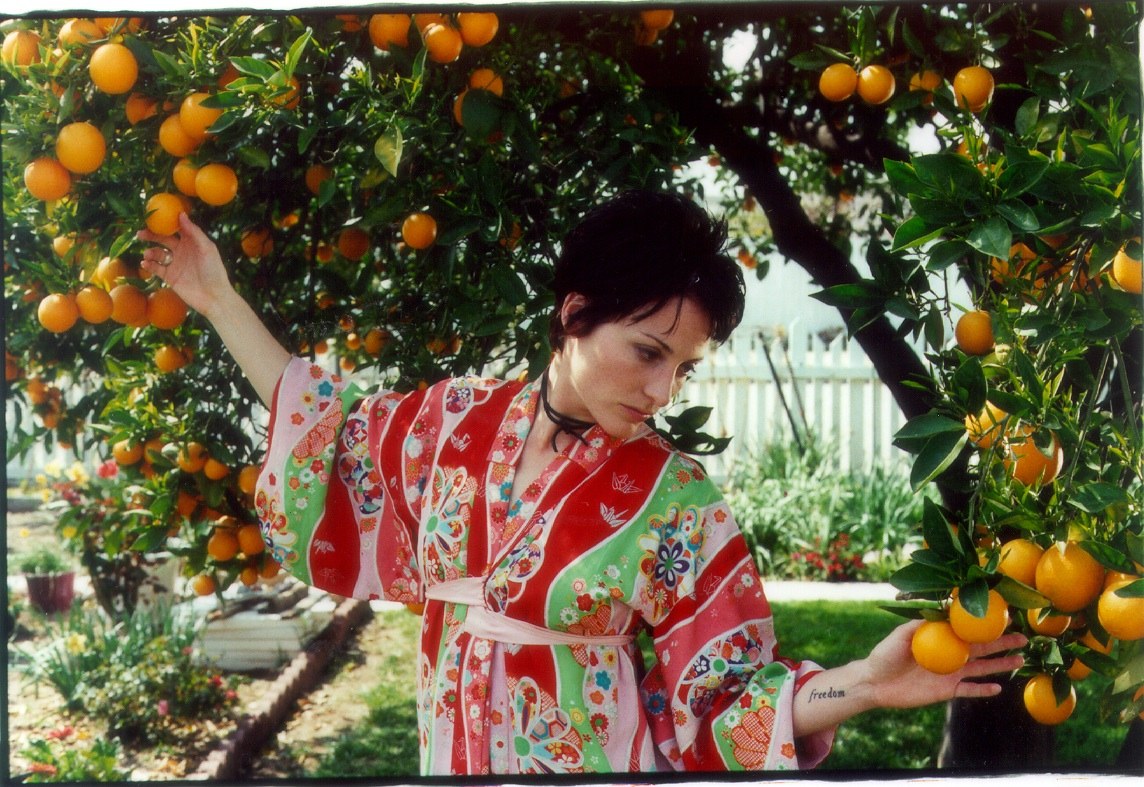 A young woman has lost the "key" to her life. But her decision to renounce frivolity and "get her life together" is stalled when she gets locked out of her house and knocked out by a falling orange. Thus begins an odyssey through the streets of Venice, California, and into her unconscious.
Text, images, audio, and/or video in the Feminist Art Base are copyrighted by the contributing artists unless otherwise noted. All rights reserved.