Neeta Madahar
Newbury,
England
Neeta Madahar is an interdisciplinary artist working primarily with photography and time-based media to explore constructions of nature, artifice, and perception with an auto-biographical influence.
In 1999 she graduated from Winchester School of Art and the University of Southampton in England with a BA Honors degree in Fine Art. She was then awarded a scholarship to study at the School of the Museum of Fine Arts and Tufts University in Boston, graduating with a MFA degree in Studio Art in 2003. Her final thesis work, Sustenance (2002-03) brought her greater prominence.
She has exhibited internationally including solo shows at the Les Rencontres-Arles Photography Festival, France, in 2004, Iniva (Institute of International Visual Arts), London in 2005, Danforth Museum of Art, Massachusetts, in 2006 and Oakville Galleries, Ontario, Canada, in 2007. Madahar has also been awarded several commissions from organizations such as Film and Video Umbrella, Harewood House and Photoworks. Her work is held in a number of private and public collections including Harvard University's Fogg Art Museum in Massachusetts, the Santa Barbara Museum of Art in California and the Victoria and Albert Museum in London.
She has been featured in numerous publications including Aesthetica and Aperture magazines, the Boston Globe, Time Out (London) and The New York Times. Madahar was also included in Portfolio magazine's special issue on the UK's 50 most significant contemporary photographers.
In 2008, she was awarded the prestigious '2008/9 Bradford Fellowship in Photography' from the National Media Museum in the UK which culminated in a major solo exhibition from October 2009 to February 2010.
Recently, US book publisher Nazraeli Press released a monograph on her latest series of photographic portraits, Flora.
Madahar is represented by Howard Yezerski Gallery in Boston, Julie Saul Gallery in New York and Purdy Hicks Gallery in London.
Feminist Artist Statement
Flora comprises 17 photographs of my female friends (many of them fellow artists and writers) alongside plants with names adopted as women's forenames, e.g. Helen with Poppies. The portraits, shot in a style reminiscent of 1930-50s glamor images, are not concerned with nostalgia, but anchored in the present, aware that fantasy personas are shams that can be superficially occupied and manipulated in front of the camera. Like earlier works, Flora investigates the inter-relationship of nature, artifice and perception.
Various 1930-50s portraits by celebrity photographers such as Cecil Beaton and Angus McBean have informed Flora. The camp and surreal qualities of the 1935 Goddesses series by Madame Yevonde have also been influential. These early portraits are highly constructed and the photographer and sitter, often versed in the same classical narratives, appear to cooperate in non-hierarchical role-play. It is this facet of the power and social dynamics of portraiture that particularly fascinates me.
Flora explores an extreme, stylized form of femininity alongside associations between fantasy and female beauty. Despite our knowledge of gender/identity politics, the ever-burgeoning pressure on the human body to be 'perfect' is unrelenting. Flora focuses on mature women to understand how an image is manifested when friends, who share a degree of history, intimacy, and trust, and a recognition that our bodies exhibit years of lived experience, collaborate in its construction.
When a portrait of a woman is taken, it enters into a dialogue with beauty and fashion photography, and consequently, with digital retouching. In Flora I chose to delineate photographic 'truth' following a non-digital process, asking how do women appear when restricting oneself to clothing, hair and make-up enhancements, controlled lighting and analogue darkroom printing.
Each Flora title begins with my sitter's forename and then her chosen plant. Yevonde's Goddesses captions frequently listed the husband's name followed by the particular goddess depicted, thus denying insight into the portrayed woman's identity. As a woman's surname is chiefly given either by her father or husband, I removed this patriarchal link by emphasizing only the first name.
Flora revels in a knowing playfulness about the projection of feminine identities within the parameters that constitute photography. Considering what it means to make these contemporary portraits, fantasies that rupture the everyday, it is apparent that the creation of a 'mythic' femininity remains intrinsically unstable. And that within this acknowledgment, there is a longing for cohesion and a simultaneous recognition of inevitable disappointment.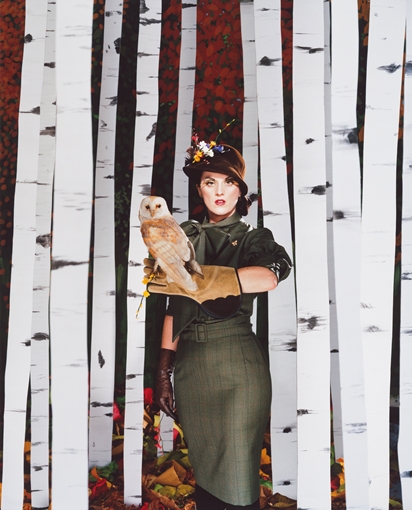 A 1930-50s inspired fantasy color studio portrait of a female friend standing in a constructed woodland of birch trees with freesias in her hat and holding an owl, from the Flora series.
Text, images, audio, and/or video in the Feminist Art Base are copyrighted by the contributing artists unless otherwise noted. All rights reserved.