Nicky Hoberman
London,
UK
Nicky Hoberman was born in Cape Town, South Africa in 1967. She has an MA in Modern History from Oxford University, a BFA from Parsons and an MA from Chelsea School of Art. She lives and works in London. She was selected for the 1996 New Contemporaries at Tate Liverpool and included in Saatchi's New Neurotic Realists. She has been in group shows at the Chicago MoCA, Sydney MoCA, Melbourne National Gallery of Victoria and Magasin 3, Stockholm. She has had 3 solo shows at Feigen Contemporary, New York.
Feminist Artist Statement
After spending years depicting little girls, dealing
with emotional dislocation and 'girl power', I've
moved onto men.
I'm exploring contemporary masculinity. By using the
images and words men choose to portray themselves on
mainstream Internet dating sites, I am examining how
masculinity has evolved; plastic toys in the 50s were
regular looking guys and today they have become
muscled, testosterone pumped up toy figures. Two
psychiatric personality disorders emerge (as
classified by the Diagnostic and Statistical Manual of
Mental Disorders).
Yes I do love myself looks at narcissists ( the
disorder apparently occurs 50-75% more often in men
than in women). Getaway Guys depicts avoidants (a
personality disorder where subjects avoid real
involvement with others, crippled by feelings of
inadequacy). My 3rd investigation is called 10 Parts
Man. It's comprised of overlapping images of 10
recurrent themes (ranging from disguises/fancy dress;
grimaces; stress on bodies with bicep flexing;
motorcycles and cars; sports and jumping; animals
(curiously mostly at the same eye level); mirrors; too
sexy for my shirt; hiding in clothes;
reclining/sleeping). Strangely, many of these men seem
to be advertising their bodies, almost as if they're
ashamed of their inner selves.

I've made about 200 drawings of the men's heads. These
are based on photos they posted on the net. The
drawings are in candy coloured inks on glossy
translucent plastic which allude to the computer
screen. These are like a contemporary feminist
butterfly collection with the prey turning into the
hunter. One man admitted that cyber dating allowed him
to pick women like choosing candies. Instead, my
seductive sweet colours act as a mask and have a
rawness, rather like an obsessive love-struck
teenager's bedroom.
The drawings are accompanied by a darkly funny sound
piece, where the narcissists say " If I could, I'd
date myself". The avoidants, however, proclaim "I'm a walking
disability, and when I'm not walking my personality
does the rest" . The
cacophony of overlapping images, accompanied by the
audio track played low, makes the viewer feel as if
they've entered the minds of these men.
I think this project is more than just a reflection on
the many who cruise Internet dating sites; it alludes,
rather, to a more general shift in society, where
celebrity culture is lauded, and where displacement
activities, such as living through cyber avatars, are
increasingly common.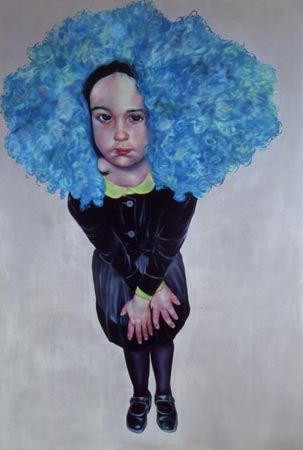 Text, images, audio, and/or video in the Feminist Art Base are copyrighted by the contributing artists unless otherwise noted. All rights reserved.