Nina Kuo
New York,
USA
Nina Kuo, the daughter of abstract painter James Kuo, was born in the Midwest and attended the State University of New York at Buffalo. She attended workshops in college with Judy Chicago and showed with Robert Longo and Cindy Sherman, pioneers of Hallwalls Contemporary Art Center. Kuo has curated and lectured in Asian-American Arts Centers as well as in Asia, and has participated in exhibitions with avant-garde artists such as Ai Wei Wei, Zhang Hongtu and Tehching Hsieh. Notably, Kuo has also exhibited with feminist scholars and curators Lucy Lippard and Marcia Tucker.
Kuo works in various media, including painting, mixed media, photography and video. Her figures and landscapes represent the views of an Asian scholar and artist living in the West for its opportunities, but looking to the East for its spirituality. Working intermittently in Asia has encouraged her to research the ongoing evolution of Asian cultures and has given her access to translated icons hidden in her own works, taking her art to a new emotional level.
Feminist Artist Statement
My feminist persona is influenced in large part by my experiences in the reopened mainland China. I worked in China in 1980, lectured at Beijing University with China News Service and, in 1993, produced a body of photographs with the sponsorship of Arts International. Participating in exhibitions exploring Asian identity at Bard College, the Newark Museum of Art and at various art fairs has brought my Chinese feminist work to public attention.
Currently, I am working on projects using feminine imagery to explore connections between the past and the present—such as hand-drawn doilies and sewn Chi Pao photo dresses—as well as on mural landscapes with surreal figures and calligraphic shapes. To me, these images provide metaphors for contemporary society and its many cultural directions. Computers, make-up rituals, fantasy hairdos and fast foods provide tools to convey the satirical relationships of my female figures to society. For example, in one of my works, a Ch'ing-style mountainscape, fried noodles spell out surreal calligraphic forms as ladies gather for a cosmetics party, surrounded by popular iconography.
My "Mythical Muse" series depicts illusion, feminine irony and transformations of Asian influences. They are anachronistic images of global cultures that fuse history with contemporary wit and drama. Each feminine scholar figure is juxtaposed with contemporary rituals, such as shopping for jewelry or designer labels. Research into early Tang and Ch'ing dynasty subjects reveal a sense of female rebellion and independence that I believe connects to currents in contemporary society. My historical figures, such as scholars and concubines, use recognizable modern props to convey information from East to West with a hi-tech attitude.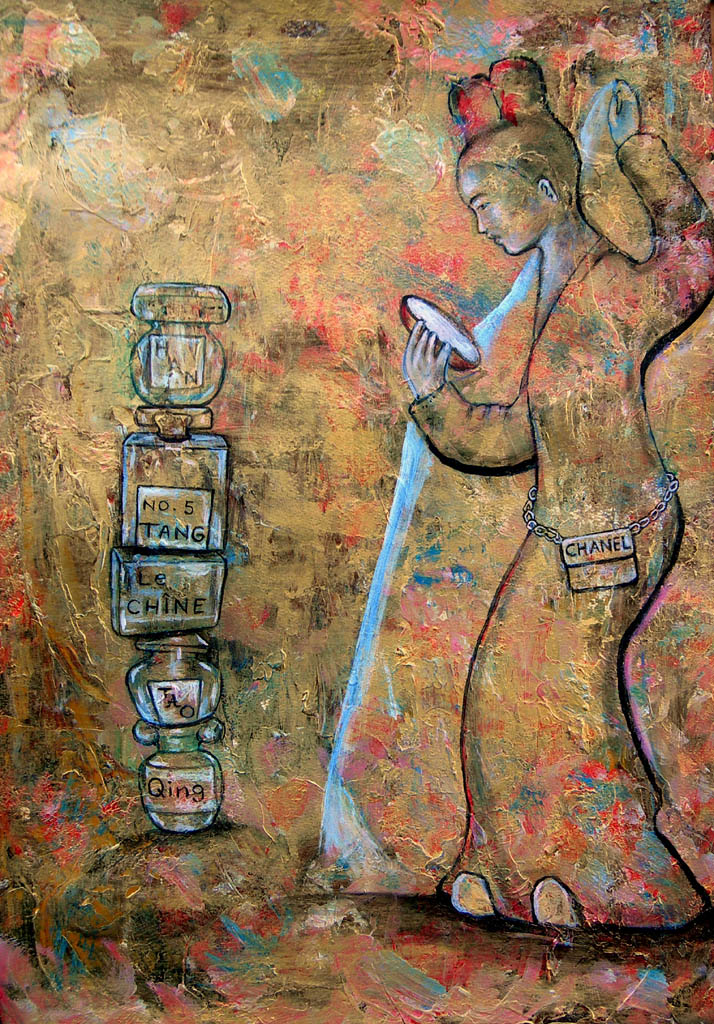 Part of the "Chanel Chinoiserie" series, this painting shows the preciousness and glitz that women are sometimes associated with, while revealing that some ladies cheat in attaining that image by purchasing knock off designer copies. A contemporary Tang Scholarly Lady wears Chanel knock-offs and buys Chanel perfumes to demonstrate the convergence of different values placed upon women. This work was included in an essay by Eleanor Heartey.
Text, images, audio, and/or video in the Feminist Art Base are copyrighted by the contributing artists unless otherwise noted. All rights reserved.