Oreet Ashery
London,
UK
Oreet Ashery is a London based interdisciplinary artist who works in live art, video, 2-D image making, objects, text and the internet. Her work tends to be context-responsive and occasionaly takes the form of an interdisciplinary site specific event with audiences as participants. The work looks at personal politics and its complex relationship to social realities. Ashery is interested in intersection of life and art, the intimate and the professional. Occasionally Ashery will produce work as a character such as a rabbit, a black man, a Norwegian postman, a fat farmer and an Arab man, and others. Marcus Fisher, an orthodox Jewish man, is Ashery's most consistent character. For information about Marcus Fisher's interventions, interactions, videos, stills, and reviews visit www.7atcsoflove.org. The interactive Internet project was commissioned by e-2.org. Ashery is currently engaged with her on-going project Welcome Home, an umbrella term for various investigations into the notion of (non)returning and disappearance from political, psychological, domestic and architectural perspectives (http://welcomehome.org.uk) Ashery's work has been shown extensively in the UK and internationally in art spaces, cinemas, and site-specific locations. Most recently, her work has shown at Tate Modern, ICA, (London), OK Centre for Contemporary Art (Linz), Foxy Production (NYC), Arnolfini (Bristol), Liverpool Biennial, Kapelica Gallery (Ljubljana), Kontejair (Zagreb), Herzeliya Museum (Israel), FABO (Toronto), Galeria de Arte Mexicano (Mexico City), NGBK Gallery (Berlin), Centre of Attention (London). Ashery's work has been reviewed in various journals including: Bidoun, Frieze, Contemporary, Time Out, The Village Voice, Circa, Flash Art, Dazed & Confused, Heeb, Sleezenation, and in books including Art Tomorrow, Art in the Age of Terrorism and Blasphemy (Nov. 2006).
Feminist Artist Statement
I consider feminism to be the backdrop to post colonial studies, queer studies, identity politics and everything else which is worthwhile. However feminism as we know it does not stick well with 'postmodernism' and notions of multiplicity due to its humanistic essentialist nature. It is less playful than queer, or post identity politics and aesthetics which is where the problems lies for those who like to play or like to feel like contemporary makers. Feminism can be used as '70s / 80s retro' in contemporary art as a strategy but it does not mean that we have managed to update it properly, we only managed to sentimentalise it. Artistic and curatorial attempts at post feminism, like the recent show at De Appel, Amsterdam, If I Can't Dance, I Don't Want To Be Part Of Your Revolution: 'Feminist Legacies and Potentials in Contemporary Art Practice' are grappling with this problem and not always successfully I feel, as I don't think it is possible. I feel feminism as we know it works best within the realm of human rights. In terms of art it operates best as a referent for something we all cherish, something we all are in debt to, but at the same time something that we are unable to make contemporary for ourselves in terms of a declared art practice. Something that never seems to emerge out of its historical premise. Contemporary feminism, I feel, works best in an art practice as a secret agent, an invisible agency that is there undeclared. On a more personal note I experience feminism as part of the intricate relationships of gender, cultural constructs and notions of power, race, religion, background, life style, and ethnicity. My interest in masculinity and as such my own gender performances of male characters and the inclusion of male actors is set to explore the relationships between women and masculinity and women and cultural identity. In some of the more overtly political work I make, like in Welcome Home (http://welcomehome.org.uk), power structures are challenged through means other than gender.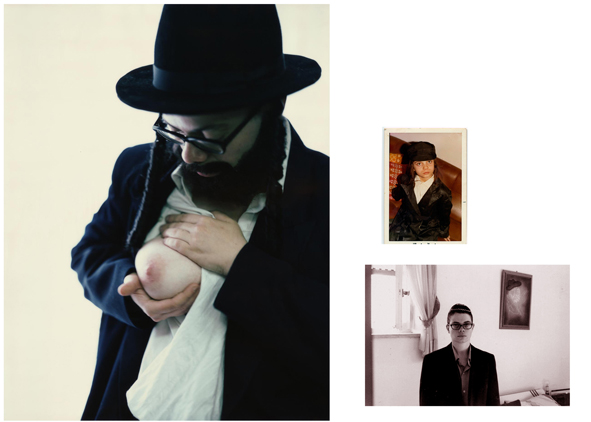 The work with my alter ego, the hybridic orthodox Jewish male Marcus Fisher, includes videos, performances, interactions, intervention, new media work and photographic work. The work looks at the intersection of gender, race, religion and ethnicity and questions the nature of identity. these three images were shown at the "Global Feminisms" exhibition at the Brooklyn Museum, curated by Maura Reilly and Linda Nochlin.
Text, images, audio, and/or video in the Feminist Art Base are copyrighted by the contributing artists unless otherwise noted. All rights reserved.