Pacita Abad
Washington,
USA
Pacita Abad (1946-2004) is an Asian-American artist, born in Batanes, Philippines and raised in a politically active family. She received a BA degree in political science at the University of the Philippines and, because of her political activism against the dictatorship of Ferdinand Marcos, was forced to leave for America in 1970, where she supported herself as a seamstress and a typist, while studying Asian history at the University of San Francisco.
At graduate school she worked as the art coordinator and became deeply involved in the San Francisco art scene when she married painter George Kleiman, though they later separated. She then decided to hitchhike across Asia for a year with Jack Garrity, whom she married, and then returned to the U.S. to study painting, first at the Corcoran School of Art in Washington D.C. and later, at The Art Students League in New York City.
After finishing her studies, Pacita became an itinerant painter lugging her paints and canvas, as she traveled with her husband across the globe, living in countries like Bangladesh, Yemen, Sudan, Papua New Guinea and Indonesia. Her travels significantly impacted her artistic style, and were the inspiration for many ideas, techniques and materials she used in her paintings.
Pacita's painting is characterized by vibrant color, constant change, experimentation and development. Her early paintings were primarily socio-political works of people, primitive masks, underwater scenes and tropical flowers. Pacita's most extensive body of work, however, is her vibrantly colorful abstract paintings - on a complete range of materials from canvas and prints to bark cloth, metal, ceramics and glass. Many of these were "trapunto" paintings, a name she gave to her technique of stitching and stuffing her canvases to give them a three-dimensional effect. She then began an almost magical process of transforming the surface of her paintings with materials, such as traditional cloth, shells, buttons, beads, mirrors and other objects.
A disciplined and prolific painter, Pacita created over 5,000 artworks and even painted a 55-meter long bridge and covered it with 2,350 multi-colored circles just a few months before she passed away. A truly global artist, Pacita had over 60 solo exhibitions and participated in more than 70 group exhibitions at museums and galleries in the U. S., Asia, Europe, Africa and Latin America. Her work is now in public, corporate and private art collections in over 70 countries.
Feminist Artist Statement
I am a painter who paints from the gut, but has a strong social conscience, and my early work often dealt with global social issues. I truly believe that, as an artist, I have a social responsibility for my painting, to try to make our world a little better. I have tried to do this in my small artistic ways: from socio-political paintings series like my "Portraits of Cambodia" and "Immigrant Experience" that make people aware; to abstract painting series like my "Abstract Emotions" and "Endless Blues" that make people think; to public art projects like my colorful "Painted Bridge" that makes people smile; and to the numerous workshops that I have given around the world to help students learn.
I have also been very fortunate to spend most of my artistic career painting in the far-flung corners of the globe and my journeys have been a major inspiration for my paintings. It also has been a tremendous learning experience that has made me acutely aware of the difficult lives many women lead in Africa, Asia and Latin America. Being a woman of color, I also became more sensitive to the less than equal treatment of both women, and people with darker skin throughout the world. This has also made me appreciate how very fortunate I have been as a woman to be brought up in the Philippines, educated in America and live all over the world.
As a politically concerned artist, many of my paintings tell the stories of people, and especially the women, that I have met and talked to along my way. As can be imagined, this has not always been pretty, as I depicted: the male dominated lives of women from countries like Iran, Afghanistan, Pakistan, and Bangladesh: the violence against women in my paintings in Papua New Guinea, Sudan and Cambodia; the sexploitation of young women and girls in Asia; and the difficulties that many Asian women face when they emigrate abroad to work as domestic workers.
Although I have tried to raise awareness of these issues through my paintings, I know that it is but a small effort to help address these problems and so much more needs to be done. As women, we all have an obligation to help improve the lives of other women, both in our own countries and around the globe.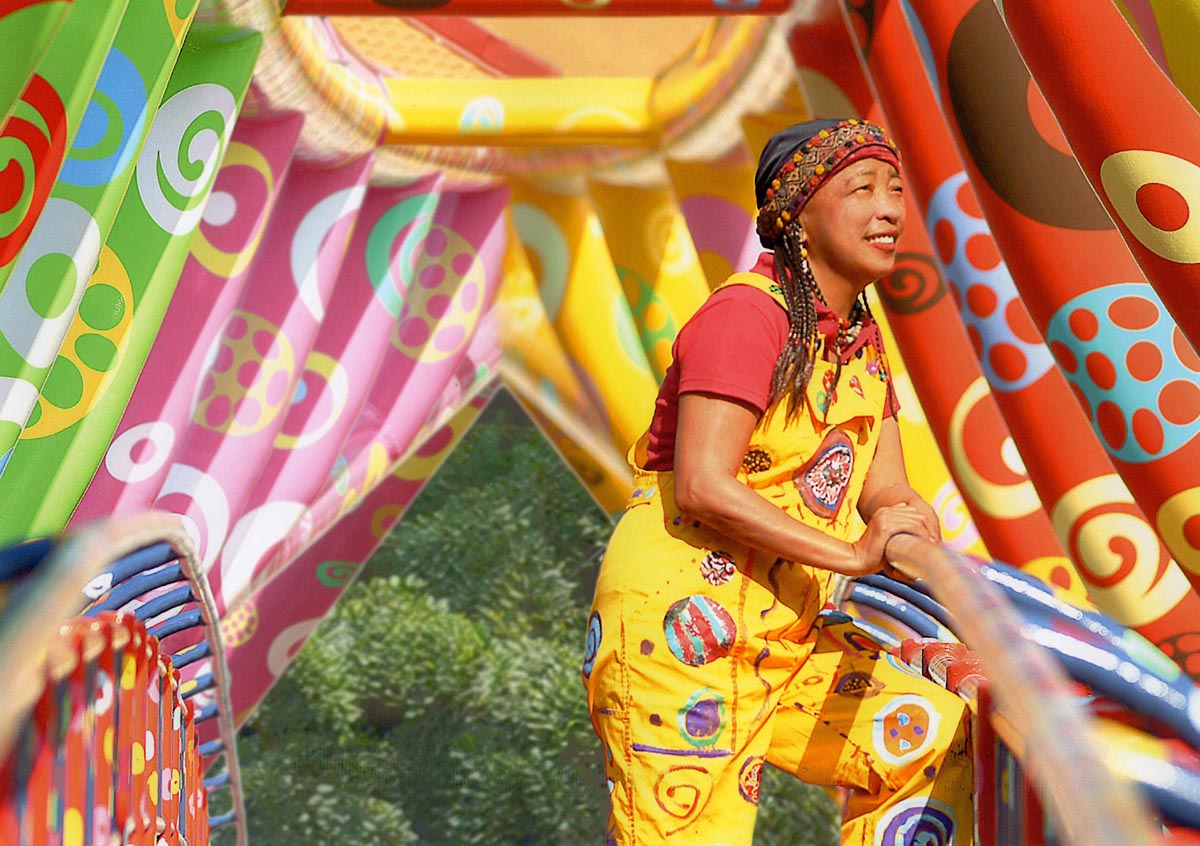 I have always thought that art should play an important role in our everyday lives, and not just be a picture that hangs on the wall of the galleries and museums. Because of this belief, throughout my artistic career, I have constantly been involved in a wide range of art activities outside my painting studio.
Text, images, audio, and/or video in the Feminist Art Base are copyrighted by the contributing artists unless otherwise noted. All rights reserved.