Patsy Norvell
New York,
United States
Patsy Norvell is a sculptor and public art installation artist living in NYC. Norvell has been active in the women's movement since 1969, participating in an artist conscious raising group and helping to start others. In 1972, Norvell was invited to exhibit in 13 Women, a pioneering women's show in NYC. Later that year, she helped found AIR Gallery, the first women's cooperative gallery in the country. Norvell's art has been exhibited widely in galleries and museums. She has been the recipient of numerous grants, awards, and artist residencies. She has lectured and taught, introducing Women in the Arts courses at Montclair State College and Hunter College in the 1970s. Permanent public art projects include installations at the Beverley and the Courtelyou BMT subway stations in Brooklyn, Newsstands in Manhattan, and plaza and lobby installations in Los Angles, CA; New Brunswick, NJ; Bridgeport, CT; and Bethesda, MD, among others. In 2001, the University of California Press published Recording Conceptual Art, the book form of taped interviews Norvell recorded in 1969. She received her BA in art and mathematics from Bennington College and her MA in sculpture from Hunter College.
Feminist Artist Statement
In the late 1960s and 1970s, feminism entered the art community with an intoxicating empowerment of women artists. Consciousness raising led to strong connectivity and formed community around issues of inequality. The critical discourse was concerned with the exclusion and restrictiveness of western art theory and practice, providing us cause and propelling us to make changes. Ideas, about what art could be and how it could be made, expanded in multiple ways. Non-traditional and non-mainstream processes and materials were explored and incorporated. Many women artists, whether personally identifying themselves as feminist, contributed to and benefited from the impact of these innovations. This period brought feminist awareness to art, and the art community at large absorbed and incorporated these innovations rapidly. My work shown here are from the early 70s grew out of my interest in process and ordering. (Abstract mathematics and logic have always been an integral part of my work.) These pieces were, at the time, a scary departure into "women's work"—the processes of sewing, pleating, making ruffles and, in several cases, the gridded order of quilts. Some were autobiographical, some a material portrait of a group (hair quilts), most abstract, but some aerial maps and landscapes. In light of the misinterpretation and fear that the term feminism/feminist can engender, I include the following incomplete lists. Feminism is not about: Making or following dogma, Hierarchy, Stereotyping/Categorizing, Bias, Restriction, Hatred and Revenge, Force. Feminism is about: Empowerment, Individual and social consciousness raising, Recognizing and reversing injustice, Equal opportunity, Community, Humanity.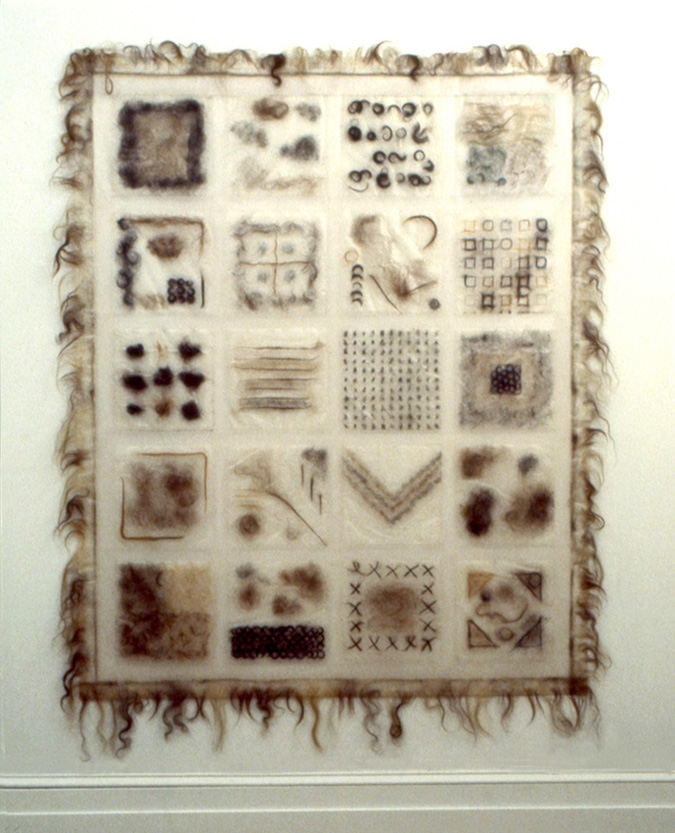 Text, images, audio, and/or video in the Feminist Art Base are copyrighted by the contributing artists unless otherwise noted. All rights reserved.