Pilar Albarracín
Madrid,
Spain
Pilar Albarracín (b. 1968) was born in Aracena (Huelva), Spain. She earned a B.F.A.from the Seville University in 1993. Her work has been the subject of solo exhibitions at Galería Juana de Aizpuru in Madrid and Seville; Sala Montcada de la Fundació La Caixa, Barcelona; Centro Atlántico de Arte Moderno, Las Palmas de Gran Canaria; Reales Atarazanas de Sevilla, Spain; Filomena Soares, Lisbon. She has been included in group shows at such venues as Macedonian Museum of Contemporary Art, Thessaloníki, Greece; P.S.1 Contemporary Art Center, New York; Museo de Arte Contemporáneo Español, Valladolid, Spain; Centre National d'Art et du Paysage de Vassivière en Limousin, France; İstanbul Modern Sanat Müzesi; Magasin 3 Stockholm Konsthall. Albarracín also participated in the First International Contemporary Art Biennial of Sevilla, in 2004, and the Moscow Biennale of Contemporary Art and the Venice Biennale in 2005. She currently lives and works in Madrid. Albarracin was featured in the Global Feminisms exhibition, curated by Maura Reilly and Linda Nochlin.
Feminist Artist Statement
"Pilar Albarracín is one of the most significant artists of the contemporary Spanish scene. Her productions have focused on the analysis of dominant narratives and, specifically, on the clichés which represent Andalusian identity; not from a remote and intellectualised perspective, but through an emotional and subversive immersion in the anthropology of the everyday. Folklore and popular traditions, food rituals, religious myths, and women's role in the distribution of power or collective festivals such as bullfighting, are critically distorted in the mirror of her reflections. Many of her works have a hypnotic rhythm which grows until it reaches a moment of ecstasy. Then the spectator suddenly awakens 'with a revelation or a thud' snapping them out of their intellectual and sensorial slumber and forcing them to call into question their preconceptions. In all her performances, it is Albarracín herself who personifies the female characters that transform her into a peasant, an immigrant, a battered woman, housewife, flamenco dancer or singer. From her early interventions such as Sin título (Sangre en la calle) [Untitled. Blood in the Street] (1992), which featured women thrown out onto the streets of Seville after having suffered some bloody incident, to more recent works such as Viva España [Long Live Spain] (2004), which takes place in the streets and squares of Madrid, Pilar Albarracín plays with the surprise factor and gives interactive installations or improvised performances that are put forward as shock therapy in order to bring out collective demons. Through her stagings, she focuses on the woman as the repository for commands of submission and explores the different facets of a specific situation of economic and social development in Andalusia, in Spain and, by extension, in the manifold contemporary combats between tradition and modernity. There are several works by Pilar Albarracín that focus on folklore and, specifically, on flamenco, which has been, and remains, an artistic way of expressing the social pain of a people. If singing gives voice to sorrows, dance connects the body to the rhythms which interweave eroticism and death. Dancing is a way 'to step outside oneself' which can be beautifully codified in choreographies and geometries or brings out the shapeless movements that liberate what is repressed." —Rosa Martínez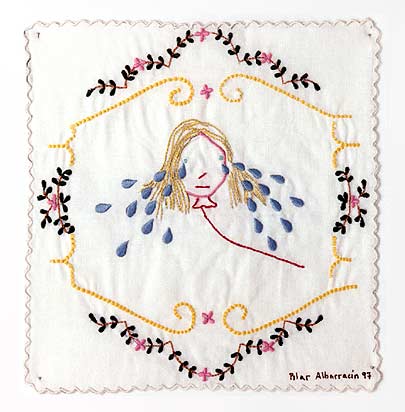 Silk embroidery on linen
21 x 21 cm.
Text, images, audio, and/or video in the Feminist Art Base are copyrighted by the contributing artists unless otherwise noted. All rights reserved.