Robin Mitchell
Santa Monica,
USA
Robin Mitchell lives and works in Santa Monica, California. She received both her BFA (1972) and MFA (1974) from the California Institute of the Arts. While an undergraduate student at Cal Arts, she was a member of the Feminist Art Program and worked on the historic Womanhouse Project. She is a recipient of the California Community Foundation Fellowship for Visual Artists (2006), the Anonymous Was A Woman Award (1996), a City of Los Angeles Art Grant (1997), and a National Endowment for the Arts Award (1987). In addition to art making, she teaches studio art courses at Santa Monica College and Pasadena City College. Her artwork is represented by the Craig Krull Gallery in Santa Monica.
Mitchell's work focuses on the act of mark-making to explore how the mark, in its abstract nature, is able to communicate an image and transcend beyond it to suggest themes both tangible and intangible. Her paintings are part of the tradition of work by artists like Agnes Martin, Hilma Af Klimt, Emma Kunz, and Bill Jensen, who underpin abstract representation with spiritual elements. Over the years, Mitchell's artwork has evolved from formal concerns to embrace a more spiritual imagery alluding to aspects of the natural world and of human nature. Many of her paintings have a strong central image that is reflective of personal identity, both physical and psychological.
Her earlier work often contained the visual theme of a vertical column of bead-like forms, alluding to the spine, a symbol of both inner strength and biological structure. In more recent paintings, this spine-like column has evolved to take on the characteristics of plant forms. Symmetry is an essential aspect of these images. Mitchell makes use of a variety of media including paintings on canvas, drawings and paintings on paper, prints, and sculpture, and produces work in a wide range of sizes from intimate and immediate small works on paper to large paintings on canvas.
Mitchell's body of work is obsessive, detailed, and physical. These paintings exhibit an almost microscopic investigation of themes that have been explored in earlier work - symmetry, mark-making, gesture, and an organic growth of thought and image.
Feminist Artist Statement
I grew up in a home where I saw my mother paint every day and my family imbued me with a love of art and ideas. Creativity and intelligence were valued, and I was encouraged to do anything I wanted. At college I was surprised to find a different climate. Most of my instructors were men, and the art that we studied was made by men. I often felt that my fellow students accepted me as "one of the boys" but on their terms. The best women artists were only appreciated at the end of the long list of men. I wanted myself and my art to be appreciated on my terms and understanding. During the 1970s I was an art student at the California Institute of the Arts where I received both my BFA and MFA. I was aware of the role of women artists in both academia and the art world and had questions about how being female would affect my future as an artist. I joined the Feminist Art Program at Cal Arts and was involved in the historic Womanhouse project. The FAP was both wonderful and awful, challenging and frustrating. I discovered a history of women artists of which I had been unaware. This was exciting and life changing for me. Where did I fit into all of this as a young woman artist? I felt a sense of responsibility and obligation to my future as woman artist. I had a legacy of feminism to act on and I would not ignore it or deny it. My women artist friends who shared a similar evolution and development have been my greatest influence.
Have things changed? Yes. No. Some. There is a persistent incomplete understanding of many women's artwork. Women artists are still judged by a different standard than men are. Middle-aged women who came to awareness during the beginning of the Feminist Art movement seem to be held to a truly different standard than younger women artists who have assumed many of the hard-won achievements as a given and a right. Judy Chicago, one of my teachers, felt that women's art was mainly expressed through "central core imagery." I found this to be a ridiculous summing up of the possibilities of women's creativity. Ironically, much of the artwork that I have made is symmetrical with a sense of physical entity at the core.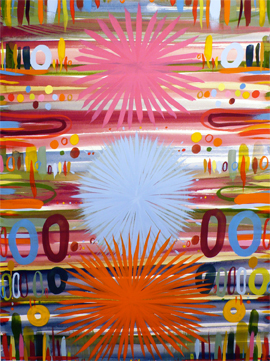 Text, images, audio, and/or video in the Feminist Art Base are copyrighted by the contributing artists unless otherwise noted. All rights reserved.