Ryoko Suzuki
chuo-ku,
japan
Ryoko Suzuki (b. 1970) was born in Hokkaido, Japan. She graduated from Junior College of Art of Musashino Art University, Tokyo, in 1990, and from Sokei Academy of Fine Art, Tokyo, in 1994. She has had solo shows in Sapporo at Art Space201, Continental Gallery, and Daido Gallery, as well as in Tokyo at Zeit-Foto Salon and Kiritama Gallery. Her work has been included in group exhibitions at Arai Memorial Art Museum, Iwanai; Fundbureau, Hamburg; the Consulate General of the United States of America; the Ueno Royal Museum, Tokyo; Tokyo Metropolitan Museum of Photography; the Yubali Museum; CAI Gallery, Sapporo; Sapporo Citizen Gallery; Hokkaido Museum of Modern Art, Sapporo; Museum of Contemporary Art, Sapporo; Seoul Museum of Art; and Stadtgalerie Kiel, Germany. She also participated in the Shanghai Biennale in 2004. Her work is in the permanent collection of the Tokyo Metropolitan Museum of Photography. She lives and works in Sapporo.
Feminist Artist Statement
Japan is still a male dominant society. I was born in 1970, and Law for Equal Employment Opportunity of Men and Women passed the Diet in 1985. Since then, Japanese women has been supposed to get an equal opportunity to be successful in work filed.
But what happened to Japanese women after two decades was the severe working situation under the name of equality. A doctor told me that some women come to the hospital for IV drip in order to work as hard as men, even after the midnight. The doctor asked them why they do not take time off, and they said "if I would do that, male workers say 'see, women are useless.'" Obviously, some companies take advantage of the law to assign more work on female workers.
Looking back at the process of its making, I think the work is my attempt to take charge of myself and my life for the first time. Before I created this work, I had only been living the time and life that was bestowed upon me by society. This work functions as a record of my behavior, and it affirms that I will be living as an agency of my own. In this way, I can also say that the work serves as a record of my spiritual awakening and independence.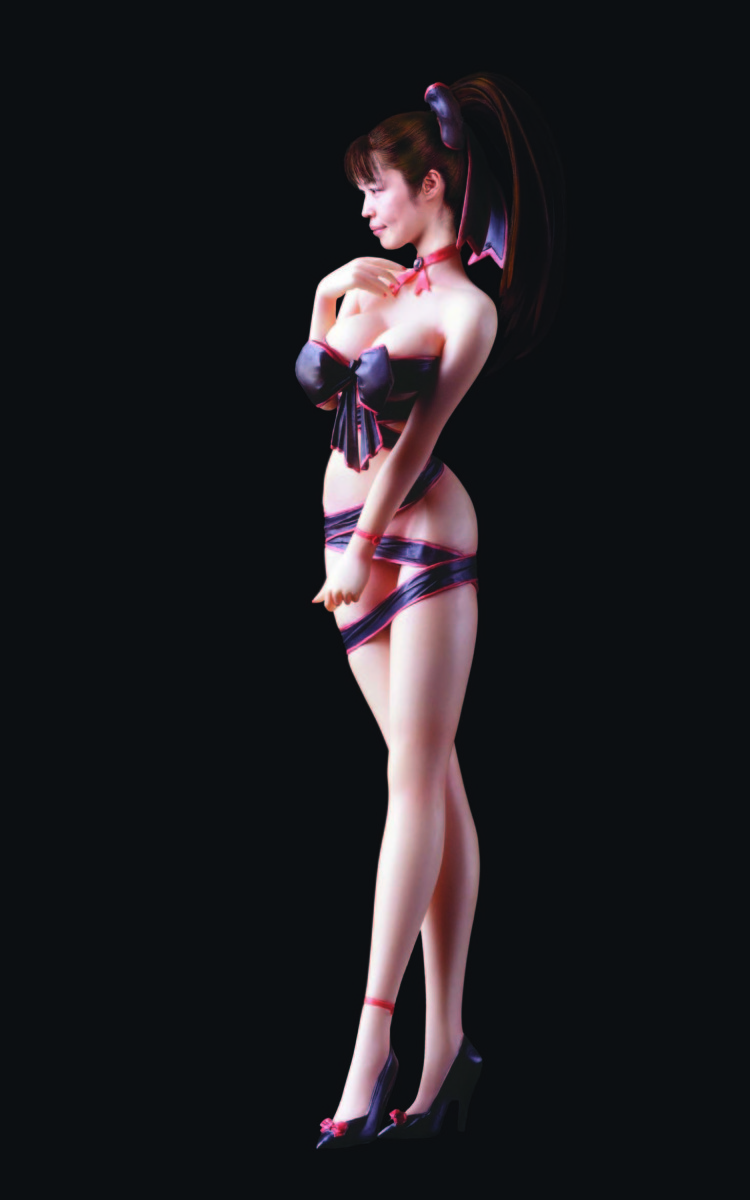 The ANIKORA series is a collage of facial images placed on top of stereoscopic bodies of "pretty girl characters" from the Japanese animation market.This concept was derived from "AIKORA" which combines the face of a celebrity with a woman's body. This strange character in ANIKORA meant to reflect the image of the masculine sexual drive. The character brandishes masculine will power from within while marking use of the body, destined to be passive, to coerce the audience into having an impression of inconvenience.
Contact
matsumoto Bldg.4F 1-10-5, Kyobashi
chuo-ku,
japan
Email
Text, images, audio, and/or video in the Feminist Art Base are copyrighted by the contributing artists unless otherwise noted. All rights reserved.