Sabian Baumann
Zuerich,
Zuerich
Born in 1962 in Zug (CH), Sabian Baumann studied visual arts from 1987 to 1991 at the University of the Arts in Zurich (CH) where s_he currently lives and works.
Sabian Baumann's oeuvre, which revolves around bodies, identity and cultural values, includes sculpture, installation and video, while setting a main focus on figurative drawing. Staging irritating disruptions and paradoxes with motives from art history and popular culture Baumann questions common social standards and displays normality as a negotiable exception in space and time. In the confrontation of diverse stylistic references the works generate a tension, which finds correspondence in the content: oppositions to social expectations and stereotypical codes, and the resulting feelings of indisposition. The initial playful appearance of Baumann's work unfolds a tragicomical humour.
An additional important part of Baumann's body of work consists of various collaborative art projects based on queer-feminism contents which Baumann founded and/or participated in: Sexismus Productions, CASUAL, Working On It, and An Unhappy Archive. These projects state and question social norms and gender roles in performances, workshops, interventions, video productions and discussions, while also providing the artists with self-determination in the art scene.
Baumann's work has been shown in various solo exhibitions, e.g. at Aargauer Kunsthaus in Aarau (CH), Helmhaus in Zurich (CH), Kunsthalle Winterthur (CH), Kunsthaus Langenthal (CH), Kunstmuseum Lucerne (CH), and Institut fuer Moderne Kunst in Nuernberg (D), and has been included in national and international group exhibitions, e.g. at Kunsthalle Zurich (CH), Shedhalle in Zurich (CH), Fondation Beyeler in Riehen (CH), Musee Rath in Geneva (CH), Nassauischer Kunstverein in Wiesbaden (D), Kunsthalle Exnergasse in Vienna (A), Kunsthalle Tirol in Hall (A), and Tallinn Art Hall (EST).
Furthermore Baumann has been commissioned with numerous projects for art in public space and received artist-in-residences in New York 1996/97 and Berlin 2000 as well as the sponsorship award of the Burgauer Stiftung in 2012. Sabian Baumann is represented by Galerie Mark Mueller, Zuerich.
Feminist Artist Statement
Normality is always an exception in space and time.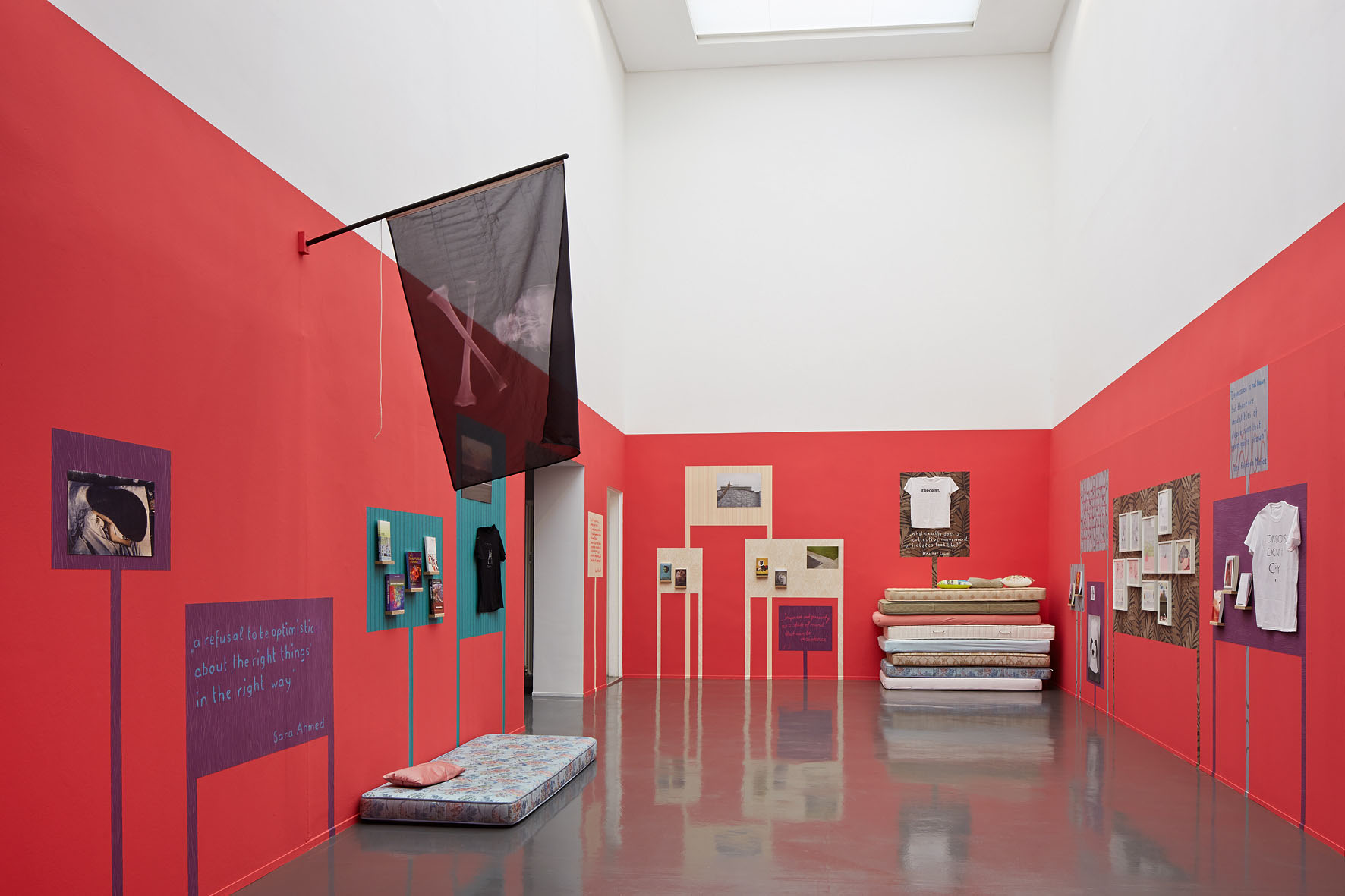 The unhappy archive, is a collaboration by Sabian Baumann, Karin Michalski und Andrea Thal, with contributions by: Sara Ahmed, Sabian Baumann, Lauren Berlant, Dafne Boggeri, Ann Cvetkovich, Feel Tank Chicago, Eve Kosofsky Sedgwick, Heather Love, Jose Esteban Munoz, Bettina Stehli & Anne K?thi Wehrli, u.a., exhibitionview Badischer Kunstverein, Karlsruhe 2014
An Unhappy Archive assembles texts, books, posters, drawings, and other materials that call into question the social norm of "happiness." The name refers to theorist Sara Ahmed, who describes the "unhappy archive" as a collective, feminist-queer, and antiracist project. It not only sets out to impel criticism and resistance within society but also intends to forward the states of pleasure and utopia that are facilitated by supposed anti-figures like the feminist killjoy. The archive was initiated in 2013 by Andrea Thal at Les Complices in Zurich and is now being reactivated and expanded in a new spatial context.
Text, images, audio, and/or video in the Feminist Art Base are copyrighted by the contributing artists unless otherwise noted. All rights reserved.