Sadie Lee
London,
United Kingdom
Sadie Lee was born in 1967. She grew up in Yorkshire, England, the family moving to Surrey when she was fourteen. She was a Fine Art student at Epsom School of Art in 1986 and later studied mural painting and marbling at the Hackney Institute. For the past ten years she has worked part-time as a lecturer on modern painting at the National Portrait Gallery, London. She is a club promoter and DJ and hosts Lower the Tone – a club for people who hate clubs in North London. She lives and works in London.
Feminist Artist Statement
The women in my paintings go beyond the passive status of decorative object. As their eyes lock with yours you can't help but wonder who they are, and what they want with you. The body language is ambiguous, the gestures could be comical. In Venus Envy, the female fist punching through the masculine fly could be an aggressive gesture or a kind of ridiculous penis parody. In Pinky the semi-clad woman inexpertly shields her huge body with her arm but the message is confusing—is she inviting or expelling you? Has something taken place on the unmade bed or is it just about to? There is a suggestion of humour present but you daren't laugh, just in case. Although influenced and inspired by traditional paintings of the female figure throughout history I am aware that these painted women often represent idealised fantasies. My paintings are all portraits of real women who display appearances or behaviour that could be considered 'unladylike' by society's notions of convention. The models are from all walks of life, of varying ages, ethnic groups, sexualities, and sizes but are frequently united by a sense of vulnerability, combined with an overtly strong sexual awareness. The slightly stylised caricatures and staged theatrical compositions evoke an unsettling atmosphere and have drawn comparisons with artists of the Neue Sachlichkeit movement of the 1930's, such as Christian Schad and Otto Dix. The dark palette and disturbing sensuality has been likened to the early work of Balthus. My work often cocks an eye at the representation of gender and considers whether masculinity and femininity are constructed identities created and reinforced through the use of make up, costume and body language. In my most recent paintings of Warhol Superstar and infamous transvestite Holly Woodlawn, the ambiguity of the sitters' biological sex (or 'real' gender) allows the viewer to join in the guessing game, deciding and re-evaluating what constitutes male- and femaleness. Although flirting with notions of physical beauty, femininity and exclusion, my paintings always attempt to be empathic and aware primarily of the sitters' perspective.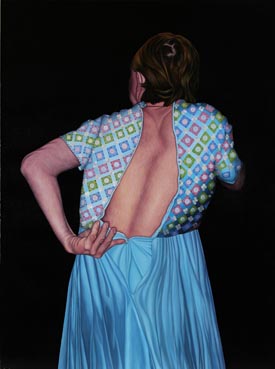 Text, images, audio, and/or video in the Feminist Art Base are copyrighted by the contributing artists unless otherwise noted. All rights reserved.