Sam Jury
New York,
USA
Sam Jury graduated with an MFA in Painting from Cornell University in 1998 followed by a two year Fellowship in Print and Digital Media at the Royal Academy Schools, London. In 2009 she was artist in residence at the Irish Museum of Modern Art, Dublin. She has lived and worked in both the USA and Middle East and has exhibited internationally with solo shows in London and New York, and group shows in China, Spain, and Switzerland. Additionally, she works collaboratively on projects such as the site-specific Museum of Mankind works, London and 'We Are Just Watching' site responsive installation at the Great Eastern Hotel, London. She is the 2011 recipient of the Perlmutter Award from the Rose Art Museum. She lives and works in UK. She is represented by Stephen Haller Gallery of New York.
Jury's work explores the psychological impact of film based imagery and examines how its ubiquity shapes our understanding of society, and thus self, often through observation and/or idealization of others. Jury works across the medias of painting, photography, video and installation, whilst navigating the gaps and fissures between moving and still imagery, painting and film. Starting with found and staged photographs or documented performances, she uses the editing process to suspend linear narrative and present a highly manipulated scene that hovers between specific time, place or genre; a world made up of associative readings, that calls upon a global or collective memory to measure reaction and meaning. The manifestation of these concerns is the compressed or 'panoptic' image created by combining a multitude of moving and still imagery to form one single work; using photography and video as a means of absorbing the world at large.
Feminist Artist Statement
Feminist concerns have always been embedded in my practice, nowhere more so than in my response to representations of women in the media. I have always felt ambivalent towards the imagery of mass communication. Typically, I have the conflicting responses of being seduced, amused, affronted and unsettled. The overwhelming feeling is always one of unspecified wanting, of being pushed toward the pursuit of some impossible goal. Whilst it is almost impossible to banish or be immune to these representations, it is possible to re-own, desexualize, de-brand and de-objectify them; either through extreme exaggeration or by the examining the void left by their absence.
The content of my work swings between these two polarities. The human forms in both my photographic and video works are either super-sized, super-hybrids or, in direct opposition, stripped of all but the barest of visual cues. The former manifests itself in the production of oversized 'portraits' constructed by obsessively combining moving and still imagery of the seemingly flawless and manipulating them to the point of near dissolution - at which point any specificities such as age, gender and context begin to unravel. The result is a portrait that negates any attempt to either represent or create a likeness; in part, an extreme exaggeration of the heavily doctored portrayals of celebrities and models in the mass media; society's own portraits of overblown perfection. In both cases, what should be the semblance of an idealized face becomes unsettling and empty and both alluring and confrontational. These portraits are loaded with the inherent power to attract, but the undercurrent is always vulnerability and often exposes a subject as victim of their desirability. Conversely, creating a 'blank' denies the viewer any means by which to judge the person they are looking at. Instead the figure becomes a signifier with which the watcher can chose to either empathize with or compartmentalize as other or perhaps both. In direct opposition to imagery of popular culture, where readings are strictly controlled by the use of repeated conventions and types, my work denies the instinctual by amalgamating disparate sources to produce a single view. Within that view the subject subtly shifts from its default passive to occasional active in an attempt to disrupt the safe boundary between the watcher and the watched; a device deployed to invite and then destroy the power of the gaze.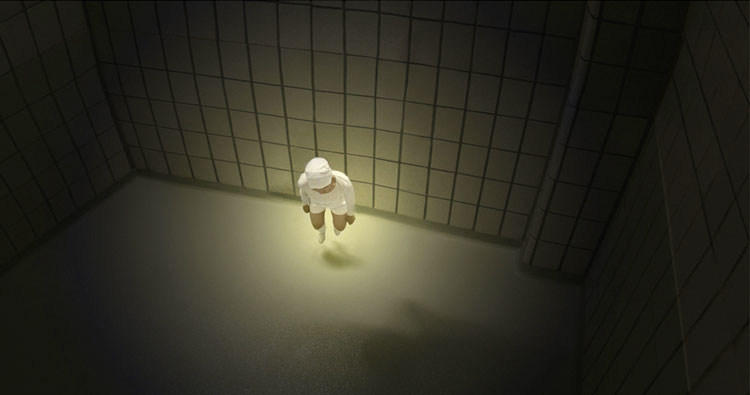 Contact
542 W 26th Street
New York,
USA
Email
Text, images, audio, and/or video in the Feminist Art Base are copyrighted by the contributing artists unless otherwise noted. All rights reserved.