Sarah Vogwill
Brooklyn, NY
USA
Sarah Vogwill (born Binghamton, NY, 1959) is an artist and graphic designer living and working in Brooklyn. She received her MFA from CalArts and attended the Whitney Independent Study Program.
Vogwill has exhibited at Momenta Art, Brooklyn Public Library, Art Resources Transfer, and The Urban Institute of Contemporary Art, and has been included in group exhibitions at PS1, Metaphor Contemporary Art, Artists Space, and several other venues in NYC. She has been awarded residencies at Atlantic Center for the Arts, Hambidge Center, and Banff Centre for the Arts.
Feminist Artist Statement
Informed by feminist critiques and psychoanalytic concepts, I'm interested in how fantasy functions — fantasies about sexy powerful women, idyllic housewives, fantasies about our "selves" depicted just about everywhere we look. The flip side of those fantasies is the fears they belie — fear of women with agency and discernment, of getting lost in domestic anonymity, of being average.
In this series I use original pages from vintage sixties and seventies magazines interrupted with images and phrases culled from a seemingly vast cultural unconscious. Clearly issuing from a contemporary desiring subject, this unconscious voice produces a layer of commentary, free association, or simply disruption.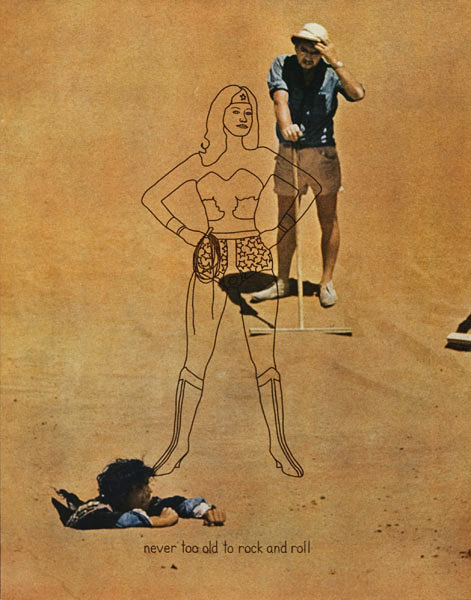 From the series "My Generation (Hope I Die Before I Get Old)."
Contact
Brooklyn, NY
USA
Email
Text, images, audio, and/or video in the Feminist Art Base are copyrighted by the contributing artists unless otherwise noted. All rights reserved.