Sharon Bartel Clements
Tesuque,
USA
Sharon Bartel Clements
Tesuque,
USA
Sharon Bartel Clements is an established artist; working and painting mixed media and sculpture. Sharon Bartel Clements is also a former art teacher who taught for 8 years in the Lewiston Porter school system in Lewiston, NY. She now works full time at her studio in Santa Fe, New Mexico.
Sharon's interest in sewing patterns is a consistent theme through her work. At one time in her life, she sewed all her clothes. Always seeking to combine color, movement and texture, Sharon's main goal is to project a sense of communing while transforming materials into sculptural representations, installations and paintings. At the same time, Sharon incorporates more abstract and contemporary themes into painting, mixed media and sculpture. Her work is also affected by her extensive traveling throughout the world and living in many places across the country, where she has seen first-hand the interaction, of the celebration of nature, with many different cultures.
In 2015 Sharon had a full year of exhibits and recognition. Early in the year she was selected as one of the "101 Super Hot Artists for 2015" by Michael Corbin, author, art critic, and publisher of the Art Book Guy. Mr. Corbin published her interview, "Sharon Bartel Clements: Evolution and Transformation", on February 1, 2015. Sharon was a featured artists on the Art Specifier daily Facebook post, and a featured artist of the month on Artshow.com, the on-line gallery. Two of her torsos were exhibited in group shows. One show was at the Armory Art Center in Florida during the "125 Years: Women of Vision, National Association of Women Artists, Inc." exhibit. The other was with Starry Night Retreats, at the Select Art Fair during Frieze Week, in New York. Sharon's most recent group exhibit was at the "Five Senses +1: Group Exhibition" at K&P Contemporary, Elga Wimmer PCC in New York, this September of 2015.
Sharon Bartel Clements has a 20 year artist career. She has shown 13 solo exhibitions including; "Bartel Clements Recent Paintings", at the William Whipple Gallery, at Southwest MN State University Art Museum, in Marshall, MN; and at Gallery 705 in Stroudsburg, PA. Previously, Sharon had the opportunity to exhibit at the very prestigious institution, the Albright-Knox Art Gallery, in Buffalo, NY, in the Collector's Gallery, where her show "Abstract Works by Sharon Bartel-Clements" was displayed.
Sharon Bartel Clements has had many group exhibitions, before 2015, as well, including "The Artist Among Us" exhibition, and also "Artist Invitational Auction" at a gala at the Burchfield Penney Art Center in Buffalo, NY. Previously her art was included in the "Point of View" exhibit, at the Poughkeepsie Art Museum, a well-known museum, in Poughkeepsie, NY. Sharon has exhibited in group shows overseas including, "Art in the Changing World", at the Lalit Kala Akademi, Nat'l Academy of Art, in New Delhi, India, and "The Capital Normal", at IASG, Tsinghuo University, in Beijing, China.
Sharon's paintings have been published in many articles and literature, and her work hangs in several homes and offices across the nation.
Sharon Bartel Clements received her Bachelors, and then Masters of Science in Art Education from the State University College at Buffalo, in Buffalo, NY. Later, she attended a Post Graduate Studies Program, at the Laguna Beach School of Art. She also went to New York to study with the Art Students League of New York.
Feminist Artist Statement
In my Ancient Warrior Torso series, the word "ancient" naturally brings historical references to mind. The visual quality of being ancient, to me, can also mean something lost and then found. Lessons that were learned ....something buried or destroyed and then rebuilt.
The idea that women are the warriors in the world and are in all different types of relationships, and any tragedy that has affected their lives, and they have conquered….gives them a voice. They see their own story behind the torso. The woman as warrior has been an idea of mine, originating when I first viewed the Terracotta Warriors in China many years ago.
The use of sewing patterns is very familiar to me in a sense of depth and space. In the past I've sewn my own clothes. Sewing for me represents a connection to family and home, and a bonding between women.
During the process of using plaster, the individual torso is transformed to a shield of protection. Once the hard protective plaster shell is removed from the torso it becomes part of the collective consciousness of the woman as warrior. There is a power felt as the viewer experiences the numerous torsos side-by-side. Collage materials are used for their color and symbolism. The collage, sewing patterns, and paint are then applied as I deem appropriate. I'd like to see all the torsos in one space; all different shapes, sizes, and heights representing a totality of the woman as the warrior archetype.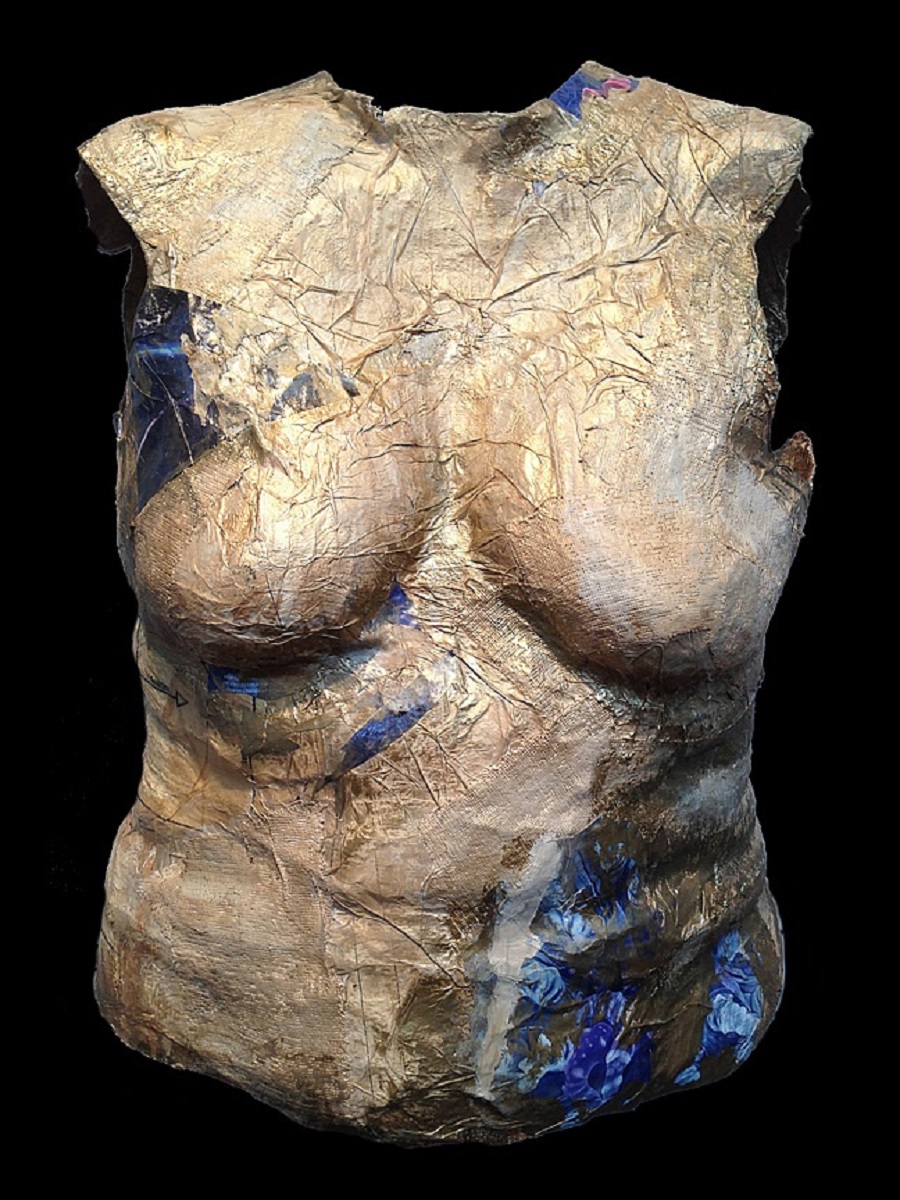 H 20.5 in (60 in w/ stand) x W 15.5 in x D 10 in; 2013; Medium Plaster wrap, acrylic paint, sewing patterns, collage
Contact
PO Box 40
Tesuque,
USA
Email
Text, images, audio, and/or video in the Feminist Art Base are copyrighted by the contributing artists unless otherwise noted. All rights reserved.