Shirley Klinghoffer
Santa Fe, NM
USA
Currently, Shirley Klinghoffer is being honored by Judy Chicago and Laura Addison, Curator at New Mexico Museum of Art, with a mini retrospective at Through the Flower (2011). Addison states, "Shirley Klinghoffer creates a world in which flowers blossom with vulval impressions, cast-rubber nipples bubble up from a pink half-orb, and a women's skirt mutates into a giant black 'daisy' whose forbidden fruit is protected by barbed wire. The trappings of womanhood – whether anatomical, fashion-based, or commercial – are everywhere metamorphosed in this secret garden, a fertile feminist paradise."
"The dozen artworks shown here are a small survey of Shirley Klinghoffer's career from the past 15 years. They demonstrate the artist's quick wit and persistent optimism, as well as a sense of fantasy worthy of children's literature."
"Shirley Klinghoffer uses sculpture as a vehicle not only to celebrate diversity but to censure inequities. Hers is an approach that insists that art open the gate of the secret garden and reveal the beauty and beast within."
In 2000, Ori Soltes, Director National Jewish Museum, wrote, "Being written out connects various groups through common disconnection. Shirley Klinghoffer's work in part comments on the position of women not as written out but as narrowly scripted." Soltes notes that Klinghoffer's exposure to vulnerability in early childhood has honed her sensitivities and that "those sensitivities yield the tension between capitulation and triumph which this work exemplifies."
From a review of Klinghoffer's CRT-0981 Central Fine Art exhibition (1999), Mark Daniel Cohen alluded to her work, saying, "Art at the extreme of being artistic is an enlivening and deepening consciousness – it is an inducement to the broadening of awareness."
Visual Arts Curator, Cyndi Conn's introduction to Klinghoffer's nationwide collaborative Love Armor Project (2008) includes references to feminist textile and anti-war art of the 1960s and 1970s, but with deviations of social inclusion and forgiveness. Conn concluded, "As a symbol of our delicately intertwined lives and destinies, the Love Armor Project holds within its threads the promise of community, compassion, and change."
Klinghoffer has shown her art in museums and galleries for over 3 decades. Her work is included in private and public collections. In recognition of Klinghoffer's artistic achievement and the impact her art has had on numerous communities, Klinghoffer was nominated for a New Mexico "Governor's Award for Excellence in the Arts" in 2010.
Feminist Artist Statement
My artwork is very personal. It addresses substantive life situations – specifically including women's issues, and more broadly, universal concerns.
Often I use the human body, or body parts, to convey an idea. I have consistently explored the use of multiplicity of forms with a variety of materials including tinted rubber, glass, wax, plaster, and resins.
Working with the Santa Fe Rape Crisis & Trauma Treatment Center for over 10 years, I have been an advocate against violence and aggression and have promoted pride and strength in women. Recently I have enhanced and created visuals for an educational program regarding human trafficking in New Mexico.
This said, my art runs parallel with my life. From my work with female body image in a multitude of Venus installations in the early 1990s; to my breast cancer radiation therapy investigation and sculpture installation, CRT-0981, later in the 90s; to my work beginning in 2002 promoting pride in my "Intimate Details" body of work; from cast stone, to slumped "thin skins" of glass, hand-shaped wax, and unique bronze castings; the media varies but the challenge to raise awareness is constant.
Vintage fabrics and weathered objects often find their way into my work and are given new meaning within the context of my art. In Big, Black, Beautiful and Witty in Pink, reconstructed ballgowns, the old tulle became the fragile edges surrounding a strong bronze core. In my "Legacy" series, I gave new life to old crocheted work, yellowing in a forgotten chest.
In 2007, with a need to show compassion for our military and innocent civilians in the war zones of Iraq and Afghanistan, my Love Armor Project was born. A life-size "Humvee cozy" was completed in September 2008, under the guidance of myself and my LAP collaborative partner, Sarah Hewitt, and with the participation of over 70 artist/knitters nationwide. This hand knit, crocheted, embroidered, and stitched cozy transformed the Humvee into a symbol of peace and hope.
Most recently I have created new sculpture with hundreds of used women's shoes. Abused and violated, uppers and lowers, heels and soles are exposed in multi-layered Paid and Trapped. Never losing my propensity for humor, I recently completed A Fine Balance – Heels on Wheels, heels balancing on a 43" skateboard, and Rock-Her, a motorized sculpture that "rocks" to a Mozart/Motorcycle mix.
The tug of strength and vulnerability continues to inform my art.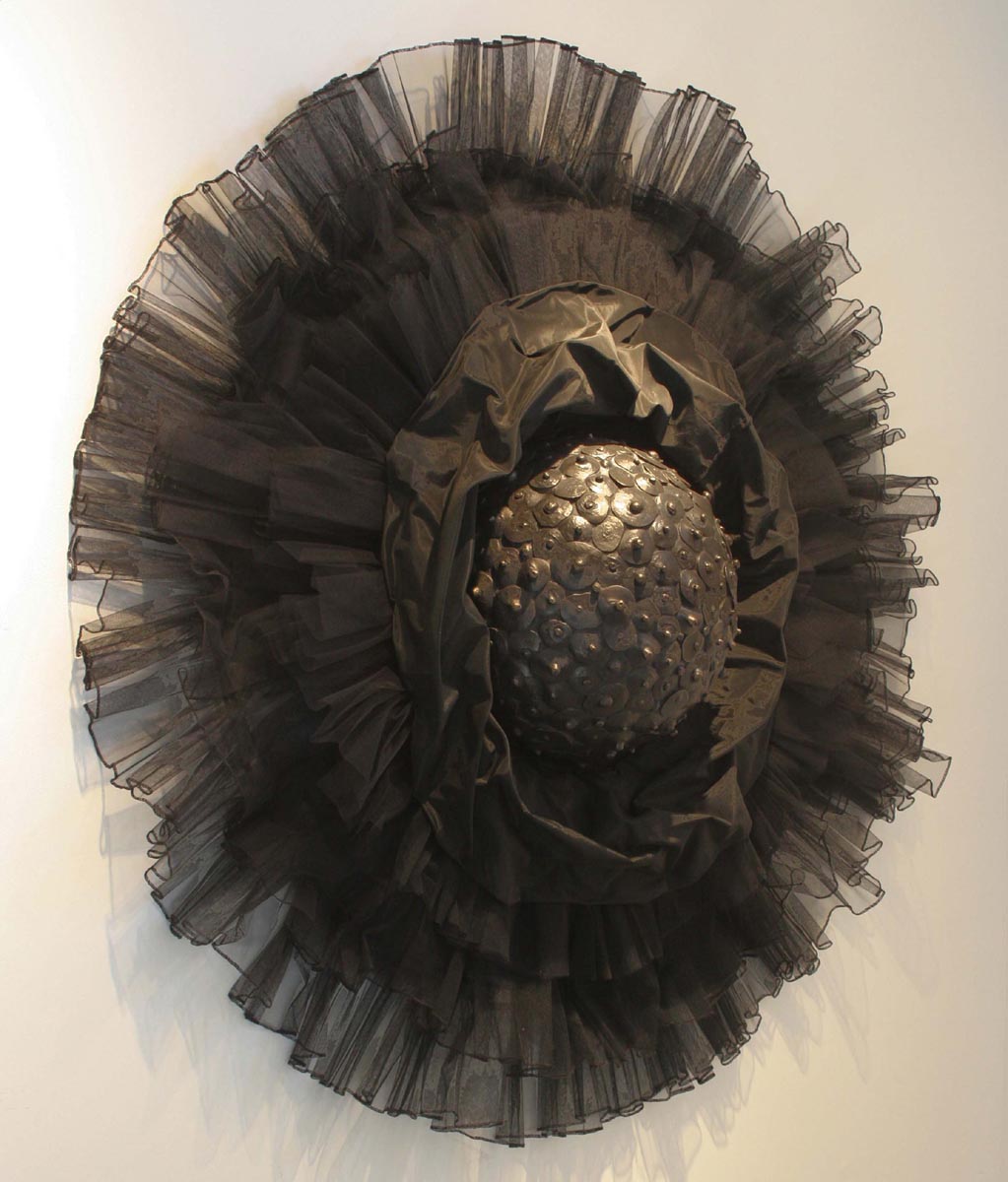 Contact
Santa Fe, NM 87506
USA
Email
Text, images, audio, and/or video in the Feminist Art Base are copyrighted by the contributing artists unless otherwise noted. All rights reserved.