Siona Benjamin
Montclair,
USA
Siona Benjamin is a painter originally from Bombay, India, now living in the US. Her work reflects her background of being brought up Jewish in the predominantly Hindu and Muslim India. In her paintings she combines the imagery of her past with the role she plays in America today, making a mosaic inspired by both Indian miniature paintings and Jewish and Christian illuminated manuscripts.
She has an MFA in Painting and a second MFA in Theater set design.
Siona has exhibited in the US, Europe and Asia.
Her work has been featured in: The New York Times, The Chicago Tribune, The Jewish Week in NYC and NJ, The Boston Globe, Art in America, Art New England, Art and Antiques, Moment Magazine and Nashim-A Jewish Feminist Art Journal.
Feminist Artist Statement
In Fereshteh ("angels" in Urdu), I explore the women of the Bible and bring them forward to combat the wars and violence of today in a Midrash (interpretation) of intricate paintings. I am a Bene-Israel Jew originally from India, now living in the US. I am inspired by the style of Indian/Persian miniature paintings, Sephardic icons, the socio-political climate of today and the exploration of my own cultural boundary zones as an immigrant.
Recently, I have been studying the Torah (The five books of Moses) and Midrash (Rabbinical interpretations). While growing up in India, I recall being surrounded by idols and iconography that were taboo in my Jewish world. I eyed these figures from a distance, captivated by their radiance and richness. Since Judaism stressed monotheism and iconoclasm, I somehow resisted the lure of figurative drawing for years. Initially making abstract work and then later, when I did venture to depict the forbidden fruit, my figures were shrouded with darkened faces. Now my work is filled with graven images, as it became clear during my studying and designing sets for theater that I liked the narrative, the theatrical, the decorative lyrical line, this ornateness I carried with me all along. These figures have thus become characters in my paintings that act out their parts, recording, balancing, rectifying, restoring and absorbing. It is through all this that I understand how I can dip into my own personal specifics and universalize, thus playing the role of an artist/activist.
My work celebrates my womanhood, my abilities, my strengths and my ambitions. After having struggled with my own hybrid background and experience, I am beginning to see more clearly that this blend can be humorous, enlightening and revealing. The ornate culture from which I came once seemed difficult and unnecessary to apply in my work. Now I have found a way to use it, to be able to weave current issues and parts of my life in its intricacies, thus making this ornateness strong and meaningful. In this way, I attempt to create a dialogue between the ancient and the modern, forcing a confrontation of unresolved issues.
As I have said, this work emphasizes women's issues and raises questions about identity. The forms, though, may appear unconventional and exotic to some. In this multicultural society, I would like viewers to transcend this apparent exoticness and absorb the core message: acceptance of diversity.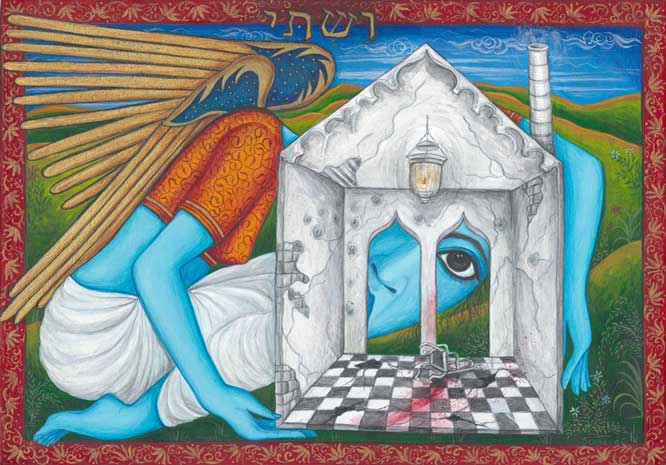 Finding Home # 89 (Fereshteh) "Vashti"
Vashti was cast out
Now she looks in
A black and white setting from yesteryear
Postcards from another target
A chessboard of genocide
The ner tamid of a lost synagogue
A palace of another dictator
Smoke stacks of your ancestor's crematorium
I search during my journey
But cannot find
How can they erase without a trace
I wonder
Now more than necessary
Along with her dignity
Will she restore yours.
Contact
6 Godfrey Road
Montclair, 07043
USA
Email
Text, images, audio, and/or video in the Feminist Art Base are copyrighted by the contributing artists unless otherwise noted. All rights reserved.