Susan L Berger
​Kingston, NY
I grew up in New Haven and went to art school there. In the 1960s, I was primarily a painter and then branched into doing environmental sculpture by reconstructing an excavation site. The work was shown in a gallery in New York in 1969. I learned rug hooking when I attended graduate school. From a collective I joined, I was amazed at what women were doing in this medium. I started making elaborate rug-hooking and latch-hooking fiber art. In the last few years, I returned to working on pieces I completed years before and am now working on a series called "Superior Ink," which are more social constructions or mixed-media pieces.
Feminist Artist Statement
I make tapestry construction pieces. I use an assortment of textures: paint, oil stick, markers, wood and found objects. I do weave stitching, traditional rug-hooking techniques and vary the technique from each piece. I mostly try to use a social theme to the work. However, many of my pieces are decorative and influenced by Native American women and artists. I use different types of hooked rug-techniques, and weave stitching. I try a feeling of outside art, although all of my works are labor intensive. Women, mostly poorer women, tend to express themselves in this craft by using fiber/yarn. I guess in many respects rug hooking is a traditional craft and rooted into women's role at home and work. They were self-taught. Women were excellent storytellers. They had strong voices and continually expressed themselves. I feel that my art pieces reflect an important part of feminism and by using basic/traditional hooking, and using scraps of materials and yarns is what they did and integrate these items into one-of-a-kind works. I want to carry on this tradition, have it remain an important craft, and be appreciated as such.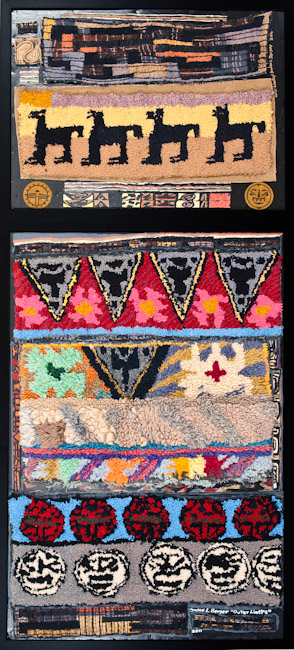 I used rug-hooking techniques, latch-hooking and cross-weaving. The piece was done in several parts and then put together into two panels. I wanted the eye to move continually, and I was influenced by Native American art.
Contact
​49 Millers Lane
Kingston, NY 12401
Email
Text, images, audio, and/or video in the Feminist Art Base are copyrighted by the contributing artists unless otherwise noted. All rights reserved.